Why a plain packaging U-turn from UK.gov could cost £3bn a year
How's the Aussie cigarette experiment doing? Not so well
Analysis According to friendly "leaks" passed to newspapers overnight, the government may force cigarette manufacturers to sell their wares in plain packaging after yet another review, despite rejecting the policy earlier this year. But the gambit is unlikely to withstand the scrutiny of the Chancellor.
Why? Plain packaging legislation is reckoned to have lost the Australian Treasury A$1bn ($946m, £578m) in tax revenue in its first six months, according to a report commissioned by cigarette-makers by KPMG (PDF), as smokers turn to fake, untaxed brands.
If British smokers behave similarly to Australian smokers - and there's no evidence to suggest they wouldn't - the gimmick would blast a £3bn a year hole in the UK's finances. And the number of smokers in Australia appears to have stayed exactly the same.
Australia introduced plain packaging on its cigarettes in December 2012. With the distinctive branding removed, the legislation made it easier to distribute and sell unbranded cigarettes, or "illicit whites" – cigarettes manufactured in Asia or the Middle East. Sales of these imports has risen 154 per cent, according to KPMG - creating a new sector of the crime industry along the way. None of the illicit whites carry health warnings, but more worryingly for the Chancellor, none pay tax or duty either.
An English smoker with a 20-a-day habit buying cigarettes costing £8.35 will contribute £2,295.64 a year to the Treasury, out of a total spend of £3,047.75. Since so much of the retail price goes into George Osborne's pocket, a switch in consumption from taxed to untaxed products will create a huge gap in the finances. The cost of policing a new crime wave must also be factored in.
Changes in the Aussie market have seen the rise of branded "fake" brands, such as "Manchester"*, which now accounts for 1.3 per cent of the market.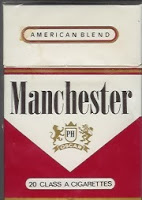 "Manchester" brand cigarettes:
No duty paid, no health warnings
So on what evidence is Cameron bowing to the anti-smoking lobby? The Times (behind paywall) quotes an opinion poll of Aussie smokers in which 80 per cent say they were more likely to give up. But people will say many things to pollsters they don't actually mean. Economists tend to find "revealed preferences" more reliable – in other words, what people really do with their money. And there's no evidence that Australian consumption has actually fallen.
In a study (PDF) by London Economics published this week:
Over the timeframe of the analysis, the data does not demonstrate that there has been a change in smoking prevalence following the introduction of plain packaging despite an increase in the noticeability of the new health warnings.
Both KPMG and London Economics were commissioned by tobacco manufacturers, although KPMG says it had the final say on the methodology and conclusions it drew. You're free to examine the methodology (and credibility) of all the evidence advanced in this debate - and should do so forensically. It's quite an eye-opener.
Expect another U-turn by the middle of next week. In the meantime, smokers can discover healthier alternatives to burning the weed - with our excellent round-up of E-Cig kit, here. ®
*Bootnote
Quite fittingly, as Manchester has produced many iconic smokers over the years: Bet Lynch, Mark E Smith and Anthony Burgess.