This article is more than 1 year old
Asus Transformer Book T100: Xbox One? PS4? Nah, get a cute convertible for Christmas
Skint and students alike all love a good 10-incher
Cloud cover
For more intimate viewing, the 10.1-inch screen is bright enough, rather than dazzling, as no doubt there are some battery saving measures at work here. The two speakers at either edge of the screen are the usual gutless variety but they do knock out a decent volume and present a noticeable stereo image when viewing in laptop mode.

Exposed: micro SD, micro USB, micro HDMI and mic/headphone combo interfacing. Note the speaker grille along the edge, there's one at the other end too. Both have the SonicMaster treatment apparently.
I spent an evening running the BBC iPlayer from the T100 on battery with no complaint. Admittedly, the sound is a bit harsh but adequate for most programming, concerts aside. The T100 is kitted out with Asus SonicMaster tech, but I couldn't find anything to fiddle with here, just some Realtek playback options. Apparently, it's a hardware thing, regarding optimising speaker positioning and housing within the casing. The fact you can hear them without horrendous distortion does at least suggest something is working here.
For tablet use, a single button disengages the latching hinge which is by far the least fiddly convertible mechanism I've encountered. The only real separation trauma you'll suffer here is the tablet doesn't have a USB interface, which I used a lot for an Ethernet adaptor to pull in the various updates a new machine grapples with, as well as transferring installers and files for tests. If you're clever you'll have piled up content on a micro SD card beforehand going native with the tablet.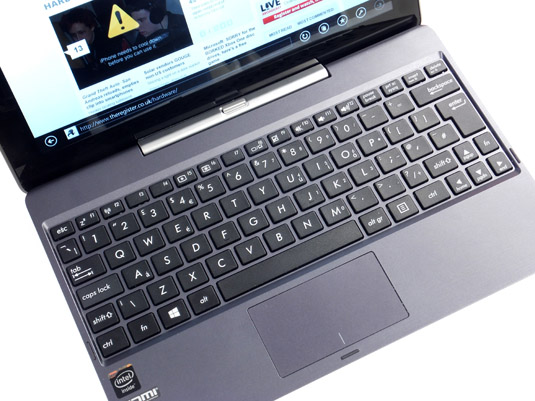 The keyboard crams it all in and yet remains very well spaced – note the latch button on the hinge
And of course, there are cloud options aplenty. Naturally, Microsoft's SkyDrive plays nice and is providing 7GB of free storage. Google tops that with 15GB, which makes DropBox look a bit sheepish with just 2GB for free.
Still, all of these cloud storage providers pale in comparison to Asus Webstorage, which, when you log in to the machine, pops up announcing: "We've provide [sic] you with 1,000GB of free storage…". So that's 1TB in the cloud and all I have to do is click here. Besides having to own a Asus Transformer Book T100, what's the catch?

Asus WebStorage 1TB offer
The trick is the same that all these cloud carriers are pulling, which is to make it a time-limited period, so that you get used to having it, fill it up with various stuff you can't be bothered to sort and then they can start charging you for it further down the line. The Asus Webstorage deal is for one year from sign-up.
A toolbar icon links directly to the WebStorage MySync folder which pops up ready for use. It also shows on the Favourites sidebar that appears alongside open folders and, if you hunt around for it, you'll find it is labelled with the email address you provide and tucked away in a Webstorage folder at volume level.
WebStorage can also be accessed from a browser and whaddya know, there are apps for iOS and Android, as well as desktop versions for Mac and Linux too, so it ticks a lot of boxes and works very swiftly.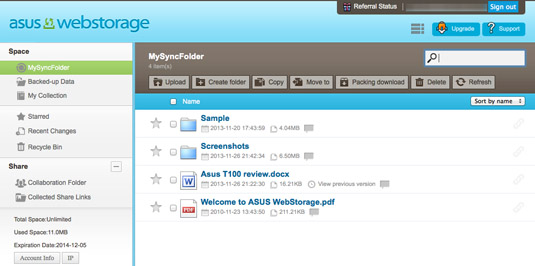 Free 1TB cloud service anyone? WebStorage browsing from a web page – click for a larger image
I tried it out on the Mac to shift the screen shots over, and it worked like a charm. That said, I would like to be able to allocate sync folders. One slight niggle was the bundled T100 Webstorage app kept announcing an update but the download link pulled in the older version, you needed to navigate to the web site to get the new installer. However, this little diversion was nothing compared to my Office experience.
So you get Home & Student 2013, which isn't a 365 subscription but the W X P usual suspects including OneNote but no Outlook. According to Microsoft's own UK shop, this would normally set you back £110, so it's worth having.