This article is more than 1 year old
Asus Transformer Book T100: Xbox One? PS4? Nah, get a cute convertible for Christmas
Skint and students alike all love a good 10-incher
Atom elements
Admittedly, with Reading Mode on the Asus, I was expecting some power saving features similar to those that appear on the Kobo Arc 10HD Android tablet's Reading mode, that disables various peripheral functions, but no. The power tweaks on here are all standard Windows options along with some separate Intel Graphics backlighting adjustments.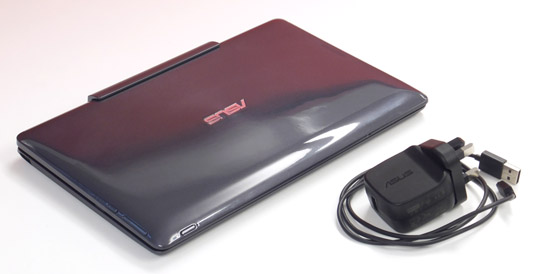 The supplied 2A charger could do with being a bit more meaty as it takes some time to fully charge
You'll want to keep an eye out on the battery though, as a complete recharge can take about 8 hours, which leads me to think that perhaps Asus could have supplied a rather more beefy charger for the 31Whr Li-Po power cells. You don't get a secondary battery in the dock either but it clocked up 6hrs 18mins on PCMark 8's arduous battery test, so the hours could well stretch into double figures with some frugal power settings.
So what happened with the PC refresh mentioned earlier? Deleting the Microsoft account login I'd created cleared off a load of space so I could perform a Refresh. However, this didn't solve anything. It warns that it will delete installed applications, producing a list that included Office Home and Student.

With a convertible, there's always a catch
Afterwards another list is created on the desktop showing what has been deleted. Oddly enough Office Home and Student wasn't on this list. It wasn't on the T100 either, but had been replaced by the generic Office installer that has Buy, Activation and Demo modes. None of which are very helpful without an activation code. Asus tells me this is included in the box when buying a T100, but as this model was doing the rounds for review, it had been removed.
Yet none of this is really an Asus problem but merely demonstrates how Microsoft account login can bugger things up as it thinks it knows best and avoids any useful dialogue: Replace Office Home and Student with Office 365? Yes/No? That would help. After all, having a standard installer version of Office Home and Student wiped out by an Office 365 subscription version with three months left to run isn't very clever as far as I'm concerned, although Microsoft might take a different view.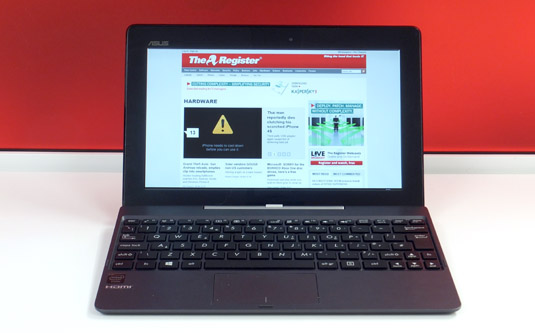 Intel's quad-core Atom chip gives this breed of convertible a new lease of life and a very repectable battery life
What I take from all this is no matter how much Windows 8 nags you, don't kick things off with a Microsoft account, use a local account first if there could be product conflicts. Incidentally, Asus sent me the Office product code for the machine and it installed perfectly this way. If you really want to play safe, use a local account and back everything up before touching any installers. With any luck, Asus Transformer Book T100 users will be able to do this easily enough using the micro SD card slot.
The Reg Verdict
While a few unhelpful quirks cropped up when configuring the Asus Transformer Book T100, none of these issues actually stopped me from getting on and using it. And use it you will, as its size, weight and price make carrying it around an easy habit to get into. In this respect, I found I rarely used it as a tablet, as its keyboard is much better than the toy it appears to be.
Still, there remains an element of you get what you pay for regarding the internal storage and the plastic casing that will inevitably get scuffed and inadvertently drop-tested. Even so, given what else is around at this price, the Asus Transformer Book T100 has a certain convertible cuteness that makes it hard to ignore. ®

Asus Transformer Book T100: Xbox One? PS4? Nah, get a cute convertible for Christmas
Quad-core, Atom-powered, 10.1in Windows 8.1 compact convertible weighing just 1.07kg with an 11hr battery life and Office Home and Student thrown in.