Upstart rocket firm SpaceX, founded and helmed by techbiz visionary Elon Musk, has aborted its inaugural mission to geostationary orbit for a second time.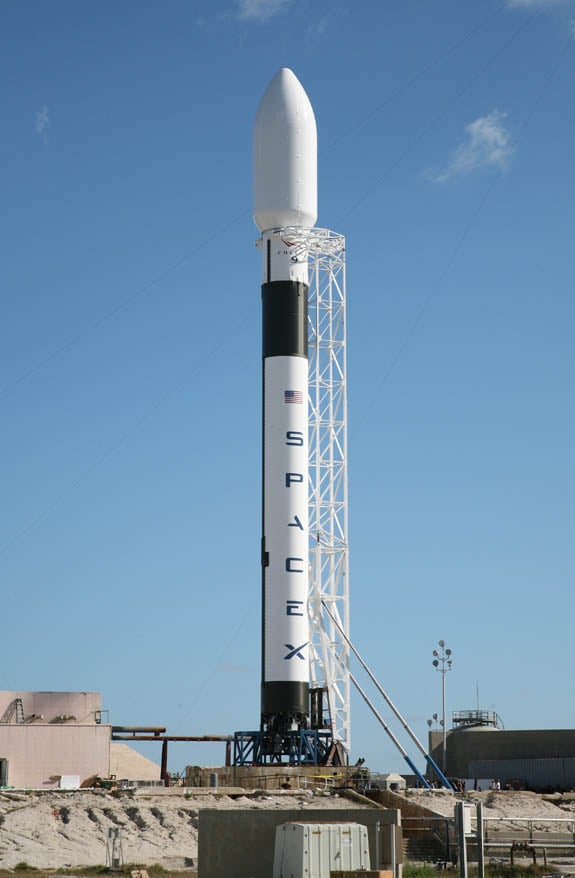 No joy this time either.
The launch, intended to put a large communications satellite into orbit above southern Asia, was supposed to take place on Monday. However technical holds meant that the Falcon 9 rocket could not get off the pad before the launch window closed, and the next available opportunity was last night (UK time, Thanksgiving Day in the US).
Unfortunately for Mr Musk and his SpaceX team, they missed their day off to no avail. Again, the Falcon countdown was dogged by technical holdups and in the end it was decided that the rocket needed a thorough engine inspection before it could be declared definitely good to go. It will now be brought down off its transporter-erector launch tower in order to carry out this procedure.
"Better to be paranoid and wrong," tweeted Musk. "Probably a few days before next attempt."
The repeated delays to the launch are a mild disappointment, no doubt, but few would cavil at the SpaceX team's decision or Musk's assessment of it. A few days' wait is annoying and somewhat costly, but not even in the same league as a launch disaster and/or a wrecked payload.
SpaceX has always sought to make a watchword of reliability, and in the space launch business that doesn't mean punctuality - it means things not exploding or winding up in wrong orbits. Provided that Musk and his crew do eventually get the SES-8 satellite into position above the Indian Ocean, nobody will remember the delays now.
Assuming they do that, SpaceX will have achieved another major milestone. Geostationary orbit, almost 36,000km out from Earth, is a much higher hurdle to get over than low orbit. It is also much more lucrative, as satellites placed there on the magic Money Ring hang usefully still in the sky from the viewpoint of someone on the Earth's surface, allowing dishes to be trained on them easily and then left in place. As a result, geostationary accounts for the bulk of the money spent on commercial space launch - and so entry into this arena would be a major step for SpaceX.
In some ways, then, this mission is even more important for Musk and his rocket team than earlier feats, also amazing in their own right, such as the return trips to the International Space Station by the SpaceX Dragon capsule. (Though it is worthy of note that nobody else in the world except Roscosmos - no, not NASA itself, at the moment - posseses a ship capable of doing what Dragon has done.)
It's an exciting story: and this chapter of it will surely close one way or another within days. We'll be watching with interest. ®