Anyone short of ideas for the stocking filler this Christmas and with a spare £68k down the back of the sofa can look no further: it's time for a Gold iPhone from the Dixons Retail concession at Harrods.
The Jesus mobe, made by one of Harrods' commercial partners, is housed by a 24 carat case with over 300 22 and a half carat VVS1 diamonds - the clearest ones know to humanity - drilled into it.
A spokesman for Harrods technology division - essentially a store within a store managed by Dixons - told us that it also contains rubies, emeralds and sapphires.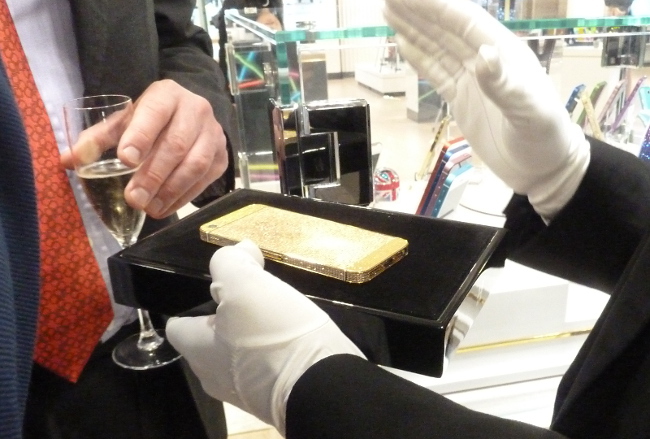 A Harrods assistant displays the diamond- ruby- and sapphire-encrusted gold iPhone to an interested buyer. Photo by Bryan Roberts
It was put on sale three months ago, the Harrods tech man confirmed, and was one of the highest selling ranges in the department. However the rep refused to talk numbers or mention any high-profile customers.
The dimensions of the iPhone are standard and it is believed to weigh 200 grammes.
Bryan Roberts, director of retail insights at Kantar Retail, confirmed to The Reg: "50 per cent of the sales from [the Harrods' blinged-out iPhone] concession [by revenues] are attributable to 2 per cent of the customers".
The Dixons concession was set up in 2011 replacing Micro Anvika, once one of Tottenham Court Road's finest purveyors of consumer tech, but which went under last year.
Micro Anvika used to pimp up Apple iPads with diamonds for around £30,000 so Dixons likely wants to continue in that tradition of pointless overpriced gadgets.
A spokesman for Dixons told us the phone is "aimed at affluent international Harrods customers".
So oligarchs and Middle Eastern oil barons, and maybe some footballers with more money than sense.
Dixons would also not be drawn on how many £68k iPhones it has sold or expects to sell, or how many are in stock.
It was rather more forthcoming yesterday about iPads though, when it predicted that one million slabs will find a home today - Black Friday - until next Monday, dubbed Cyber Monday. ®
Similar topics