This article is more than 1 year old
Confessions of a porn site boss: How I got it up on the 'net
Part 1: VHS tapes, dialup connections and sexy nekkid ladies...
NSFW Going to a sex shop in itself can be embarrassing at the best of times, but when I knew that I was going to ask about dodgy video tapes from dubious sources, it got a whole lot worse.
"I'm looking for some more interesting kinky stuff, know where I can get any?"
This was the early '90s and VHS cassettes were the norm. DVD porn didn't exist.
After much suspicion and haggling I was the proud owner of a VHS cassette with some pretty kinky porn. To be fair it was good stuff, and in the day, worth the £65 no-questions-asked cash price.
No one knew at this point that within the next 20 years you would be able download thousands of high-quality digital porn titles from your always-on 100Mbit internet connection for free, if you had no scruples.
Even better: I could browse super-hardcore porn without ever visiting a physical shop or having those sweaty-palm moments of taking my purchase to the counter and facing the inevitable "Will there be anything else, Sir?" as though I didn't have enough embarrassment at that moment.
My dodgy video dealing was about the same time as the first 28.8k modems came out and the whole new web frontier was beginning. Within 24 hours of jumping on the internet I was on porn sites. This got me a taster of what I could get for just $30 a month. I signed up and was very disappointed with the content, but saw that there was money to be made. Slowly, I waited for each image to load, hoping it would be better than the last.
Within a few months, barely old enough to legally view the porn I was purveying, I had a website set up. It was easy money, though the setup wasn't cheap. Even shared web server accounts came in at the mid three-figure range at that time. I spent my days creating what were by today's standards very simple pages and uploading them over my super-slow modem. It became a habit to log in every morning and see how much money I had made while I slept.
For adults only
Obviously no one wanted to pay to get their jollies if they could avoid it. This brought about the rise of the porn pass. For a one-off fee of $20 per year, a person could visit all the sites under the porn pass scheme. To verify their age, users needed to show their credit card. I got 65 per cent of the payment and I only had to put up the bare minimum content to get the user off. I really didn't care if I saw them again. This was known as pay-per-sale or PPS.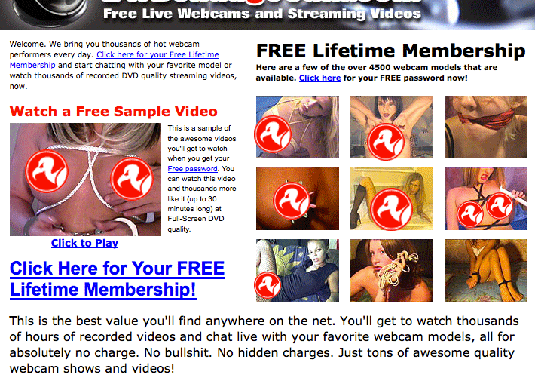 Live-streaming camera sites, some of them fairly (ahem) "niche", can quickly and directly charge the viewer for a "personalised" experience.
One-off payments from signups were OK, but there was more money to be made. You could set up your own porn site, but the hassle wasn't really worth it unless you had the contacts. The way forward was to promote other people's sites via affiliate schemes.
Signing up to promote sites, I usually got a choice of PPS or revenue share. If I found a site that visitors loved, I could make more on a revenue share agreement where I would take a percentage of the monthly take from the signups. A good site could be a goldmine.
The good times couldn't last for ever. Consumers grew wise; the free pass stuff started to look a little dated and wasn't the best value from a punter perspective. People made do with short, grainy video clips and although sites started to evolve, becoming more fan based (and niche based) downloading was still slow...