Comet-connoisseur Karl Battams of the Naval Research Laboratory has released a heartfelt – and more than a little tongue-in-cheek – eulogy for Comet C/2012 S1, aka ISON, which suffered a fiery death last Thursday when it was roasted, toasted, melted, and smelted by our merciless Sun.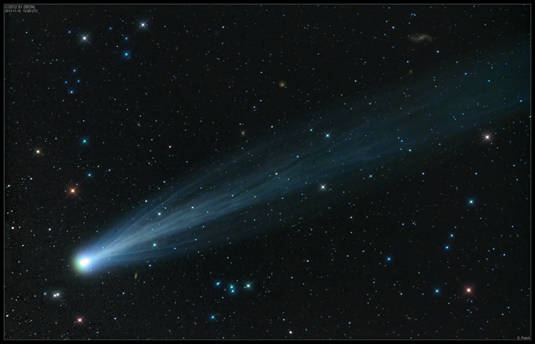 'This is how comet C/2012 S1 (ISON) wished to be remembered,' writes Battams
(image credit: Damian Peach – click to enlarge)
Fittingly entitled "In Memoriam", the death notice chronicles ISON's life in traditional obituary style. "Born in a dusty and turbulent environment, comet ISON spent its early years being jostled and struck by siblings both large and small," Battams writes, sympathetically.
He goes on to document ISON's troubled existence, including its "particularly violent first few million years" and its retreat to the Oort Cloud, where it "maintained a largely reclusive existence for nearly four billion years."
ISON was a rugged individualist, Battams maintains. "Never one to follow convention, ISON lived a dynamic and unpredictable life, alternating between periods of quiet reflection and violent outburst."
Violence was ISON's fate. "Tragically, on November 28, 2013, ISON's tenacious ambition outweighed its ability," Battams writes, "and our shining green candle in the solar wind began to burn out."
While the world may have lost a new friend, Battams notes that we should not despair for our loss, seeing as how ISON is "Survived by approximately several trillion siblings."
Flowers or other mementos of grief should not be offered to assuage the grief of those siblings, Battams suggests. "In ISON's memory," he writes, "donations are encouraged to your local astronomy club, observatory or charity that supports STEM and science outreach programs for children."
Ave atque vale, ISON. We hardly knew ye. ®