Yule picture special It's that time of year again when whining children and relentless TV advertising attempt to persuade honest, hard-working folk to empty their wallets, hammer their credits cards and reduce themselves to penury in a glorious Yule orgy of unfettered capitalism.
Ah, Christmas - a pagan festival hijacked by bible-bashers and now extended to a three-month opportunity to spunk cash, culminating in 24 hours of excess followed by another three months at the coalface footing the bill.
Well, enough is enough. Today, mindful that there are just 22 SHOPPING DAYS LEFT UNTIL CHRISTMAS, we offer readers a selection of gift ideas which will ensure your loved ones never ever again ask for a present.
Yes indeed, we guarantee that the following will liberate you once and for all from the tyranny of playing Santa, so prepare your credit cards for the last time, as we suggest...
For him: The Bumper Book of Astronomical FLOPS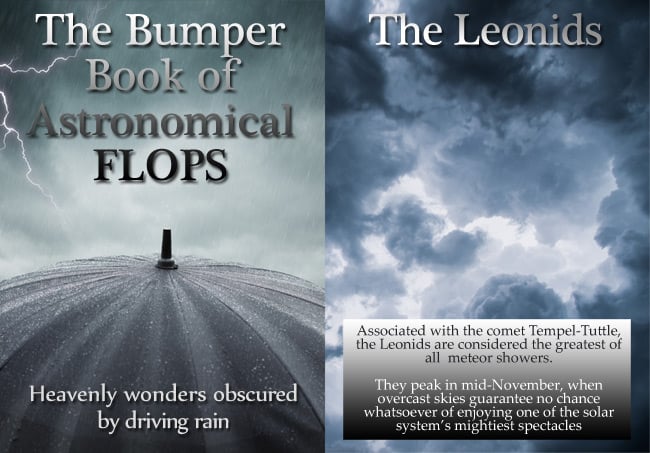 A sumptuously-hardbound coffee table book of 230 full-colour plates celebrating the very best of skygazing disappointments. From crap comets to fog-hidden planetary alignments, this unspectacular guide allows the keen astronomer to fully experience traditional views of heavenly events without the bother of a fruitless trip outside the front door.
Boasting magnificent images of no less than 96 different kinds of rain and snow, plus the 31 distinct cloud formations which can kill a solar eclipse, The Bumper Book of Astronomical FLOPS carries our hearty recommendation.
The Stadium of Dreams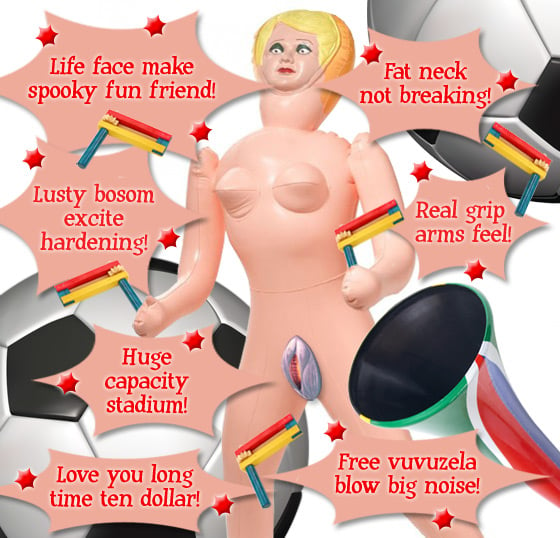 For that football-loving man in your life, why not get the ball rolling well ahead of the 2022 World Cup with a cheap Chinese playmate packing an accommodating miniature replica of Qatar's Al Wakrah stadium?
Let's face it, you lost interest in sex years ago, so while your other half drunkenly attempts to shoot in the box, you can retire to your boudoir with a throbbing smartphone for some real excitement, for which you'll need...
For her: The Kim Kardashian Inflatable Arse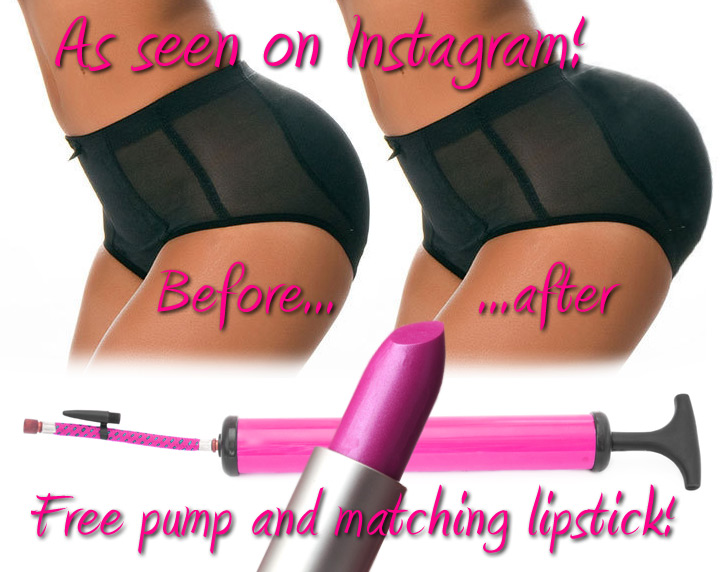 Nothing says "darling you simply don't measure up" than unfavourably comparing your missus's hind quarters to those of the blimp-buttocked Kim Kardashian.
Mercifully, help is at hand in the ample form of the KK Inflatable Arse, so while you're trying to raise your game in the Stadium of Dreams, the wife can pump herself up for a bootylicious selfie.
For her: Crème du Boyau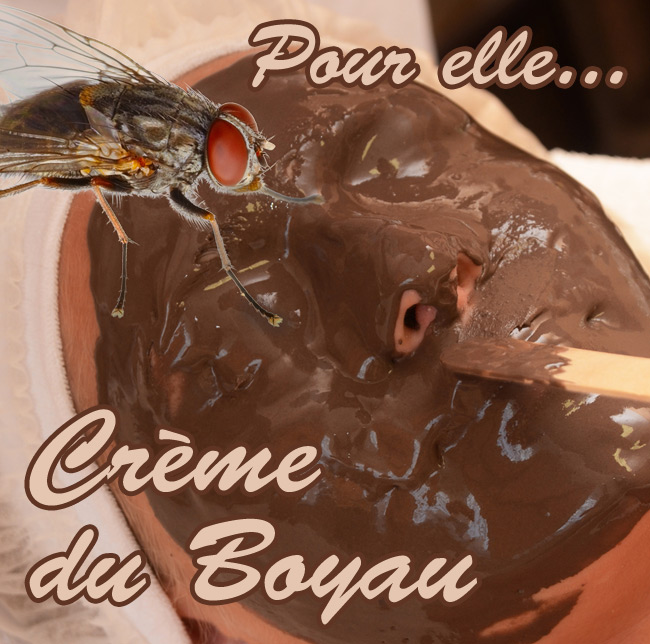 As every attention-seeking celebutard knows, a gargantuan rump alone doesn't guarantee to get cyberspace all a-twitter. Before she hits Instagram, make sure your squeeze has got her face department in order with a good slapping of Crème du Boyau.
According to the blurb, this exclusive treatment "excoriates, exfoliates, rejuvenates and reinvigorates" via an exotic blend of "jojoba oil, scouring miracle microcapsules and pop star extract".
As we understand it, a well-known American chanteuse took a massive dump in a bucket in the dressing room of a TV talk show. The steaming turd somehow found its way to a French pharmaceutical lab and the rest is history.
For the kids: The My Little Pony Knacker's Yard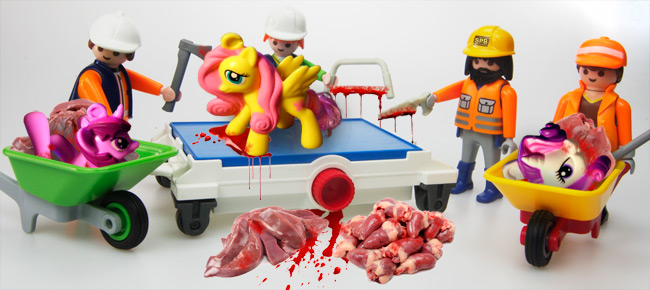 Right, that's your partner dealt with, so let's tackle the bloody kids. Forget games consoles and TV spin-off merchandise, plus the other £10k-worth of useless crap on the Xmas wish list to Santa, the My Little Pony Knacker's Yard is what you need to stop the little buggers in their tracks.
For the kids: Santa's Spider Surprise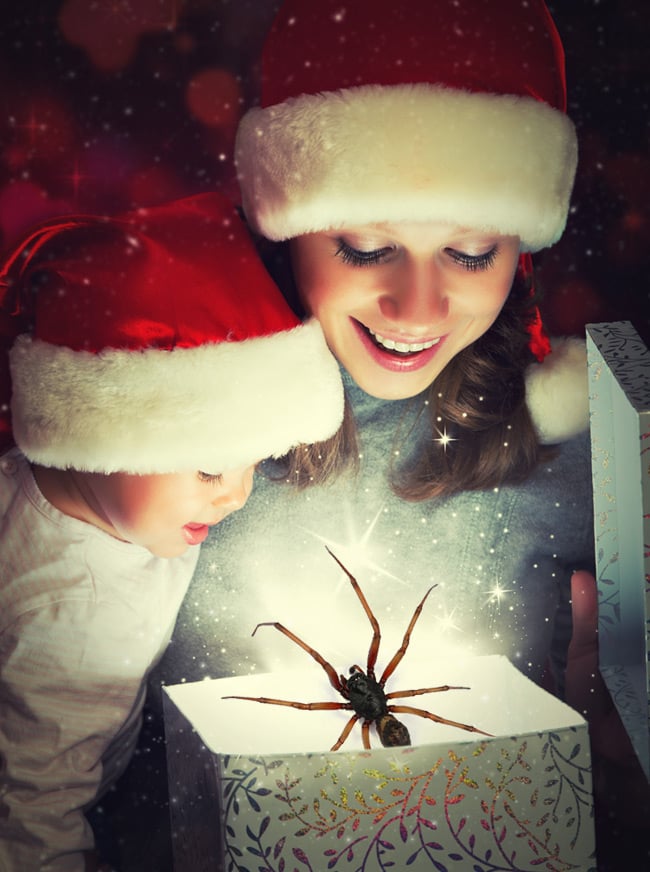 And if a miniature abattoir doesn't provoke a lifelong fear of Xmas presents, make absolutely certain the nippers will never again demand a puppy with a genetically-modified monster false widow spider.
With the kids safely in hospital on a drip, and the killer archnid hopefully making short work of the guinea pigs you were browbeaten into buying last Xmas, there just remains one gift to bestow before you can enjoy a proper Christmas, peacefully slumped on the sofa with a turkey sarnie in one hand and a stiff drink in the other...
For the in-laws: Devil's Venom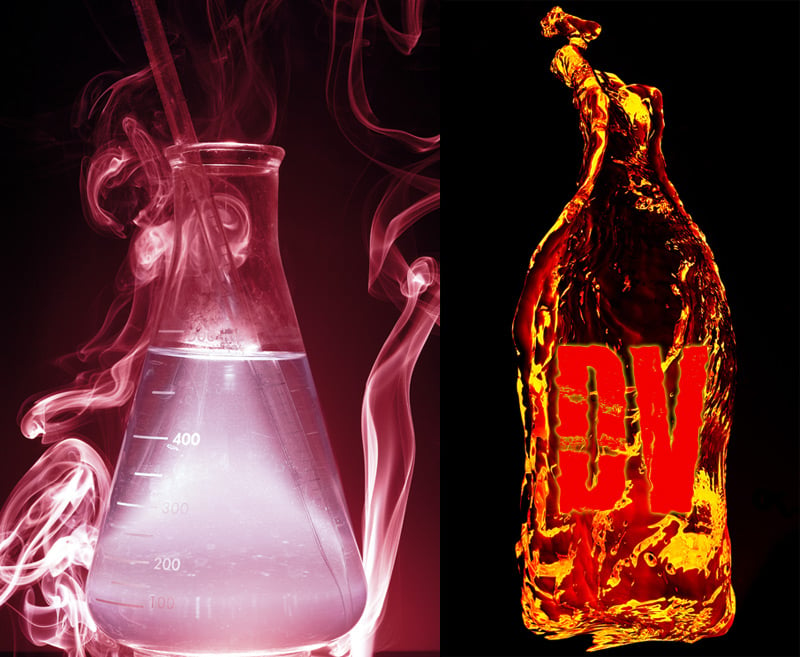 Speaking of stiff drinks, this is the stiffest of the stiff. "DV" is a Russian-brewed hypergolic blend of unsymmetrical dimethylhydrazine (UDMH) and nitric acid with a dash of cranberry juice, absolutely perfect for explosively ejecting in-laws who've overstayed their welcome.
The bottle advises DV is "best served shaken by bomb-disposal robot operated from a minimum safe distance of 500 metres", but if you absent-mindedly forget to pass that warning on to your obnoxious mother/father-in-law, you can guarantee their visit will really end with a bang. A very merry Christmas to you all. ®