Review Regardless of everything else going on in the life of a system administrator, the one thing we lack most is time. So what if there were a single solution to give us all the information we could ever need about our virtual infrastructure in one place?
Founded with the belief that in the future all virtual infrastucture will be managed with the collective intelligence derived from the analysis of the world's IT operations data, CloudPhysics is the latest Silicon Valley company to take on the world of big data.
While most big data startups are focused on building tools that will allow others to host and analyse their big data, CloudPhysics has built an offering determined from the start to be different. With industry heavyweights like CTO Irfan Ahmad, a veteran of VMware and Transmeta, and Chief Scientist Xiaojun Liu, formerly of Google, Salesforce and Sun, you get the idea that CloudPhysics is in this for the long haul.
I have a checklist that I normally break out when doing a review on any service that I've been refining for a while. Let's see how many boxes CloudPhysics can tick.
Does it really do what it says on the box?
Let's not beat around the bush here: the answer is a definite yes. My initial early testing was conducted on the beta version, but the majority of the testing was actually done after CloudPhysics reached its General Availability milestone. I won't be discussing the beta, however, because it's not really relevant to you, the reader, given that you'll only ever see the GA release.
The first important thing to note is that Internet Explorer is not supported. If you're running a workstation in a particularly locked down environment, (ie, one that doesn't allow other browsers) then you'll need to make an exception. This came as quite a nice surprise when I first attempted to log in to the CloudPhysics dashboard using Internet Explorer which is usually my browser of choice when testing.
The CloudPhysics Observer, Dashboard and Service make up quite a good trio. All of these separate parts work well as a whole and definitely work as reported.
Working as advertised – 8/10.
Setup, configuration, usage and reliability
This is one point where CloudPhysics shone even during the beta. At one stage during the interview, Irfan bragged that CloudPhysics had real world telemetry indicating installation and configuration in less than five minutes. I wrote this off as marketing spin at the time but after actually running through the installation and configuration of the Observer I can say that it's almost definitely true.
I went through the entire setup and configuration process (registration, download, installation, configuration) in under 10 minutes. All that was left at that point was to make a coffee while I waited for the initial data to populate into the CloudPhysics Dashboard. When you consider that I was taking screenshots and working over a remote link to Canada while I did this, this is quite an achievement.
Built on top of a 64bit Ubuntu Image, once installed the Observer will allocate ~16GB of HDD space and up to 4GB of RAM to itself. No matter what I threw at it, I simply couldn't make it max the CPU or RAM it had allocated. While this might not be the case when running in massive DCs, CloudPhysics says the Observer has been designed to have minimal impact on the servers it observes. Marketing speak that is actually true? I must be in a parallel reality...
So installation and configuration gets a 10/10. It was fast and it was dead simple, but how easy can it really be to use?
Once you're up and running and logged into the web portal you'll be presented with your first view of the CloudPhysics dashboard as seen below.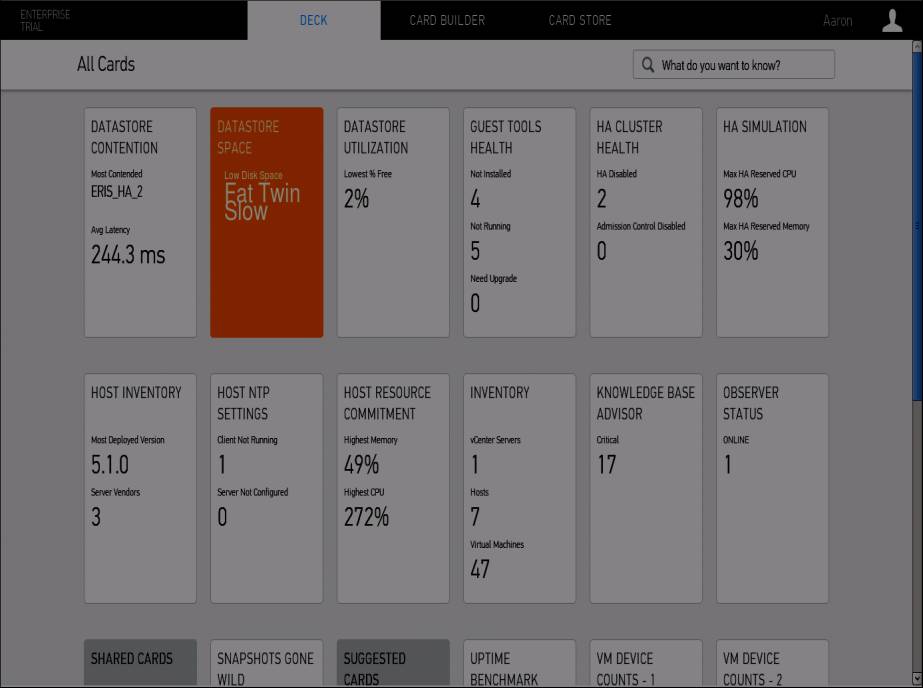 CloudPhysics dashboard
This is where you get your first look at cards. Cards are "a user-defined analytic... [that] is a highly specialized app targeting a particular problem".
A great way to get an immediate understanding of the true power of the data provided by the Observer and being churned through the CloudPhysics cloud is the HA Simulation Card. Using this card we can run simulations on our clusters. Want to know what happens if I lose a node from my cluster? There's a dropdown menu for that. Want to know what happens if 7 of my VMs max out their resource allocations at the same time? Tweak a couple of sliders.
Fair warning: If your cluster is quite large, and you tweak a lot of the VM settings at once, you might want to leave a couple of hours for the simulation to finish. Personally I couldn't make it even blink, but then again I don't have access to a 300-node data centre running thousands of VMs. Caution is the watchword, but if you're playing at home on your test lab then you really shouldn't have any issues at all.
The next point of call in this superfast tour of CloudPhysics is the Card Builder section of the dashboard. I could describe to you in depth about how the Card Builder works and how you can use it to build your own cards, but it needs to be experienced rather than described. Have a play with it, you might find it interesting, but more than likely you'll move straight on to the third port of call – The Card Store.
The CloudPhysics brochure is selling this as an app store. Though I'm not entirely sold on calling it that yet, I can understand the thought process. Calling your "value add" section an App store seems to be the current flavour of the month. Some of the Cards located in the Store are must-haves even if you don't have an enormous DC to spy on.
My personal favourite from the selection is called Visual Inventory. From the home screen it doesn't appear as if it actually does anything but clicking on the card however reveals a visual breakdown of active and inactive VMs, the resources they have access to and how that stacks up against what you have available for provisioning.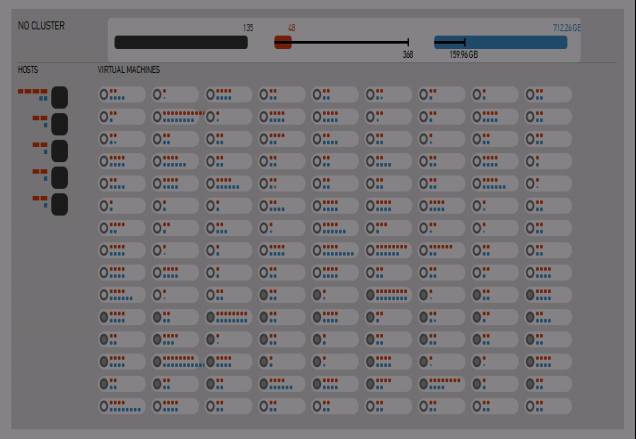 Your resources - at your fingertips
Right about now you should be starting to understand the possibilities that a monitoring application like CloudPhysics opens up. If you're anything like me, the first thing you thought of was what laterals can we apply this to? I have clients that are moving into smart offices with lighting you can control from your smartphone.
What if I could monitor those lights with a Card? I have a client who, among other things, runs a fleet of 200+ snack vending machines. What if this could be applied to monitor his machines and alert him when clients start running low on drinks or snacks? The possible applications for this are incredible and the further we move towards the Internet of Things, the more IT will be asked to monitor and maintain those things. The more we are asked to monitor the internet of things the more important CloudPhysics Observer and Dashboard will become.
So it's easy to install & configure and it's a breeze to use. Then the catch in all of this must be the services reliability, right? Well if you were betting on that you'd lose your shirt because this is another area where CloudPhysics have definitely put in the effort. Their Observer is rock solid. In two months running the Observer, the only time it has gone down was when the entire testlab needed to be rebooted for a hardware addition.
This is where I discovered that the CloudPhysics service emails you an alert to let you know that something isn't right. As for the Dashboard it has been fantastically reliable since the General Availability release in September.
Setup, Configuration, Usage and Reliability – 8/10
Is it safe?
As leaders in the IT field we're constantly getting bombarded with services, solutions and products purporting to make our lives better in some small or large way. Some of these we can even use. Some of them, however, are off limits simply because they fail to tick all three boxes in the holy security triumvirate. For the record the holy triumvirate is data sovereignty, data security and physical security. In fairness to CloudPhysics, it has tried to address all of these concerns and it appears that it has succeeded very well.
For a start, the Observer anonymises your data. Then, before it lets it loose into the great beyond, it encrypts using industry standard encryption to keep it as safe as possible while in transit. The firm also appears to have partnered with a trained paranoid who constantly yells at them that they aren't doing a good enough job. The only issue I have from a data security standpoint is that the Observer is so tightly locked down to keep its system overhead low that there isn't any transparency in what its transmitting. Good thing then that CloudPhysics has passed "two security audits" with Fortune 500 companies, though I couldn't manage to pry from the firm the details of exactly who they were.
Next up we come to physical security. To do the things that CloudPhysics can do with your data, including running amazing load and node outage simulations, you need access to an incredibly large amount of compute.
For a startup, even one in cash-rich Silicon Valley, this leaves you with few options. You can a) build your and maintain own large scale data centres then implement a cloud environment; or b) you can turn to one of the major players in the cloud hosting game. CloudPhysics chose to go with option b and in this day and age, given the relatively low cost of running Amazon EC2 and S3, it just makes sense. As far as physical security goes, Amazon runs a tight ship. Hosting in an elastic cloud environment means that you likely aren't tied to particular physical servers or storage making physical data hijacking unlikely.
Last but not least, we come to Data Sovereignty. You might think at this point that, given my previously stated views, I would come out against any American cloud service provider. CloudPhysics, however, have gone out of their way time and again to assure me that they take these issues seriously. There are some minor issues to consider, but using them you run no more of a risk that you would if you were using SalesForce which I've had no issue recommending to clients in the past.
Security 9/10
I like it
Despite some hiccups early on with the beta (yes, I know I said I wouldn't mention it), the more I use CloudPhysics service, the more I think I like the service that it provides.
I've mentioned before that CloudPhysics has gone out of its way to make certain it keeps security at the forefront of what it does and it should be applauded for that. When you tally that up with the fact that it has included a free tier perfectly designed for SMEs, what you get is a service that is steadily improving, even with no major competitors, and a value proposition that is hard to beat.