Bring Your Own Disks: The Synology DS214 network storage box
Home NAS rig gets less expensive, less hassle-some
---
Home server
Another popular usage case is for handling surveillance video, handling a number of IP cameras concurrently. And there's a good range of third party packages that can be installed with one click, including WordPress and SugarCRM.
Synology's success owes much to its web top GUI, accessed through a browser, which is now polished and mature and, thankfully, doesn't suck up system resources. If you can't remember the IP address you've allocated to the box and port (5050) you'll need to download the DSAssistant app for Windows or Mac. This finds the servers on your network and also you to monitor their status.
One minor glitch it threw at me was complaining that it needed the latest version of Java. Tech support established this wasn't a complaint about the DiskStation, but about the Mac client I was using.
The DS214 I received as a test unit carried the 4.2 software, but not so long ago Synology made the 4.3 update available as a download. In this, the PhotoStation photo streamer gets spruced up, and some other useful features are bundled. At long last, Diskstations now support Mac-formatted (HFS+) disks, something Synology's great rival Qnap has been able to boast for ages.
I was also pleased to see bandwidth throttling per user and per protocol added, although 4.2 had already made ground here. Microsoft's Offload Data Transfer (ODX) file protocol is also added, allowing servers to transfer files between iSCSI partitions faster with lower CPU and IO strain. It's supported in Windows 8 Explorer.
For users with more money than sense, the SSDs are better supported than before, thanks to support for the TRIM command. Of course, you saturate the bottleneck of the network I/O far sooner than you'll soak up the disk I/O bottleneck, in which case why use an SSD in a NAS unit? Perhaps if you've got very acute hearing and the low noise of the disks starting up is still too much.
Running a home server may have once sounded ludicrous, but the low power consumption of the ARM board and aggressive power management of modern drives make them very unobtrusive. They can be set to power up and down to a schedule. The official power consumption is 22.64W in access mode, 20.7W when idle, and 9W in hibernation.
That's a little more than its predecessors the DS212 drew 18.2W access/6.8W hibernate and the DS213 18.48W access/8.28W hibernation. For comparison the beefy two year old reference unit (the 712+) draws 27.5W active and 17.6W idle.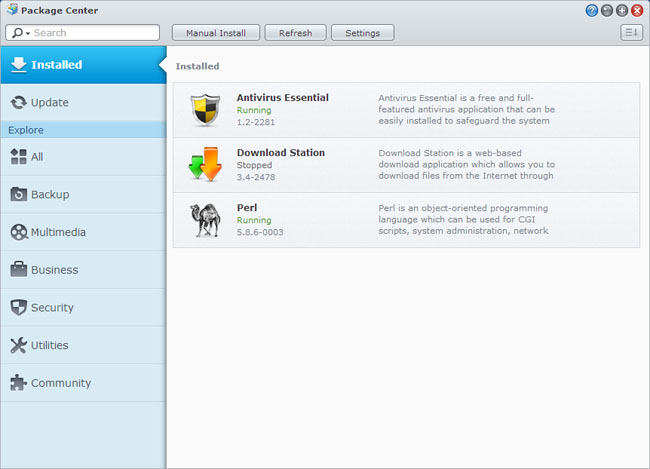 Load up extra software
Synology claims network write speed of 100MB/s in mirrored RAID mode for the new box. To test this I set up a RAID 1 array with two WD Red 3TB disks, and created two test sets of just under 2GB each, one containing a handful of large media files, and one a more typical mix of 1,600 files. I used a 2013 Apple Airport Extreme router - not the fastest - and Gigabit Ethernet.
Sure enough, the DS214 matched the claimed performance, recording 108MB/s in write mode for the large files and 103MB/s for the typical mix. Read speeds are considerably slower, and show a degree of divergence: with 46MB/s to read the large media files and 32MB/s to read the large mix of smaller files. If you're on Wi-Fi, of course, just fuggedabout it.
Writes trickle in at around 10MB/s and reads trickle out at around 8MB/s. This is typical of performance across manufacturers, and if you're backing up a household of devices you'll want to do the first over a wired connection. And that would be that, normally. However, WLAN network speeds are improving with more use of 5GHz frequencies and the 802.11ac standard - so it's worth returning to the subject once we have compliant hardware.
The DiskStation can stream to your telly - Synology claims full 1080p HD is supported despite the modest ARM processor. However it's amazing to find a complete absence of any legal acquisition options either bundled or promoted - instead, the dark side of the internet is promoted as the default supply chain.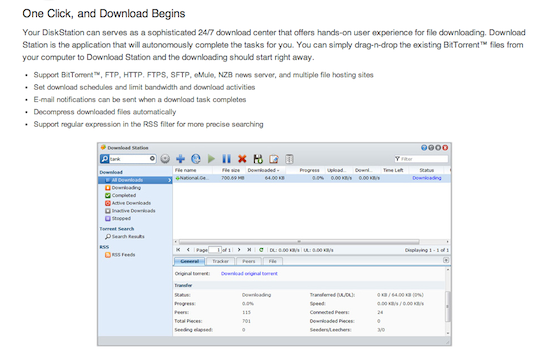 Condoning piracy? Torrent client included
The ethics here are dubious and quite avoidable: why not work with the legal supply chain to cache a Netflix stream to avoid stuttering, TiVo style? That kind of innovation must be worth a few pence.
The Reg Verdict
A home NAS box is a bit like an iPad - you don't really need one but once you have one, so many things - from backups to photo sharing - are that much easier. Synology's no-nonsense UI and ever-improving hardware are setting the pace in this competitive market. The webtop UI is getting a bit a long in the tooth, but it hits the sweet spot between dashboard UIs which conceal most of the powerful server features and the DIY approach - exemplified by this Sheeva plug server. No-tools assembly and a low price should make it even more attractive. ®

Bring Your Own Disks: The Synology DS214 network storage box
No-nonsense NAS that's easy to install and use.
Price:
From £216 (No drives) RRP