This article is more than 1 year old
Tape straightens its tie, speeds away from villain's lair: I think I'll die another day
Reports of sales death plunge have been greatly exaggerated
Declines in the sales of tape media are decreasing and the death of tape has now been postponed - indefinitely.
The Santa Clara Consulting Group tracks the tape market on a quarterly basis and its latest release describes what happened in the third 2013 quarter. Total backup tape cartridge sales were $141.73m with LTO format tapes accounting for 95 per cent of that at $134.35m.
LTO Media type percentages were:
LTO-4 at 38 per cent of units and 30 per cent of dollars
LTO-5 at 37 per cent of units and 35 per cent of dollars
LTO-3 at 13 per cent of units and 11 per cent of dollars
LTO-6 with 8 per cent of the units and 22 per cent of the dollars
LTO-1 and LTO-2 at 3 per cent of the units and the dollars
HP has a 31 per cent share of the LTO media market, with Fuji in second place and IBM third.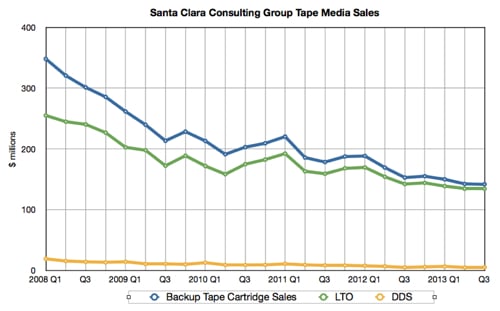 Backup tape media sales by quarter. Click chart for larger image.
The second largest format by volume was DDS/DAT with combined media sales of $4.9m. DLS, DLT-V, AIT and QIC media sales followed.
The chart shows that the decline in tape media sales is levelling out at around $140m a quarter. Perhaps, just perhaps, with the rise of archival tape use in the cloud, where its unrivalled cost/GB can blow disk archives out of the water, general use of tape for archiving is now stabilising and may even start rising. That would be a tape turn-up for the books.
For a more detailed tape market view, subscribe to Santa Clara Consulting Group's quarterly backup tracker by email to dbunzlel@sccg.com. ®