Toshiba has rebuilt a 1.6TB SSD originally made with 24nm flash cells and used denser 19nm flash, generating better read performance at the expense of write speed – it wasn't quite made of the write stuff, so to speak.
The PX02SM is - was - a 200GB - 1.6TB SSD for enterprise read-intensive applications made from the aforesaid 24nm eMLC NAND.
The new PX03SN uses 19nm MLC flash and is optimised even more towards the reading of data. It now has better random and sequential read performance and worse write performance. The table shows the differences: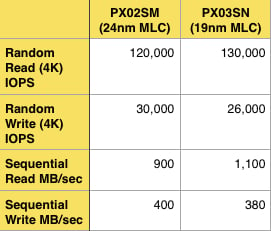 The bandwidth numbers are MiB/sec by the way, not MB/sec.
This PX03SN SSD has a 12Gbit/s SAS interface, like the PX02SM. It can do one full drive write a day for five years.
Toshiba says the PX03SN is for "read-intensive applications, server storage and caching applications, and storage systems where customers are looking for a balance between cost, endurance and performance".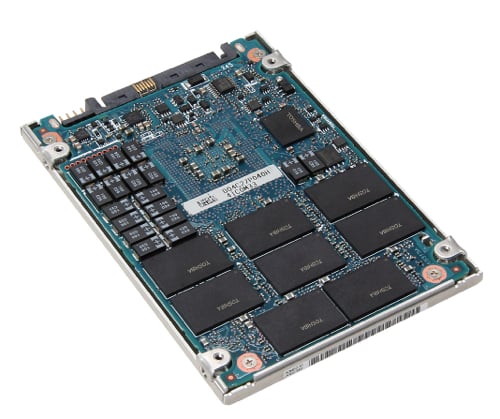 Toshiba PX03SN SSD
SanDisk, which partners Toshiba, has a 1.6TB Lightning SSD for read-intensive work. Seagate Pulsar SSDs, some of which use Toshiba's 19nm NAND, don't go up to 1.6TB capacity. Nor do its 21nm Samsung SSDs and it doesn't have such a read-optimised product anyway.
Samsung's SM843T goes up to 960GB capacity and has a read-skewed random read/write performance profile of 98,000 and 15,000 IOPS respectively, and 500MB/sec/370MB/sec for sequential reads and writes. But it does 11 full drive writes/day and so has a much longer write life than Toshiba's latest SSD.
Intel's DC 3500 is a read-intensive SSD but only goes up to 800GB capacity and 75,000/11,500 for random read/write IOPS. With its 6Gbit/s SATA interface it's outclassed.
HGST's Ultrastar SSD800MR is in much better shape, going up to 1TB capacity, and 2 full drive writes a day and doing 145,000, 20,000 random read/write IOPS with a 12Gbit/s SAS interface. It uses 25nm MLC NAND and offers 1,200/700 MB/sec for sequential reads and writes. Get that refreshed with 19nm-class flash and it could outclass Toshiba's PX03SN by a substantial margin.
We can expect Toshiba's SSD line to show the influence of its acquired OCZ technology around about mid-2014 or so. That will make life interesting for its competitors.
The PX03SN will be sampling to customers this month. Access a PDF data sheet here. ®