Apple patents facial recognition tech for mobile log-in
Handsets could display information and unlock by staring at your mug
Apple has been granted a patent on techniques for unlocking a device based on facial recognition.
US Patent number 8,600,120, "Personal computing device control using face detection and recognition," describes a system in which a device is able to access its camera and authorize access based on recognizing your face.
In addition to security authentication, the patent describes a system which is able to analyze your face and then display relevant data such as recent calls or received messages for your accounts.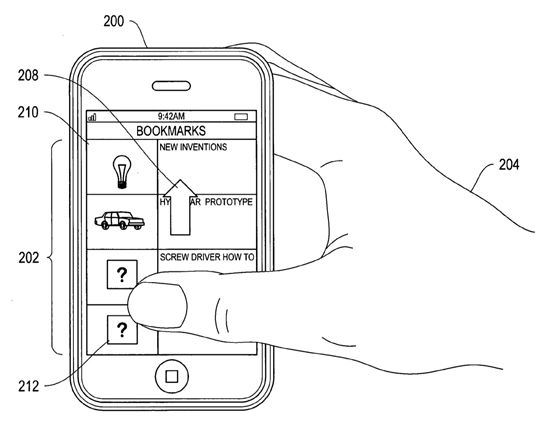 Your phone will look you in the eye and know if a 'screw driver how to' is relevant to you
Similarly, the device could be instructed to lock itself down and not display any information about received or incoming calls and messages, should the face of the current user not match that of the device's owner or authorized users.
Apple says in the patent that its aim is to eliminate the need for users to manually interact with a device in order to be recognized and authenticated. The company notes that its technology could help to eliminate the need for users to constantly "remind" their device that it is in use.
"One problem with existing personal computing devices is that such devices often perform certain functions regardless of whether users are passively interfacing with the devices," Apple writes.
"In other words, personal computer devices are not able to determine whether a non-active or passive user is present and, subsequently, are unable to perform certain operations to accommodate the passive user."
It should be noted that patents are far from a guarantee that new technologies will be offered in a device. Vendors will often patent technologies in broad strategic or precautionary moves, with many of the referred-to technologies never making it past the research and development phase.
Apple does, however, have something of a reputation for taking action when it believes its patents have been infringed – to put it mildly. The company has embroiled itself in a global battle with Android device vendors over what it has claimed are blatant infringements on Apple patents by hardware makers. The effort, famously described by Apple cofounder Steve Jobs as "thermonuclear war," has sought penalties and outright bans on multiple Android devices.
The company recently claimed victory in the US when a court found that infringements by Samsung should lead to a $290m legal penalty in Apple's favor. ®