This article is more than 1 year old
Women crap at parking: Official
But thrash blokes at multitasking and empathy
A team of University of Pennsylvania boffins appears to have confirmed the commonly held notions that while women are absolutely useless at parking cars, they thrash blokes when it comes to multitasking and empathy.
The scientists scanned the brains of 949 peoples aged 8-22 - 428 male and 521 female - and discovered "unique sex differences in brain connectivity during the course of development".
The abstract, published in Proceeding of the National Academy of Sciences, explains: "The results establish that male brains are optimised for intrahemispheric and female brains for interhemispheric communication. The developmental trajectories of males and females separate at a young age, demonstrating wide differences during adolescence and adulthood.
"The observations suggest that male brains are structured to facilitate connectivity between perception and coordinated action, whereas female brains are designed to facilitate communication between analytical and intuitive processing modes."
The findings "confirm our intuition that men are predisposed for rapid action, and women are predisposed to think about how things feel", as Paul Zak of the Center for Neuroeconomics Studies at Califormnia's Claremont Graduate University put it.
He continued: "It tells us why, almost always, when men and women are in a car together, the man drives. His brain is biased toward being better at moving a vehicle along a road and going to the right place, the stereotype of the lost man notwithstanding."
However, the researchers noted that "women have superior memory and social cognition skills, making them more equipped for multitasking and creating solutions that work for a group".
They also "maintain and value friendships and other relationships better than men do", according to Zak. "Men can have many friends, but on average we are less good at this," he admitted.
The scientists used "diffusion tensor imaging" (DTI) to probe their subjects' brains. The "water-based imaging technique, that can trace and highlight the fiber pathways connecting the different regions of the brain", demonstrated that "females displayed greater connectivity in the supratentorial region, which contains the cerebrum, the largest part of the brain, between the left and right hemispheres", whereas males "displayed greater connectivity within each hemisphere".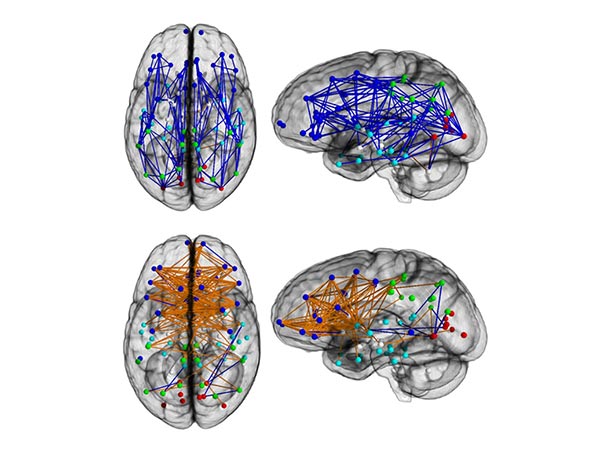 Scans showing increased connectivity from front to back and within one hemisphere in males (upper) and left to right in females (lower). (Image courtesy Ragini Verma, PhD, Proceedings of National Academy of Sciences)
Neuropsychologist Ruben Gur, who participated in the study, conceded that "at any given moment, a woman is likely to be using her whole brain while a man is using half of his". Speaking to Philadelphia's Enquirer, he "struggled when asked if this structure makes men superior at anything". ®
Bootnote
When outside of the slow-moving parking arena, studies have reported that men do tend to drive more dangerously and cause more accidents than women. The City of New York's first pedestrian safety report determined that a whopping 80 per cent of crashes that killed or seriously injured pedestrians involved male drivers.