Blocks and Files As consumers become ever-more attached to their gadgets - variously glued to PCs and tablets, and, after-hours, laptops, game consoles and mobiles – the gigantic digital businesses are competing with each other to capture and monopolise users' screen time on internet-connected devices. And all of the contenders are using many monumentally large data centres and data vaults.
For the first time in human history, businesses can hope to have access to consumer eyeballs for several hours a day and become electronic comfort blankets for digital entertainment, mail, mapping, photo albums, e-tailing, search and social media – either through endpoint device capture or internet activity dominance, or both.
The influence of the "FAGAMe" group of businesses is becoming pervasive, global in scope, and capturing a hitherto unattainable amount of individual consumer spending through the colossally concentrative effects of internet access to favoured destinations.
Just six businesses are becoming the dominant internet destinations for consumer eyeballs. Here they are with their dominant consumer-facing activities:
Facebook for social media;
Apple for phones, tablets, digital entertainment and mapping;
Google for search, phones, mapping and mail;
Amazon for e-tailing and book readers and digital books;
Microsoft for desktops/notebooks, search and mail; and
eBay for e-tailing and payment
These businesses are sticky; they have such scale and such a deep interaction with their users that their potential for growth is simply awesome. They are all looking over their shoulder at what the others are doing and wondering if they can expand sideways into adjacent but related activities.
Such expansion seems outrageously risky and unlikely when it's first attempted but then rapidly becomes accepted. Think of Amazon's Kindle ebook reader and Google's Android mobile phone/tablet operating system when they were first mooted.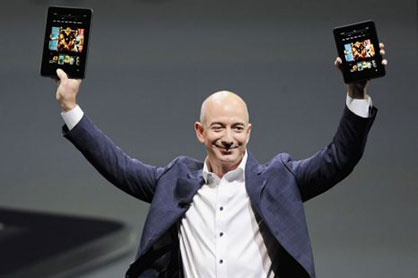 Jeff Bezos... wants your eyeballs
If the device a consumer uses to connect to the internet is "owned" by one of the big six, then they have an initial and enduring advantage. So far, four of the six have this aspect covered:
Apple - desktops, notebooks, tablets and smartphones
Google - Chrome and Android-running notebook, tablets and smartphones and smartphone hardware
Amazon - Kindle Fire and tablet and Kindle ebook reader range
Microsoft - desktop, notebook, and nascent tablet and smartphones, search and mail
Facebook and eBay don't have their own devices and rely on being the dominant internet destination for social media (Facebook) and alternate e-tail site (Amazon). Both are vulnerable in the medium and long term because of this.
Thus Google is persistently trying to grow its social media biz with Google + but would be better off simply buying Facebook. Zuck's company would be ill-advised to get into the end-point device business and is under a constant competitive threat because of this. Ditto eBay/Paypal, which is in an e-commerce niche, unlike Amazon which has vaulted out from e-tail into other fields.
If you supply consumers' devices then you literally touch them more deeply, and, with tablets and smartphones, they literally touch you; the interaction is full of feeling.
The market capitalisations of the big consumer internet six reflect this thinking:
Facebook - $114bn
Apple - $505.1bn
Google - $354.4bn
Amazon - $176.5bn
Microsoft - $319.9bn
eBay - $67.3bn
These six consumer internet giants have a reach into consumers' lives that's simply unprecedented and their collective effect on analogue-based businesses is deeply destructive, witness the panic of Barnes & Noble with its Nook initiatives and the millions of empty retail premises in malls and high streets across North America and Europe – put out of business by etailers.
Apple and pals are helping to kill physical entertainment media supply (bye bye Blockbuster, farewell music CD and film DVD). Whole swathes of digital media retail jobs have been swallowed since iTunes and electronic music media became popular. The same is the case with the brocks-and-mortar sector since Amazon and its cohorts arrived with their digital product etailing and its online retail with physical fulfilment from enormous and cleverly automated warehouses. Thousands of people work in these centres but tens of thousands, hundreds of thousands, lose retail jobs out in bricks-and-mortar-shop land.
Meanwhile, vast amounts of business taxes payable to local, state and national authorities are vanishing as retail premises and bricks-and-mortar jobs disappear, while state and national governments' appear unable to efficiently tax these huge, vast online enterprises.
Suppose one of the big six became a bank? Could you imagine the power of its influence on consumers, the inventiveness of its bundled offers? (Bank with us and get a 10 per cent discount on your purchases from our online retail site, that sort of thing).
Suppose one of them bought a telco or a cable TV supplier? Where do we draw the line?
Do we want Google driving our cars? Do we want our behaviour monitored through Google Glass? And are we really going to abandon our high street shops in favour of e-tailers?
When we consider their business interests, like Amazon's cloud computing efforts, and Microsoft's business software, then it seems clear that competition bodies should be paying close attention to the FAGAMe businesses. ®