Apple has filed a patent for a "Smart Dock" that essentially extends the range and expands the capabilities of its iOS Siri voice recognition, request, and command feature, giving the somewhat dim young thing a greater role in your home life.
The US Patent and Trademark Office application, entitled "Smart Dock for Activating a Voice Recognition Mode of a Portable Electronic Device", was filed on May 29, 2012 and published this Thursday. It describes a docking station for not only Apple iDevices but also "any electronic device that can operate in a voice recognition mode."
As is often the case in Apple's patent filings, the range of devices it envisions that could take advantage of the dock's capabilities is extensive – nay, infinite:
Such devices may include, for example, a laptop computer, a tablet device, a key fob, a car key, an access card, a multi-function device, a mobile phone, a portable gaming device, a portable multimedia player, a portable music player, a personal digital assistant (PDA), a household device, and/or any portable or non-portable electronic or electro-mechanical device and/or the like. For example, a portable electronic device can include an iPod, iPhone, iPad, MacBook, or iMac device available from Apple Inc. of Cupertino, Calif.
Should you configure an Easy-Bake Oven with voice-recognition capabilities, Apple's Smart Dock will welcome you with open arms.
The dock can be configured in a number of ways – a touchscreen, microphone speakers, clock, control buttons, hard drive, GPS, a variety of sensors, and a IR or RF receiver for a handheld remote are all mentioned – but the device's main purpose in life is to interface with the aforementioned "portable or non-portable electronic or electro-mechanical device."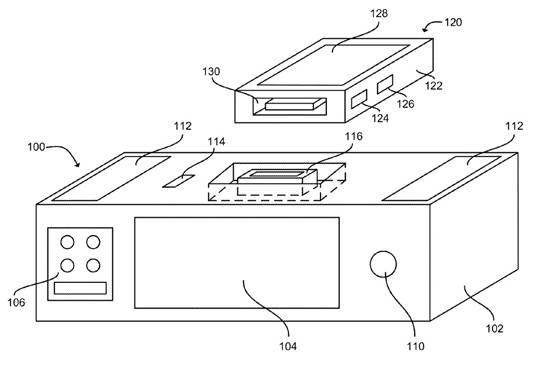 Apple's 'Smart Dock' (below) is ready to accept any iDevice, such as a smartphone (above)
The smart dock isn't really all that smart – it's more an interface with and an extension to the device that you attach to it. What it does is accept a variety of command sources, voice recognition being the most prominent, and conveys them to the device, which then does the heavy lifting.
You can, for example, ask the dock questions or give it commands that it would then transfer to the iOS device attached to it. As with the list of compatible devices, the patent's list of such Siri-like spoken commands is extensive, indeed:
The user request may be a request to utilize one or more services, applications, and/or functionalities of [the] portable electronic device such as placing a phone call, playing multimedia content (e.g., playing a song from the user's music library), sending a message (e.g., a voice message, e-mail message, SMS message, video message, instant message, meeting invite, etc.), creating a calendar entry (e.g., creating a meeting, task, reminder, etc.), retrieving driving and/or walking directions, retrieving public transportation information, setting an alarm, checking the weather forecast, locating attractions, creating restaurant reservations, accessing reviews, searching the Internet, and/or the like.
You might reasonably ask why a dock is needed to transmit such commands and requests, seeing as how you could simply speak them directly into your iPhone, iPad, or iWhatever. The filing's answer: "the utilization of such voice recognition capabilities in existing devices typically involves an initial activation step requiring the user to interact with the finger controls and/or GUI of their device before voice commands can be processed."
To save you from the inconvenience of actually having to walk a few steps and touch your iDevice, the smart dock will listen for you commands at all times, and will be able to do so from a distance far greater than your iDevice is accustomed to. It will also be user-programmable to recognize a trigger word, phrase, or sound – the filing mentions hand claps and finger snaps – to know that the next command is just that, a command, and not you yelling to your kid upstairs, listening to Li'l Wayne, "Turn it down!"
The dock's voice-recognition capability can also be tuned to listen for only specific voices, so that it won't be fooled by voices from, say, a television or radio, and can also be distance-limited, so that it won't pick up your commands should you be speaking in an adjoining room.
Finally, the dock can be configured so that it will only respond to incoming commands, and not responses spoken by the iDevice's Siri capability – useful, considering that in our experience at least, one never really knows what the wee lassie will respond to anything she's asked. ®