Japanese carrier Docomo will this week launch a new service designed to help wean customers off that anti-social habit of using their smartphone whilst walking, by effectively blocking the device when used on the move.
The Japanese carrier said it will introduce its free anshin-mode, or "safety mode", service on Thursday.
If users activate the service on their Android phone and then try to use said device whilst walking it will flash up the following message (tr. RocketNews24):
Using your smartphone while walking is dangerous. The phone senses you are walking. Please stop.
If users really want to access the device they can then tap "close" on the warning screen to get ten more seconds of use, or press and hold the power button to get five vital extra seconds.
The service can also be set to "three stages of walking detection sensitivity" – high medium and low.
Considering it's an entirely opt-in service, you might assume Docomo is wasting its time here, although it could be a canny move by the firm in portraying itself as a socially responsible mobile operator.
If there's one place this kind of thing goes down well, it's Japan, where politeness, social responsibility and public safety are real hot button issues.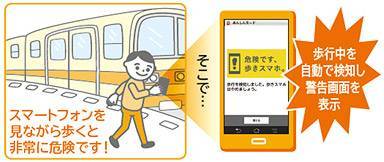 Accordingly, the mobile giant has launched a public awareness campaign including adverts on radio, TV and billboards warning people of the dangers of using their smartphones whilst walking.
One of the images depicts a cheery looking user happily on his phone whilst walking in front of a train - clearly multi-tasking is a dirty word in Docomo HQ. ®