Pics NASA has opened its photo scrapbook to remember the Pioneer 10 spacecraft, which on 4 December 1973 passed within 130,000km of Jupiter, in the process returning some decidedly non-hi-res snaps.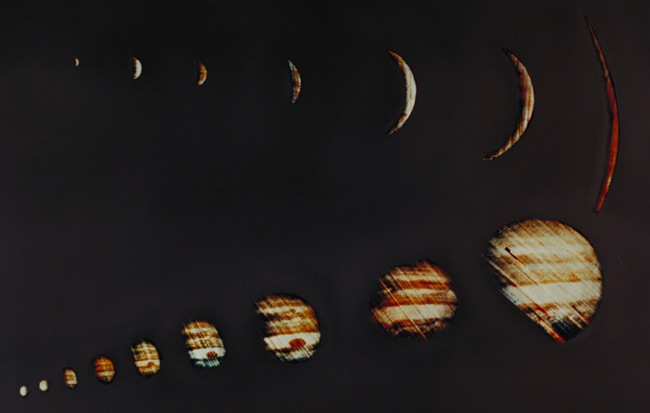 The agency explains: "Launched on March 2, 1972, Pioneer 10 was the first spacecraft to travel through the asteroid belt, and the first spacecraft to make direct observations and obtain close-up images of Jupiter."
It adds that this "historic event marked humans' first approach to Jupiter", during which Pioneer 10 "imaged the planet and its moons, and took measurements of Jupiter's magnetosphere, radiation belts, magnetic field, atmosphere, and interior".
The spacecraft's portraits of the gas giant were captured using the Imaging Photopolarimeter (IPP), grabbing "simultaneous, two-color (blue - 3900 to 4900 A, red - 5800 to 7000 A) polarimetric and radiometric measurements, and moderate-resolution (about 200 km at best) spin-scan images".
The IPP was basically a mirror (catadioptric) telescope directing light through a focal-plane wheel, a prism, and a dichromatic mirror. This rig produced red and blue beams which were measured by dedicated photocathodes.
By 1979, Voyager 1 was capable of delivering this impessive view from a distance of 9.2 million kilometres, revealing "cloud details as small as 160 kilometres":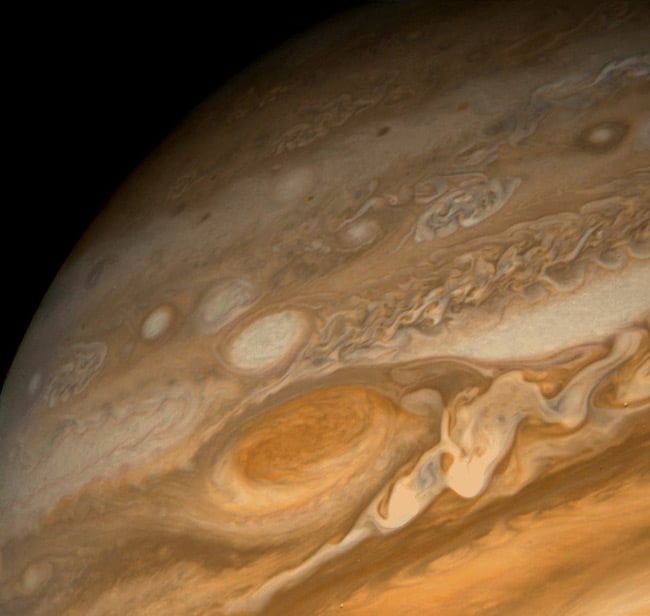 Voyager 1 carried wide and narrow-angle slow scan vidicon cameras, with low-resolution 200mm wide-angle lens and "higher resolution" 1500mm lens, respectively.
The cameras' 25mm diameter magnetic deflection vidicon sensors temporarily stored "800 lines with 800 picture elements (pixels) per line" images on their selenium sulphur surface, available for electronic readout (more here).
By the time Galileo rolled up at Jupiter in December 1995, NASA had taken a spare Voyager narrow angle camera and bolted a "800 x 800 line CCD" to it to create the "Solid-State Imaging (SSI)" instrument.
The SSI was a spectacular success, as NASA's montage of Jovian satellites shows (bigger version here):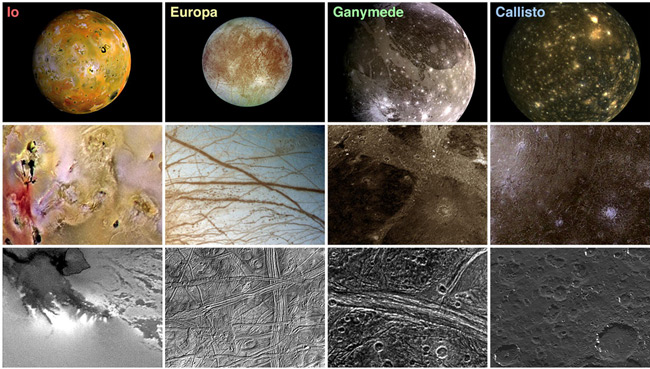 Not to be outdone, the Cassini spacecraft delivered this tremendous mosaic portrait of Jupiter during its closest approach to the monster in December 2000: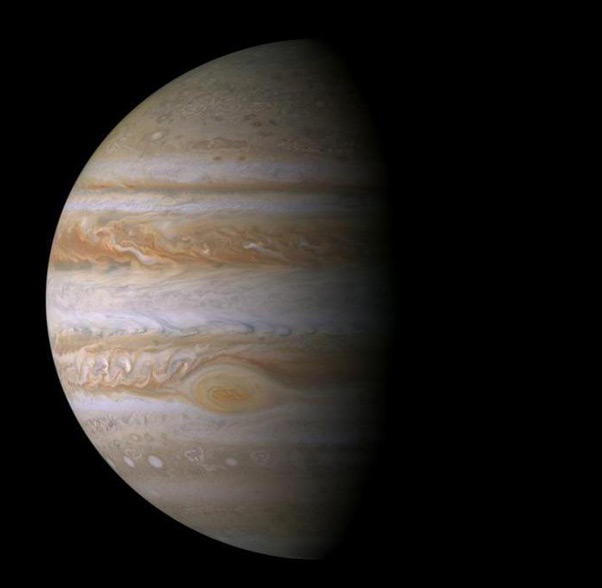 The 27-image composite was the work of the narrow-angle camera in Cassini's Imaging Science Subsystem (ISS). This comprises "a reflecting telescope with a focal length of 2000mm and a field of view of 0.35 degrees", and a "CCD consisting of a 1024 square array of pixels".
NASA boasts the spacecraft's narrow-angle snapper "could see a quarter - 2.4 centimetres (0.9 inches) across - from a distance of nearly 4 kilometres (2.5 miles)", and as proof of its capability, it should be noted the above image was taken from a distance of 10 million kilometres. The agency notes: "It is the most detailed global color portrait of Jupiter ever produced; the smallest visible features are approximately 60 kilometres (37 miles) across."
The Jupiter scrapbook still has room for further photographic wonders. In July 2016, Juno will arrive at the solar system behemoth on its mission to "understand the origin and evolution" of the planet.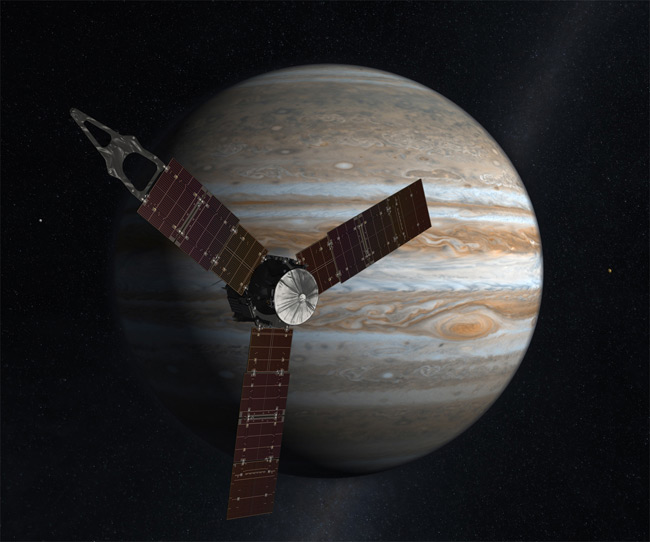 On board will be JunoCam, promising "the best pictures ever taken of Jupiter's polar regions" with its 1600 x 1200px KAI-2020 image sensor.
As Juno skims to within 4,300km of Jupiter, the camera should deliver a resolution of 15km/pixel. ®