This article is more than 1 year old
Astroboffins spot HOT, YOUNG GIANT where she doesn't belong
No one understands her, but she's far out, man
Pix An international team of astroboffins has spotted an enormous exoplanet with such an improbably large orbit around its host star that it could turn cosmological theory on its head.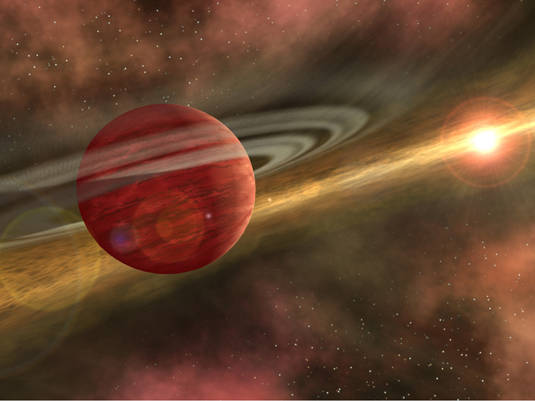 No this isn't a Hubble snap with lens flare, it's an artist's conception of
the newly discovered exoplanet and its host star (click to enlarge)
"This system is especially fascinating because no model of either planet or star formation fully explains what we see," said research lead Vanessa Bailey, a fifth-year graduate student at the University of Arizona's Department of Astronomy.
At 11 times Jupiter's mass, exoplanet HD 106906 b is a big 'un, indeed, but its distance from its host star is what's truly astonishing: it's 650 times as far from its star than Earth is from ol' Sol – about 60 billion miles. It's both HD 106906 b's size and its distance from its host that confound the research team.
Current theory holds that planets close to their stars, such as our own, are formed from agglomerations of asteroids and chunks of matter that formed in the disk of gas and dust that surrounded their star in its youth. This process, however, is too slow to form giant planets far from their suns.
Those giants are thought to be formed in a quick collapse of materials in the primordial disk orbiting a young star. All well and good, but at a distance such as is being traversed by HD 106906 b, those disks rarely have enough material to coalesce into a planet as large as the one discovered by Bailey and her team.
One other possibility that the team has proposed is that a binary star system was involved in the exoplanet's formation.
"A binary star system can be formed when two adjacent clumps of gas collapse more or less independently to form stars, and these stars are close enough to each other to exert a mutual gravitation attraction and bind them together in an orbit," Bailey explained.
"It is possible that in the case of the HD 106906 system the star and planet collapsed independently from clumps of gas, but for some reason the planet's progenitor clump was starved for material and never grew large enough to ignite and become a star."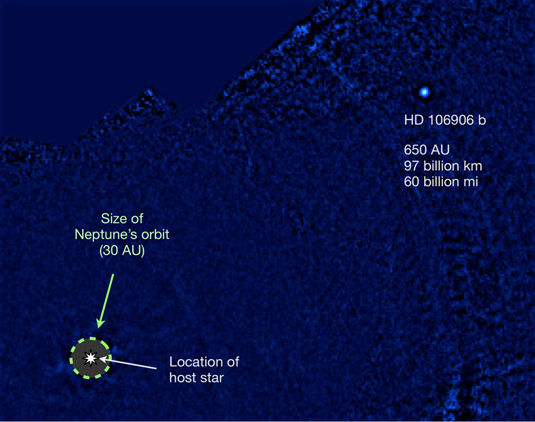 To borrow a phrase from the swingin' sixties, HD 106906 is 'far out, man'
Maybe so, but when that process happens it usually involves two stars with a differences in masses that is no more than 10 to one.
"In our case, the mass ratio is more than 100-to-1," she explains. "This extreme mass ratio is not predicted from binary star formation theories – just like planet formation theory predicts that we cannot form planets so far from the host star." At 13 million years old, HD 106906 b is also a relative babe when compared to our 4.5-billion-year-old Earth. As a hot-blooded youth – about 2,700°F (1,500°C) – it's still glowing in the infrared spectrum from the residual heat left over from its formation.
The team spotted the exoplanet using the 6.5 meter-diameter Magellan telescope in the Atacama Desert in Chile, recently fitted out with the University of Arizona's Magellan Adaptive Optics (MagAO) and Clio2 thermal infrared camera systems (both links PDFs).
As MagAO principal investigator Laird Close explains, "MagAO was able to utilize its special Adaptive Secondary Mirror, with 585 actuators, each moving 1,000 times a second, to remove the blurring of the atmosphere. The atmospheric correction enabled the detection of the weak heat emitted from this exotic exoplanet without confusion from the hotter parent star."
The Clio2 system contributed to the discovery because it's a heat-seeker, optimized for the thermal infrared wavelengths at which a hot young thing such as HD 106906b emit their radiation.
For more information – and far more technical data – you can check out the team's paper (PDF), accepted for future publication in The Astrophysical Journal Letters and entitled "HD 106906 b: A planetary-mass companion outside a massive debris disk". ®