This article is more than 1 year old
Our Vulture strokes Dell's ROBUST 15 INCHER: Inspiron 15 Core i7
Middle of the road desktop replacement - but beware looking for help
Review The appeal of replacing your desktop is not exactly hard to appreciate. For me, a big screen, decent sized keyboard and a measure of portability, all add up to deliver one thing: convenience. So here I am with Dell's latest Inspiron 15 7000 series laptop and, curiously enough, it is on my lap, all 2.6kg of it.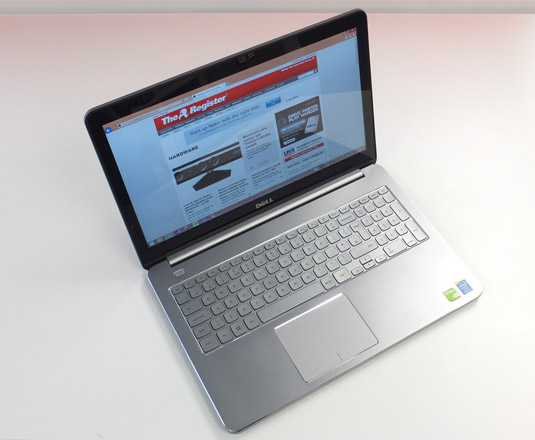 Dell's Inspiron 15 7000 series: in the hand this 15-incher looks a good deal bigger than this
It's warm, rather than hot and near silent, even though it houses a WD Blue 1TB 5400RPM HDD.
Dell has quite a range of 7000 series Inspirons. But for you, dear reader, I insisted the 15.6in touchscreen display I'm reviewing was the full-HD version, which means it's the top of the range 7537 model, the 17" options notwithstanding.
Now there's another thing I should mention that a desktop replacement should offer over some svelte, lightweight, overpriced carry-anywhere notebook: performance. With a big screen, you get a big base, plenty of room for keys and more leeway inside (to squeeze in a discrete GPU, for example), a bigger battery and a few fans for good measure to keep that best-of-breed mobile CPU under control.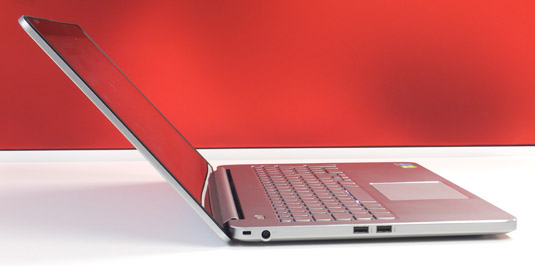 Keeping trim: no optical drive and only two USB ports and the power input on this side
Well, that's the theory in my book, although I'm not so sure Dell sees it that way. That said, this Inspiron 15 does come loaded with 8GB of RAM and an Nvidia GeForce GT 750M with 2GB of RAM, which isn't a bad start.
However, the 4th Gen dual-core Intel 1.8GHz Core i7-4500U CPU seems a bit more of an Ultrabook offering than what could potentially be squeezed inside. How about a Core i7 quad-core CPU and give the MacBook Pros a bit of a fight?
After all, Dell is keen to point out the 7000 series features a forged aluminium body shell, and I wonder where that idea came from? That said, Apple could do with picking up a few ideas from Dell as this model features four USB 3.0 ports and retains Gigabit Ethernet interfacing.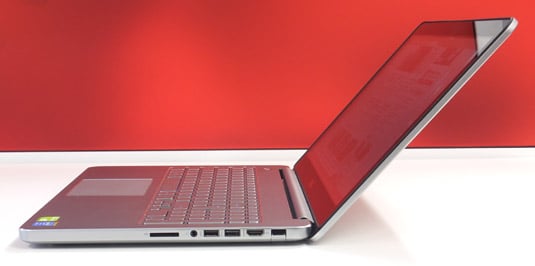 The right-hand USB connector is also a PowerShare port enabling peripheral charging options when the laptop is sleeping or off
Granted, there's no Thunderbolt which does grace some portables beyond the Mac stable and dual display duties are handled by the full-size HDMI port. With only two USB ports on the left edge, the main array of interfacing is on the right – which also features the mic/headphone combo jack socket and an SDXC card slot. There's no optical drive, which helps keep things slim. Without one some might reckon this isn't really a desktop replacement box anyway, but at 379 x 255 x 21mm, it makes a big impression.
Dell isn't asking MacBook Pro money for the Inspiron 15 – this spec is £700 – and thankfully it does have a backlit keyboard, although it lacks ambient light sensing. If you miss having a numeric keypad when migrating to a laptop, you should be satisfied with this layout; even with the numpad it doesn't feel especially cramped.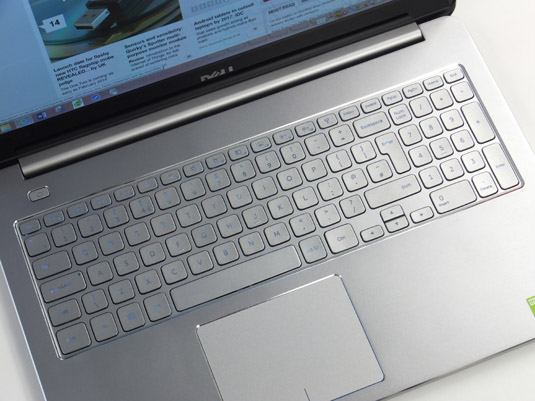 Missing a numeric keypad on the go? It's all here - click for a larger image
Personally, I suffered from my usual left-handed drift caused by the trackpad being off-centre. This did make unintended right clicks happen regularly – particularly annoying when simply highlighting a word for correction – and I'd fumble for the backspace key too, but adjusted to the layout sooner than I was expecting.