This article is more than 1 year old
Our Vulture strokes Dell's ROBUST 15 INCHER: Inspiron 15 Core i7
Middle of the road desktop replacement - but beware looking for help
Inertia reeling
The keys feel pretty good – positive and no nasty surprises, although there's a fair bit of flexing on the backplate, which doesn't inspire confidence, but as there were no accompanying creaks and clunks from the keys or the trackpad, I could live with this.
That said, the trackpad's lack of sensitivity often required more deliberate pressure to ensure it would respond to two finger scrolling. The inertial scrolling wasn't too helpful here, bouncing back the page when letting go, which was odd. Still, the Synaptics trackpad control panel has plenty of options to help subdue some of this tricky behaviour.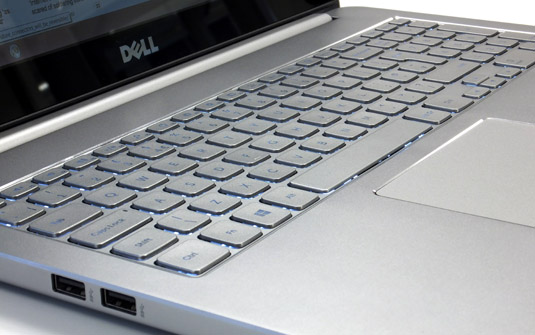 The backlit keys are handy but there are only three states: bright, dim and off
Lest we forget the touchscreen. Familiarity with Windows 8 has shifted my earlier concerns that without a touchscreen, you were sunk. These days, smearing a finger across a glossy screen happens only occasionally – usually when some unwanted desktop shape-shifting has occurred and I'm after a quick fix.
Knocking out this review on a display this size meant I didn't have to zoom into Word to enlarge the type. This amount of screen acreage has its pros and cons, though. I did notice a fair bit of shading when viewing off-axis and the screen tilt angle also seemed very sensitive to this. It was most noticeable with white backgrounds - hence when typing up this review is when it really attracted my attention.
I could see more evidence in photos – a white flower, a bowl of rice. Sit still though, and it's not a problem. However, the reflections just compound the issue, but maybe having a bigger screen makes dancing digits on the keyboard all the more obvious.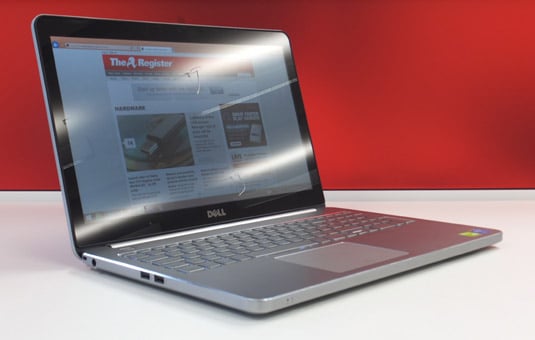 See, I told you the screen was reflective
Dell claims the display intensity is 300nits and while it's certainly bright enough, it's no Samsung dazzler. A nose around the drivers suggests this 1920 x 1080-pixels touchscreen panel is an LG model, although little is said about it, just some obscure references to an LGD040E driver ID and some reports that suggest it's IPS too.
That said, on various forums, user speculation is rife that Dell Inspiron displays come from unheard of Chinese manufacturers. Perhaps Dell should be a little more forthcoming on the spec here, as an "LED backlit touch display" doesn't give much away.
Rather surprisingly, the Dell Inspiron 15 didn't arrive with Windows 8.1 pre-installed but getting the update running was easy enough, apart from the tiresome dance of the seven veils the installer does as it goes about "Getting things ready". Including downloading, it was all done in an hour, unlike my Atom tablet experience.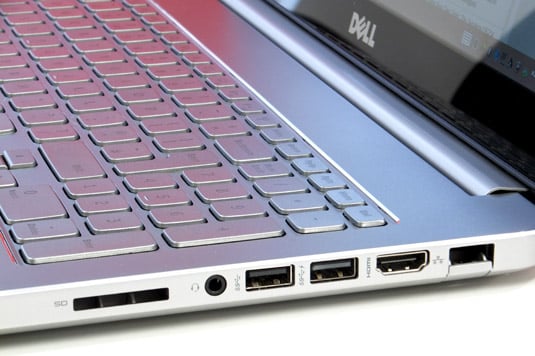 Ahh, Gigabit Ethernet too, how civilised
I thought it best to do all the testing with Windows 8.1, as any buyer would update their Inspiron. The performance leaves little to complain about. It was slightly hesitant running apps after a new log-in set-up, but once that had bedded in, it's been fairly smooth ever since.
FutureMark's PCMark 8 benchmark gave a Home Score best of 3078, which given there's no SSD or hybrid cache speed boosting funkiness, it's a perfectly acceptable result at this price. It makes you wonder how much further up the benchmark scale an SSD would take it. As it stands, this Core i7 Inspiron 15 notched up a casual gaming frame rate of 22fps. A tad tardy, but manageable and lowering the screen resolution to 1366 x 768 will almost double that figure.

Wake from sleep takes only a couple of seconds
At best, booting from cold to the desktop took 23 seconds, although there were several occasions when it was over 40 seconds. Having Haswell inside delivers battery savings and a rapid wake from sleep; even on this HDD machine it was aroused from dozing in a second or two. As for the battery, the PCMark 8 endurance test clocked up a meagre 3hrs 23mins, but this benchmark tends to be a hard task master and the screen was on full brightness too.
Dell claims 7hrs 24mins for the Core i5 version, but I couldn't find its figures for this Core i7 model. In general use, with screen dimming, around 5 hours was possible and no doubt frugal settings for undemanding labours could roughly double our PCMark 8 score from the 4-cell, 58Whr Li-ion battery.