Microsoft researchers build 'smart bra' to stop women's stress eating
Redmond denies wanting to GRASP cleavage
---
A team of boffins at Microsoft Research have been trying to solve the problem of stress eating with a Windows Phone smartphone app and a bra that measures the wearer's emotions.
When humans come under stress, overeating is common. Some scientists think there's a valid reason for this – grabbing some extra food is always handy for either fight or flight reflexes – but in more modern times this eating becomes a problem when the only thing you're trying to flee from is a looming deadline, or the fight is merely a verbal slanging match.
So Redmond's researchers and scientists from the University of Rochester in New York and University of Southampton devised a few tools to try to stop people's stress eating. The results have recently been published and make for unusual reading.
The first attempt was to build a Windows Phone 7 application called EmoTree where the 12 test subjects logged their emotional state over a period of four days and then recorded what food they ate and when. The team noted that a definite uptick in calorific calming chow-downs was inspired by feelings like being nervous, upset, or worried.
The next phase involved using this data to get the application to remind the user that they might be about to pig out for the wrong reasons. The EmoTree application suggested taking a little break before snacking if the user reported feeling stressed, or trying deep breathing exercises, but reported it made little difference.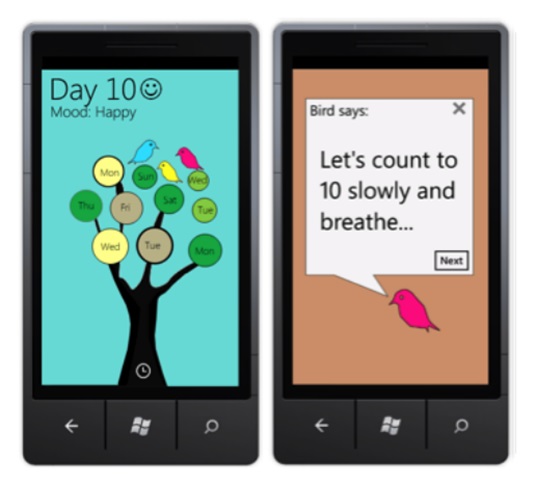 Try this with your significant other and see how far you get – possibly the emergency room
Logging emotions was a logical next step. The team used an electrocardiogram (EKG) sensor and a electrodermal (EDA) activity sensor that measures skin moistness, then hooked them up with a 3-axis accelerometer and a 2-axis gyroscope in a system dubbed the Generic Remote Access Sensing Platform (GRASP).
But where to put their sensors? The team decided a bra was the most practical solution for GRASP, since the chest band would hold the EKG against the ribcage where it could measure the heart rate and respiration easily.
The EDA was tougher, since the initial positioning across the back didn't yield enough sweat, so it was put in the bra's cup under the breast. All the sensor data was then fed back into the phone via Bluetooth and was stored on Azure for analysis.
Four female members of Microsoft Research wore the bras for four days – a tricky task since they had to be taken off and recharged every three or four hours. But the results were impressive; the sensors correctly detected emotional arousal with 75 per cent accuracy and emotional valence 72.62 per cent of the time.
The research paper says the team is now looking about how to get out of the bra design factor into something more unisex, such as bracelets. But the effectiveness of body sensors to stop emotional eating deserves further study, they conclude.
"The bra sensing system is just one instance of a class of work from a group of Microsoft researchers that is focused on the broader topic of affective computing, or designing devices and services that are sensitive to people's moods and react accordingly," a Redmond spokesperson told El Reg.
"While we will continue our research in affective computing, Microsoft has no plans to develop a bra with sensors." ®