Review The phone call from Western Digital's people promised me "a completely new category of hard drive". Naturally I was sceptical. After all, what could possibly be new in the world of rotating magnetic media – and don't we all just want fast SSDs anyway?
In fact, there's no denying that WD has indeed delivered something new and, for the time being, the Black² Dual Drive is unique. It looks exactly like a regular 2.5-inch Sata drive yet it combines a 120GB SSD and a 1TB HDD in the same, 9.5mm-thick package. It will fit inside all but the very thinnest laptops, which demand a 7mm drive.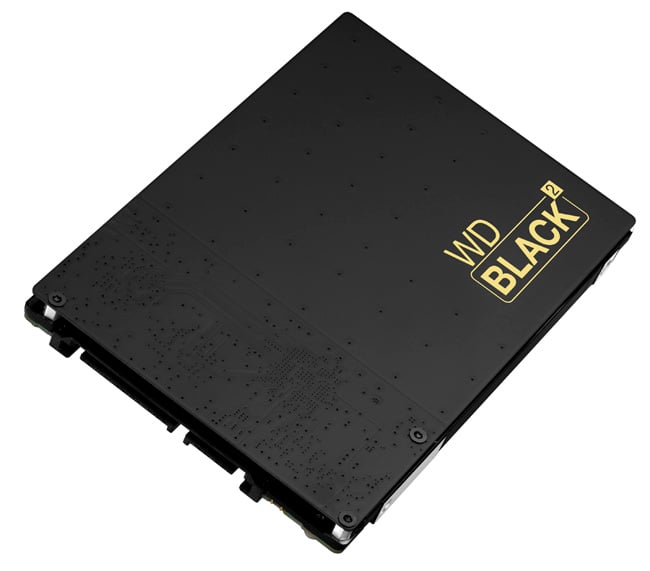 Two-for-one: WD's Dual Drive
Why bother? SSD technology is tailor-made for laptops. A combination of low power, silent operation, high performance and invulnerability to shock damage are just what the notebook doctor ordered, and if you could buy a 500GB SSD for a hundred quid, laptop hard drive sales would evaporate.
They're not that cheap, of course, which is why any desktop PC user who cares about performance will boot their machine off an small SSD but store their data on one or two absurdly cheap 3.5-inch hard drives. 120GB of Samsung 840 SSD for £75 and 3TB of Toshiba DT01ACA for a further £80? Job done.
Laptop users are hamstrung by their single drive bay so must choose between an expensive SSD, a cheap hard drive that slays performance, or pay a £25 premium and step up to a hybrid drive that adds 8GB of flash to a hard drive. Hybrid technology works well for files that you use regularly, such as your operating system, but doesn't offer any advantage over a plain old hard drive for random data.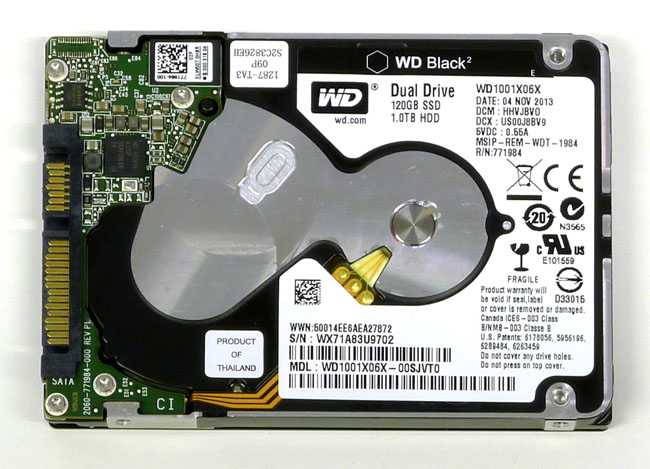 7mm 2.5-inch SSD, meet 120GB of Flash chippery
The Dual Drive gives the laptop user essentially the same configuration that the desktop user has: a 120GB SSD to accommodate the OS and applications, but also a 1TB HDD for movies, music and photos. The clever part of the deal is the way that WD has packaged two drives into a standard laptop drive housing and connected both through a common Sata interface.
WD is being surprisingly cagey about the details of the hardware. However, it boils down to a 7mm-thick 1TB WD Blue laptop HDD with a board and a handful of flash chips, plus a Marvell bridge chip to tie the whole lot together, mounted on top.
I was assured by WD that the Blue HDD is a single-platter model, which is impressive as an areal density of 500GB, let alone 1TB, per 2.5-inch platter is good going. This led to a suggestion from WD that the drive in question might be a custom model which, if true, suggests that 2TB twin-platter drives are just over the horizon.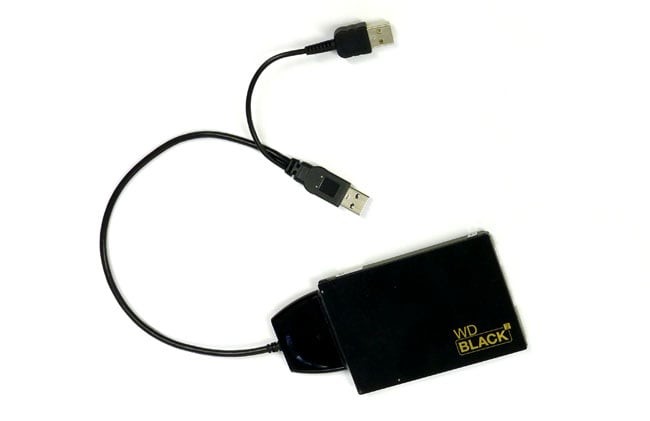 The Black² comes bundled with an adaptor cable for cloning
The Dual Drive comes with an impressive five-year warranty. However, it seems that the warranty will be used to replace either the broken SSD or the HDD, but not the whole unit. I seriously can't imagine WD performing micro-surgery on a faulty drive in years to come, but that is currently what it is proposing.
The hard drive has a 5400rpm spin speed and maximum transfer speed of 140MB/s. The specification of the SSD technology is disappointing. The combination of a JMicron JMF667H controller with two 20nm 64GB NAND chips and a Nanya cache chip yields some dire figures.
WD claims a maximum read speed of 350MB/s and a maximum write speed of 140MB/s. This compares very poorly with mainstream SSDs, many of which zip past 400MB/s or 500MB/s for both read and write.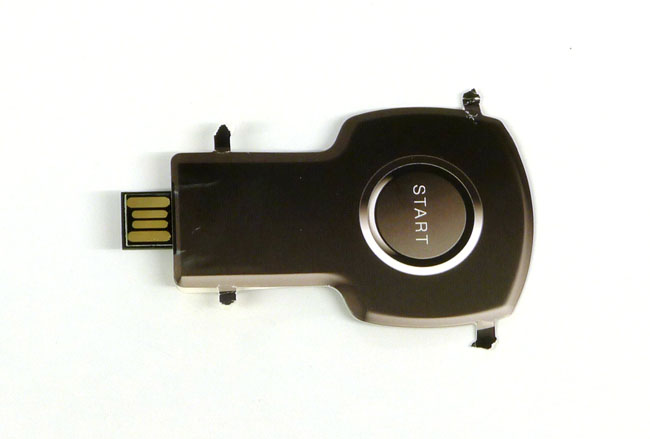 Your (USB) key to the essential driver software
WD supplies the Dual Drive in a kit which includes a Sata-to-USB 3.0 cable for cloning your current drive. When you connect the Dual Drive to your laptop using the USB adapter, you'll see the 120GB SSD in Windows Explorer but the 1TB hard drive will remain invisible for the time being.
You also get a USB dongle which is a "Web key Internet product" that takes you off to the correct page on WD's website from which you download the Acronis True Image cloning tool and WD's Dual Drive installation software.
Similar topics