This article is more than 1 year old
Inside Steve Ballmer's fondleslab rear-guard action
Or, how I learned to stop worrying and love to touch
Windows 8 is going down like a bucket of cold sick - but you're going to have to get used to it. It's not going away. If Microsoft has a future, this is it. Worse still, if you're a pro, you're going to have to support the thing.
Microsoft had to make this desperate, poorly integrated attempt to foist a Version 1.0 touchscreen UI on us, and do it now, even though nobody wanted it and Windows is primarily a desktop/notebook OS - precisely the type of systems for which Windows 8's touchscreen-oriented Metro Modern UI is suboptimal.
As for 8.1, it's a minor tweak - there's a Start button again, but no Start menu: the button just opens the Start page. There's an additional tile size; you can go straight to the widgetless "All Apps" view; you can keep your desktop backdrop behind the tiles; you can bypass the Start screen and go straight to the desktop on login. Feature-wise, that is it.
Why? Because the PC is dying. The next disruptive innovation is here, and it's the fondleslab. They're smaller, lighter, cheaper and simpler - but more to the point, non-techies prefer them. As a result, the decline of the PC market is accelerating – it's pushing 15 per cent a year and notebooks have joined in too.
In fact, the only category of personal computing devices that are doing well are fondleslabs and Chromebooks. Although much of the IT business doesn't yet accept it, touchscreen phones and tablets are going to replace the personal computer as we've known it for the last 35 years.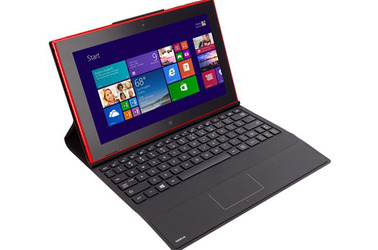 The future of computing: A touchy tablet-cum-slabtop made by a mobile handset maker (in this case Nokia)
There are three main reasons.
Can't get the parts these days, guv
On the one hand there's technological change. Moore's Law stopped delivering biennial bucketloads of bandwidth in about 2007. It's still delivering on its original promise, as it has for nearly 50 years: twice as many components per chip, every two years. The snag is that there's no way to "spend" that ever-increasing transistor budget to deliver faster cores any more: modern CPUs have all the go-faster circuitry known to mankind.
Extra cores don't help – parallel code is really hard to write, and not everything can be parallelised - see Bootnote. So instead, more of the system is moving on-chip - GPUs are just the latest major component to be integrated. RAM will follow in time, as will nonvolatile storage if memristors deliver on their promise. Future computers will be marked "no user-serviceable parts inside", and they'll mean it - you can't upgrade or repair a single-chip device.
What this means is that Koomey's Law has taken over: instead of getting faster, processors are getting smaller, cooler-running, more power-efficient - and cheaper. Only a few niche customers will still want specialist graphics cards or petabytes of spinning rust. The clock's ticking for the beige fan-heater market, and the speed-freaks will have to run deskside servers instead - that's where the big fat hot chips are going.
Instead, there'll be a range of slabs, from small and cheap to fancy, fast "pro" models which can drive multiple external screens and fast local storage - to which power users will doubtless attach keyboards, mice, graphics tablets and so on. Some might even be screenless; early versions are appearing already, high-spec but devoid of internal expansion.
Sell 'em cheap...
Underlying this is the fact tablets are cheaper than you probably realise. Asia's turning out millions of devices a quarter of the price of even budget European models.

It might not look like much, but India's Aakash tablet only costs 5,000 rupees (£49)
For over a year, the market has been exploding with devices less than a tenth of that price, such as India's $40 Aakash and a myriad of nameless Chinese clones. They aren't nearly as nice, but they're good enough: they'll get you online. They're simple, robust and easy - and they do multitouch, media, games and all that. Even for the poor, they only cost a month or so's pay.
This is the next generation of personal computer, just as PCs replaced minicomputers and minis replaced mainframes.
Cheap is an important factor. As of June 2013, out of seven billion people, there were some 2.4 billion on the internet – most of them using Windows. Twice that many aren't online yet: fully two-thirds of the species – the poorest portion, but the demographics are changing faster than you think. These guys can't afford £300 PCs, but £30 fondleslabs are a different proposition.