This article is more than 1 year old
El Reg's contraptions confessional no.2: Tablet PC, CRT screen and more
Sometimes old kit is the only tech that does the job
Cache in the Attic Before wandering to pastures new, Bill Ray revealed he is definitely of the mind that, if it still works, why chuck it? His old kit isn't sitting in a box in the attic, he uses it all regularly.
Hantarex, HP and Motion Computing
Hantarex hails from Italy but established a UK operation in 1981 and is still going strong. The CTM 2000 I have came from my mate Chris, from what I remember he acquired it as part of a plan to make a motorcycle-portable LAN-party rig back in the 1990s, but lost interest when he realised Doom II lost something when rendered in shades of brown.
Despite being around 24 years old I still use the Hantarex every month or so, to check the output from a set-top box or other kit, and more-recently my Raspberry Pi music player which barely needs a screen so suits the monitor perfectly.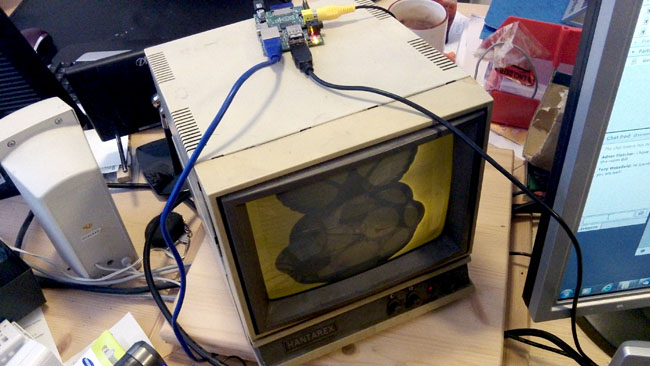 Hantarex monitor from around 1988 connected to a Raspberry Pi
It's good for testing as it doesn't try to do anything clever with the input, just displays composite video in brown on its nine-inch screen of indeterminate resolution. That makes it perfect for testing - if the video isn't there then the problem is with the source rather than lost in the arcane configuration one finds in modern monitors.
The browns are fading now, and the monitor hums to itself it left on for more than an hour or two, but it serves the purpose and fits onto a bookshelf when not in use.
Less old is my printer from 2002, though still venerable. It's a Deskjet 995c and I bought it at enormous cost because it was the world's first Bluetooth printer – a function I've used precisely three times as disputes over where the driver should sit prevented printing by Bluetooth becoming more than a curiosity.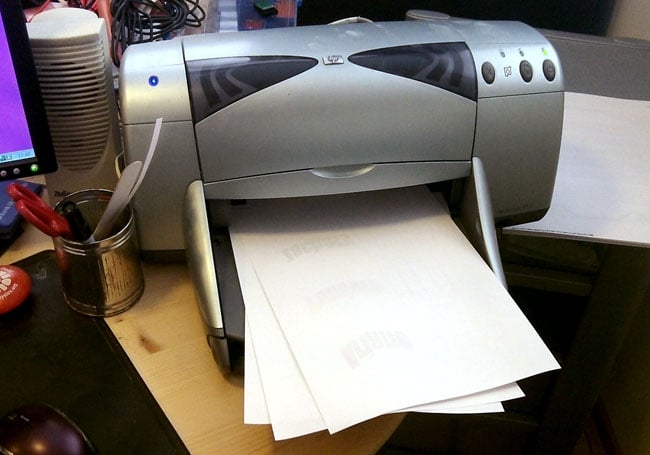 HP DeskJet 995c - the world's first Bluetooth printer
What's annoying is that HP stopped supporting it years ago, so my poor wife is stuck with Windows 2000 and the responsibility of acting as a print server. Researching this piece I discovered drivers for Windows XP, but buying an upgrade to an already-dying OS seems insane and there's no sign of support for anything more recent.
Printing isn't as common as it used to be, though the ability to churn out transfer stickers, tattoos and fabric patches has given the printer new life recently so perhaps an upgrade would be worthwhile - but to the OS or the printer?
Third up is my Motion Computing LE1600 Tablet PC, running the pen-tweaked version of Windows XP that Microsoft thought would change the world. I've always hated laptops: schizophrenic monsters offering neither mobile computing nor a desktop experience, so as soon as I could afford the nearly-two-grand price of a tablet without a concealed keyboard I jumped to get one.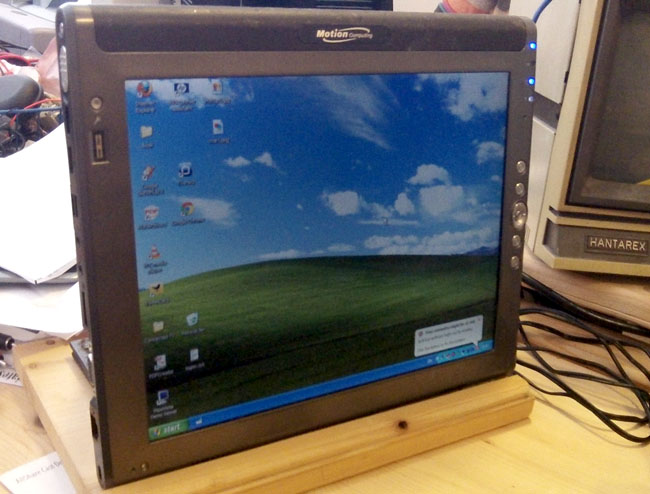 Motion Computing LE1600 Tablet PC
The LE1600 has half a gig of RAM, and a 30GB hard drive, at the beck and call of a 1.5GHz Intel LV758 Pentium M – you can read the 2005 press release here – but it's the pen-driven interface which made the device. Using the same Wacom technology being found in Samsung's latest offerings it could detect proximity for mouse-over, with a tap for clicking, allowing rich interaction and OneNote - the killer application which enables the user to draw a circle round anything, in any app, and have it dropped into a notebook, just like Evernote does today only better because it worked in every app.
But equally important was the kudos of having something different - hotel staff would come over to see what I was working on, my tablet (with Bluetooth keyboard) would interrupt the line of laptops at press events. As rumours circulated about an Apple tablet (the iPad) people would run over to see how I'd obtained the unobtainable.
But the LE1600 is no iPad, it's a kilo and a half even without the extended battery, and the much-abused smaller battery will hardly give it time to boot these days, so it's been relegated to being an extended monitor, thanks to Maxivista software, while a Samsung Note 10.1 shows where the Wacom tech took tablet computing. ®