NASA Mars tank Curiosity rolls on old WET PATCH, sighs, sniffs for life signs
Radiation readings suggest trip to Red Planet and surface sojourn is safe
Pic The latest data from the Curiosity rover released by NASA shows the rover is trundling through what was once a large fresh-ish water lake that could have supported life as we know it – although radiation levels on the surface may have caused any organisms some problems.
"The clay materials at what would have been at the bottom of the lake show a moderate to neutral PH levels," said John Grotzinger, a geologist at Caltech and Curiosity project controller at the American Geological Union's Fall meeting in San Francisco.
"That means the lake didn't have a lot of dissolved salt, but did have the chemical and minerals that would have allowed life to exist. The team thinks that the climate may also have allowed snow and ice to form nearby."
Drilling and chemical sampling show that mudstone formed from clay on the Gale Crater lake bed was rich in carbon dioxide, nitrogen and oxygen. Had mankind managed to send the rover out to Mars 3.5 billion years ago, the robot would have been underwater in a lake approximately 50 miles long and five miles wide.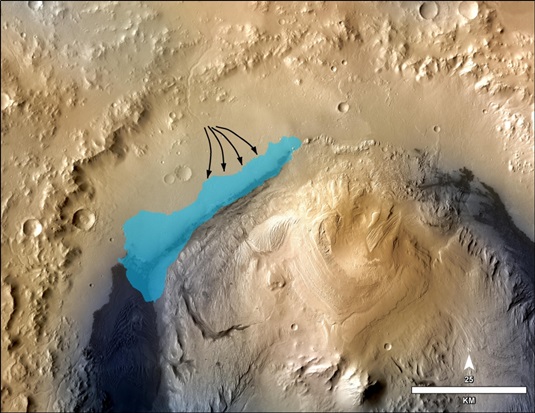 Frigid waters ran into crater lake about 3.5bn years ago
NASA hasn't found organic carbon molecules as yet, but this may be down to the levels of radiation found on the Martian surface. According to NASA geologist Jennifer Eigenbrode, organic molecules near the surface could well have been broken apart by the radiation Mars receives from the Sun.
She pointed out that this doesn't necessarily mean radiation levels would have been too high for life – there are several organisms on Earth that live quite happily in high radiation environments, but it does make finding organic compounds harder.
According to data from Curiosity, the radiation levels on the surface are about 75 milligrays over a year, and the radiation can penetrate about three metres into the Martian soil. Curiosity can only drill a few centimetres into the Martian rock, so in order to hunt for signs of life deeper than the radiation's reach, NASA has worked out a cunning plan to access rocks that have only comparatively recently been exposed to the Sun's radiation.
To do this the boffins have been looking at how Mars is eroding. Rocks are primarily worn down after being scoured by the planet's sandy winds, with friable mudstone eroding faster than harder sandstones. The team plan to maneuver Curiosity to a hillside where eroding mudstone has left a sandstone overhang and drill under that to get rocks that may have had some extra protection from radiation.
Curiosity's radiation readings, and those of NASA's other Mars probes, also show that astronauts hoping to make it to Mars based on current orbital schedules would be exposed to about the same radiation dose during the trip to the Red Planet and back as inhabitants of the International Space Station absorb in six months of orbiting and wouldn't have too much trouble handling short surface trips.
"If you do the math on surface radiation on Mars then the dose for people on the surface would be about the equivalent of one [abdominal] CT scan every week," Robert Wimmer-Schweingruber, co-investigator for the radiation assessment detector on Curiosity told El Reg.
Curiosity is now about half way to its target location at the base of Mount Sharp, but will make a small detour to investigate what looks like a sandstone overhand that may allow drilling of exposed mudstone. The first drilling site has been dubbed KMS-9, and NASA will announce if the site is suitable for drilling in the next month or so. ®