The latest release of the Firefox web browser, version 26, now blocks Java software on all websites by default unless the user specifically authorizes the Java plugin to run.
The change has been a long time coming. The Mozilla Foundation had originally planned to make click-to-run the default for all versions of the Java plugin beginning with Firefox 24, but decided to delay the change after dismayed users raised a stink.
Beginning with the version of Firefox that shipped on Tuesday, whenever the browser encounters a Java applet or a Java Web Start launcher, it first displays a dialog box asking for authorization before allowing the plugin to launch.
Users can also opt to click "Allow and Remember," which adds the current webpage to an internal whitelist so that Java code on it will run automatically in the future, without further human intervention.
Mozilla's move comes after a series of exploits made the Java plugin one of the most popular vectors for web-based malware attacks over the past few years. So many zero-day exploits targeting the plugin have been discovered, in fact, that the Firefox devs have opted to give all versions of Java the cold shoulder, including the most recent one.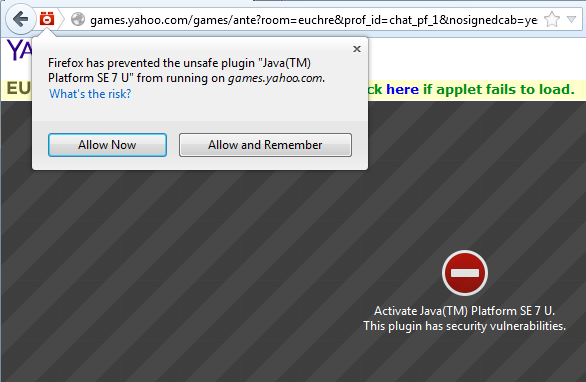 You can whitelist certain pages if you want – just be sure you know what you're doing
Generally speaking, Mozilla plans to activate click-to-run for all plugins by default, although the Adobe Flash Player plugin has been given a pass so far, owing to the prevalence of Flash content on the web.
In addition to the change to the default Java plugin behavior, Firefox 26 includes a number of security patches, bug fixes, and minor new features. The official release notes are available here and a full list of changes in the release can be had here.
As usual, current Firefox installations can be upgraded to version 26 using the internal update mechanism, and installers for the latest release are available from the Firefox homepage. ®
Similar topics