Samsung has revealed what it dubs the "industry's first" one-terabyte solid-state drive in the compact mSATA form factor. From what we know of the SSD landscape, their claim is an honest one – by over a factor of two, seeing as how 480GB mSATA SSDs from Crucial and a few others are the most capacious such drives available in the non-OEM market of which we're aware.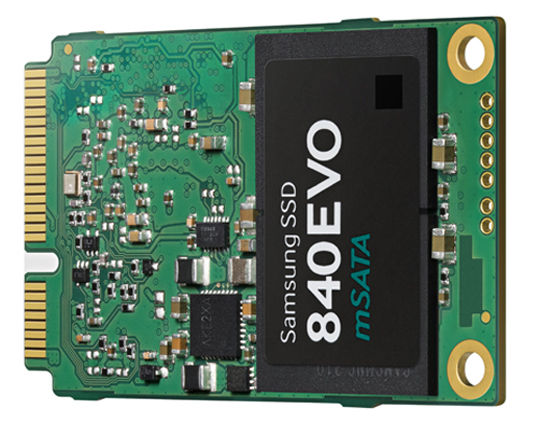 The pretty side of the 1TB mSATA 840 EVO SSD ...
SSDs in the mSATA – mini-Serial ATA – form factor are targeted at thin and light laptops, such as what Intel has trademarked as Ultrabooks and AMD calls ultrathins. The little fellows could also find homes in the tablet-laptop mashups Chipzilla has dubbed "2-in-1s", formerly known as "convertibles", or even in tablets, should your wallet be thick enough to spring for one.
Not that we know yet exactly how thick that wallet would need to be. Although Samsung announced the mSATA additions to its 840 EVO SSD line on Monday – the SATA line was announced in July – and said that it would be available globally later this month, it didn't provide a price for either the 1TB version or its 120GB, 250GB, and 500GB siblings.
According to Samsung, the new mSATA form factor is approximately a quarter the size of a standard SATA 2.5-inch SSD. In its 1TB configuration, the mSATA drive is 3.85mm thick and weighs 8.5 grams – about 40 per cent as thick and one-twelfth as heavy as a "typical" hard disk drive.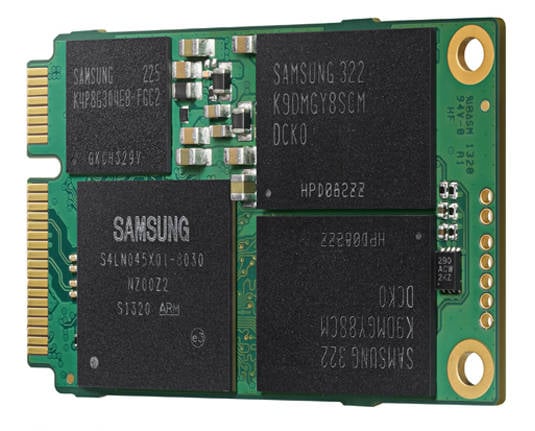 ... and the more workaday side of the same li'l fellow
To fit 1TB onto the mSATA form factor, Samsung crams four memory packages onto the mSATA card, with each package having 16 layers of 128Gb NAND chips, each fabbed in what Sammy refers to as its "10-nanometer class process technology."
The 1TB version can perform 98,000 random read and 90,000 random write IOPS, Samsung says, and can achieve sequential read speeds of 540 MB/sec and write speeds of 520 MB/sec. When running Samsung's Magician 4.3 software, the company claims sequential read speeds can be goosed to over 1GB/sec in RAPID (real-time accelerated processing of I/O data) mode – a performance than Sammy says is "approximately twice that of a typical SATA SSD and ten times of an average HDD."
That level of performance is nowhere near that of the 3GB/sec that Samsung claims for its enterprise-level 1.6TB XS1715 SSD, which connects to its host over the PCIe-based NVMe – non-volatile memory express – protocol, but for a laptop or tablet, 1GB/sec ain't shabby. ®
Similar topics