The chaotic IT implementation of the one-dole-to-rule-them-all benefits system will lead to millions of pounds of taxpayers' money being wasted, secretary of state for work and pensions Iain Duncan Smith admitted to MPs.
Work and Pensions Secretary Iain Duncan Smith MP confirmed to Parliament's Work and Pensions select committee late on Monday that £40.1m in IT assets had so far been written off, following a series of embarrassing failings with the deployment of the technology underpinning Universal Credit.
Meanwhile, a further £91m in IT assets will be worthless five years from now.
The system was originally set to be fully operational for any British citizens claiming benefit on six different schemes by 2017.
However, IDS confessed last week that the target could no longer be reached as at least 700,000 people seeking Employment Support Allowance will still be absent from the new system a little over three years from now.
During a grilling with MPs yesterday, IDS said that more taxpayers' money could be lost if "anything goes wrong going forward" with Universal Credit.
However, he savaged newspaper reports and opposition MPs for spouting "bogus nonsense about huge write-offs."
Universal Credit's total software IT assets stand at nearly £152m, IDS said. However, many of those assets will be worthless in five years from now when the technology is expected to depreciate.
DWP's finance boss of the re-worked benefit claimants system, Mike Driver, told MPs that £125m had been spent on software code and a further £27m on software licences.
He said that his team and the Government Digital Service - the civil servants behind the rebranding of Directgov - had determined that code worth £91m would only be used until a "digital solution" is implemented.
"As we move forward and we implement the new digital solution, the assets that we have in place will be amortised or devalued in a shorter period than we originally anticipated," Driver said.
"We will write it down over a five-year period as opposed to a longer period."
He added: "The way in which we had set our accounting policies previously to write down a software code over a 15-year period was almost certainly too long."
Universal Credit boss Howard Shiplee - the man brought in earlier this year by Duncan Smith to try to rescue the minister's crisis-hit project - said, when quizzed by MPs, that "one of the issues, in the early days, was the mantra of digital-by-default".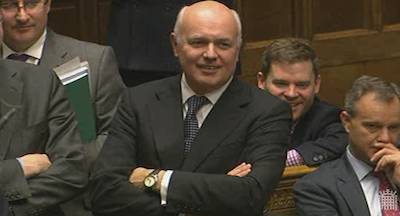 'Bogus nonsense'. IDS in the Commons last week with arms defiantly crossed.
Pic credit: Parliament TV
That jargon was repeatedly spewed by dotcom decamillionaire Martha Lane Fox, who recently quit her role as the government's digi champion.
"From a security point of view, to have everything digital is not at this stage of development a sensible or appropriate solution, it will take some considerable time to get to a totally online system," Shiplee told the committee.
He added that as of today, no such example of a totally digital service was being used by businesses in the UK - such as the banking sector - that involved the delicate and complex processing of an individual's finances.
As of April 2013, Duncan Smith's department had spent £303m on contracts for designing and developing IT systems which were supplied by four main providers: HP, IBM, Accenture and BT.
Earlier this year, government spending watchdog the National Audit Office found that the DWP had been forced in May to write off £34m of Universal Credit's IT assets.
For those wishing to be kind to IDS, a further £6m has now been wasted. Others may interpret the figures a little differently, however, by concluding that over the next five years some £97m-and-counting in taxpayer money will have been written-off as the software currently being used by just 2,000 benefit claimants in the country becomes completely obsolete. ®