This article is more than 1 year old
How the UK's national memory lives in a ROBOT in Kew
El Reg visits the National Archives
National treasures
Just imaging a small collection - say 5,000 images - takes about four weeks. Larger collections take months, or even years. It's a job for the patient.
So, if the rest of the building felt generally focused and calm, the National Archives' conservation department takes this to another level. It's on the ground floor, and when you walk in it's like stepping back into the school woodwork room - a large space filled with daylight, with rows of large work tables, with aromas of oil and glue. Some of the tools – enormous cast iron presses, and vicious-looking guillotines – look almost as old as the documents.
It's easy to visualise committed conservators painstaking repairing precious manuscripts, or rebinding ancient books using artisanal linen and animal-based glue.
But the head of conservation, Juergen Vervoorst, talks as much about the importance of overall "environment" and the "performance of the building". Which makes sense. Most of the collection is unlikely to be touched from one end of the year to another. Once you head off the environmental threats - heat, light, moisture, critters - the biggest threat is going to be handling.
At least that's the case with the older materials, whose characteristics are reasonably well known.
"The British government always paid attention to high quality paper. We don't really have a massive problem," says Vervoorst.
However, the newer materials - all those laminates, printer papers, etc, that crept into offices from the '80s onwards - have "completely different ageing characteristics... their life expectancy is probably much shorter." Similarly, as photographic materials became more prevalent, "there [are] more problems to be expected."
Asked what particular items send a shiver up his spine, Vervoorst reels off the "treasures" housed at Kew. Domesday, not one but two copies of Magna Carta, Shakespeare's portfolios, Jane Austen's diary, Henry VIII's divorce papers from Anne Boleyn.
But for sheer spine-tingling magic, he lights on Kew's copy of The Treaty of Versailles, which officially tied up WW1, and set the stage for WWII.
Not because of what it was, but for what it could have been: "History could have been so different with a different treaty in 1919."
It's easy to imagine Vervoorst, indeed any historian, pondering the signatures of the victors and vanquished on the peace treaty between Germany and the Allied Powers, contemplating how they go there and imagining different futures, different outcomes if they'd signed a different treaty.
Can you imagine a future historian, waxing so poetically as he holds a tape cassette in his hand? You'll have to wait a few hundred years to find out. ®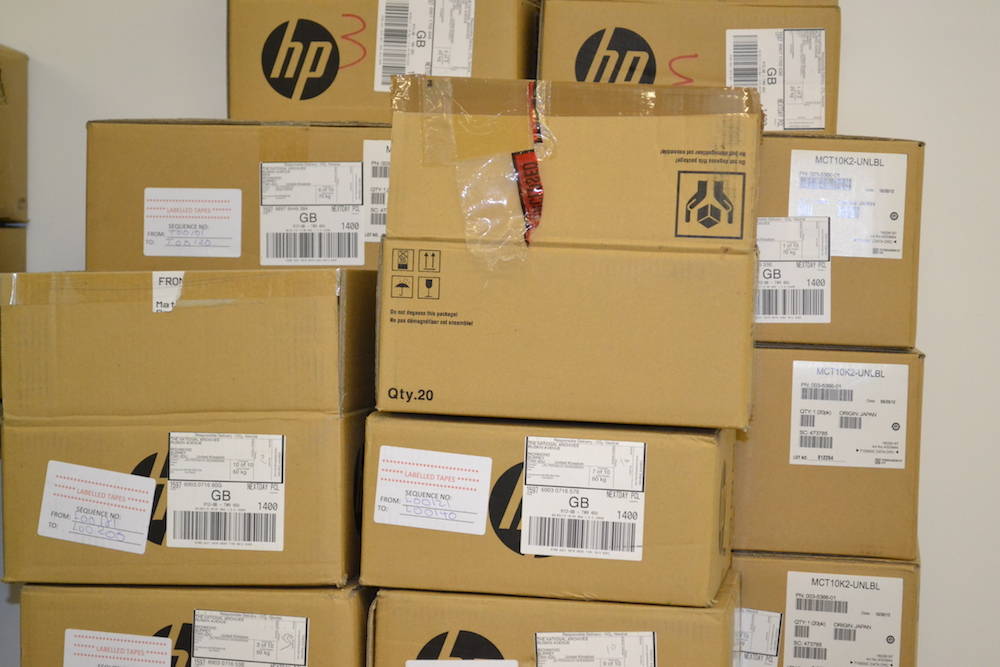 This is what history will look like in future
Address
The National Archives in Kew, Richmond, Surrey TW9 4DU
Getting There
Take the overground train or tube to Kew Gardens. The R68 bus terminates outside. By car, set your satnav for TW9 4AD. Parking space is limited and allocated on a first come, first served basis.
Opening Times
The National Archive is open from 09:00 to 17:00 on Wednesdays, Fridays and Saturdays. On Tuesdays and Thursdays it's open until 19:00. It is closed Sunday and Monday.
Website
http://www.nationalarchives.gov.uk/visit/where.htm
Around and about:
Kew is a residential area, but the clue is in the station name - Kew Gardens. This leafy paradise is just minutes from the archive. Recommended locals include The Botanist and The Greyhound.