Power users beware
It lacks useful descriptions for most packages and, while its much faster in this release, it still doesn't feel as snappy as the rest of the Mint 16 interface. In short, Mint's Software Center is getting better, but it still needs work. Hopefully this will be among the things the Mint/Cinnamon team will focus on in future releases.
Perhaps the most noticeable improvement in Mint 16 is the revamped Nemo file manager. The overall performance of Nemo is much improved with none of the noticeable lags and spinning wheels that plagued earlier versions. The UI also has some nice new extras like progress bars that show disk usage at a glance. It's not installed by default, but there's also a new Nemo Preview extension, a port of GNOME's Sushi previewer, which adds quick file previews to Nemo.
While there is much to love in the Cinnamon-Mint-16 combo, there are some things that might put off power users. Notable in this regard is the apparent lack of support for the btrfs file system, which hints at Mint's focus on appealing to new and less demanding users. Cinnamon is also not exactly a svelte desktop, nor is it intended to be. If you're looking for lightweight you'll want to look elsewhere, like, for example, the Mate version of Mint 16.
Cinnamon is clearly Mint's flagship, but there are plenty of other versions out there, including the Mate desktop, which is designed for those who still pine for the days of GNOME 2.x. There are, however, several features found in Mate that would be nice to see in Cinnamon and elsewhere.
A good example of these features is the Mate's Menu search that trumps what you'll find in Cinnamon, searching not just your desktop, but the web as well - if you ask it to. Mate manages to pull off the "search everywhere" tools found in Ubuntu, without the privacy invasion. In Mate you can search various websites right from the toolbar menu. You just type your search, then click the "Search Wikipedia" or "Search Google" buttons. Same searching shortcuts you get in Ubuntu, none of the Canonical data-logging.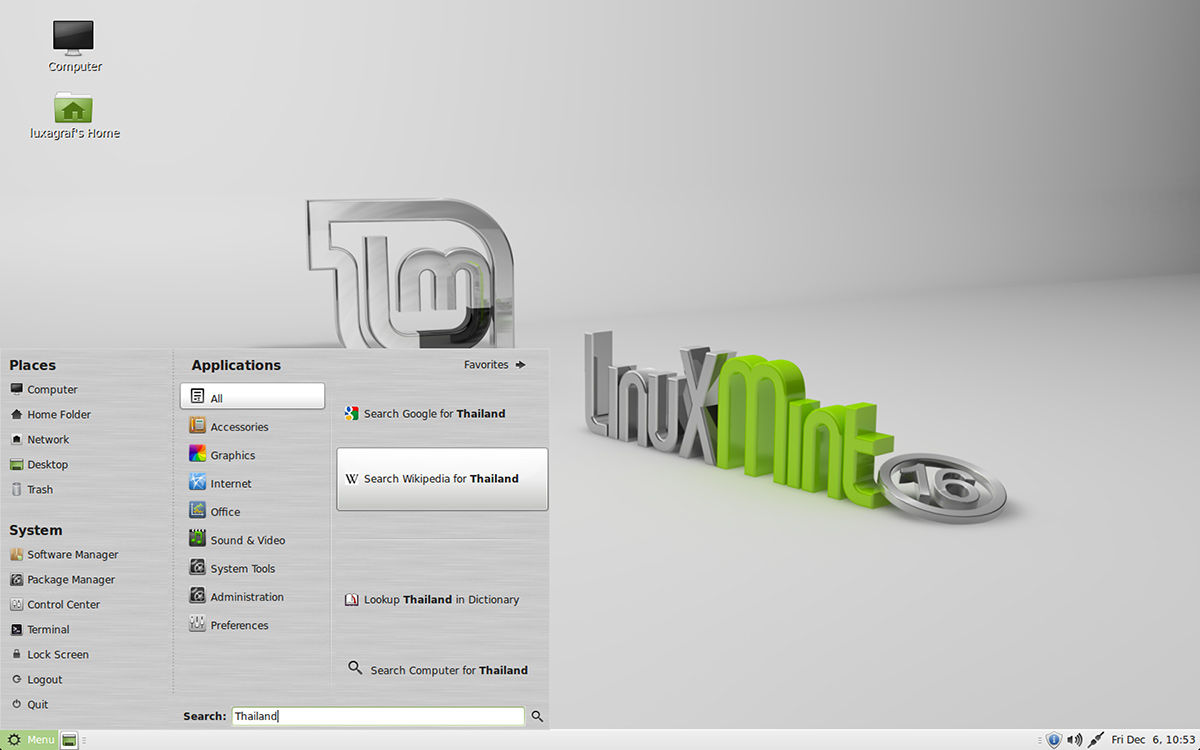 Mint 16 search: Same searching shortcuts as Ubuntu, none of the data-logging (click to enlarge)
Mate is, by design, less resource intensive and lacks some of the flash found in Cinnamon. For example, the file browser in Mate is nowhere near as full featured as Nemo. That makes Mate a better choice for older hardware since Cinnamon - like Unity - needs newer, more powerful hardware to really come into its own.
In contrast, the Mate version of Mint is quite snappy on my decidedly under powered EeePC. Cinnamon on the same machine lags enough that it's almost unusable at times (the best experience I've had on the EeePC is actually Mint with XFCE).
Mint 16 is a worthwhile upgrade for current Mint users, especially those who use the Cinnamon desktop. With Ubuntu 13.10 under the hood, Mint 16 has a stable base upon which to build and build it has - this is by far the most polished and solid version of Mint I've used.
Without disparaging Ubuntu, which is currently hard at work on bringing Linux to places that Mint will likely never go (mobile, tablets, touch screen), Mint 16 with Cinnamon 2.0 is what Ubuntu used to be: a solid, well-designed, easy-to-use Linux desktop.
The underlying Ubuntu compatibility makes Mint great for new users - both the Cinnamon and Mate desktops are closer to the Windows/OS X desktop paradigm than Unity, all the Debian/Ubuntu packages are there, PPAs just work and the Mint community has built up some great help and documentation.
It's the desktop Canonical used to make.
Perhaps that's a good thing - it takes some of the pressure off of Canonical. Mint is there for those who want the old, familiar desktop Linux experience while Ubuntu's available for those who'd like to play with the brave new world of mobile, touch and HUD interfaces. ®
Similar topics