Apple's flagship iPhone 5s has been the world's top-selling smartphone for two months in a row, according to Counterpoint Technology Market Research's Monthly Market Pulse report for October 2013. Cupertino holds three of the top four slots in the top 10, with Samsung's Galaxy S4 coming in at number three.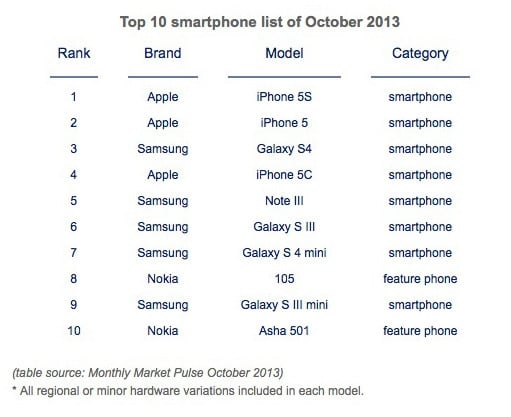 So much for 'Peak Apple' – and these rankings are based on sales, not merely shipments
"iPhone 5s sales saw an upward sales momentum as Apple continued expansive roll-out for its flagship model thus further widening the gap with its arch rival's flagship model Samsung's Galaxy S4," Counterpoint reports in blog post announcing its findings.
Counterpoint, which builds its reports from market data and models, also notes that Apple's sales gains in the US, Japan, China, and elsewhere come "despite the component shortages causing long waiting periods in several channels" for the iPhone 5s. Seeing as how those constraints have largely been overcome, they project "a relatively stronger demand in November & December."
Sales stats for China are particularly interesting. Samsung still leads the pack in the Middle Kingdom, with Lenovo at number two, but Apple's share rose from a "modest" 3 per cent in September to 12 per cent in October.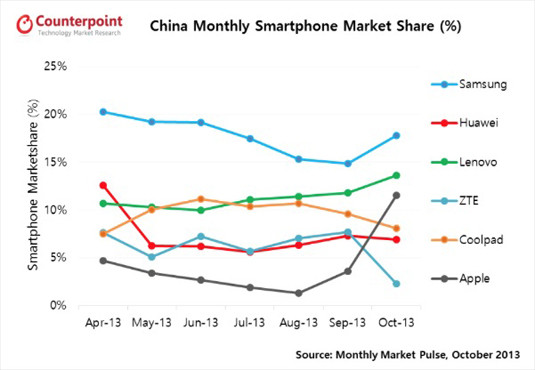 It can't be a happy time in the corner offices of ZTE's Shenzhen, China, headquarters
That one-month market share quadrupling came before word leaked that Apple is about to ink a deal with China Mobile, the world's largest mobile service provider with over 759 million subscribers, a partnership that has not been confirmed but which is widely expected to be announced at a China Mobile conference in Guangzhou next Wednesday.
If the deal comes to fruition, Counterpoint believes that competition among China's three major carriers might lead to a "price war" that could propel Apple to the number one position in that country as soon as December or January.
Samsung, as the chart above shows, is not suffering in China. That said, Counterpoint notes that the Galaxy S4 "continued to lose its mojo after enjoying roughly 9 months of flagship lifecycle" – the Galaxy Note III, they say is "capturing the limelight."
This Reg reporter would dearly love to be a Hangungmal–speaking fly on the wall at Samsung's upcoming "Crisis Awareness" meeting scheduled for mid-month. ®
Similar topics