Rupert Murdoch is a man who doesn't mince his words. So what better way to celebrate the media mogul's musings on Twitter than with a greetings card?
A hip young artist in New York has done exactly that just in time for Christmas.
Now your friends and family can marvel at heartwarming tales from the world's most outspoken octogenarian by slipping a greetings card adorned with the tycoon's tweets into an envelope and posting it to your nearest and dearest.
Those of you with a spare £23.92 to burn can now order a pack of five cards containing letterpress prints of Murdoch's tweets from artist Michelle Vaughan.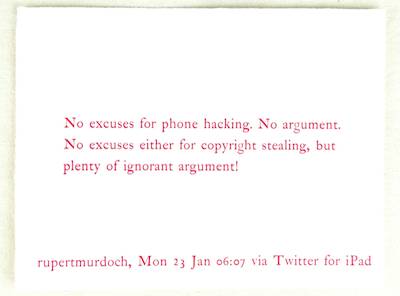 One such card captures the essence of the great/evil/supremely rich/divorced pauper man's prose:
"Please keep tweeting. I read all but how about cleaning up language? Incidentally most credit me with non-existent power and money."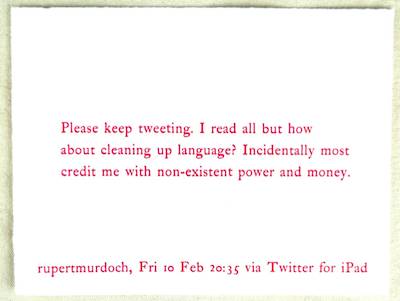 The cards helpfully include timestamps showing when Murdoch posted his tweet via his fondleslab.
Sadly, though, this tremendous tweet is not to be found on any of the greetings cards.
Sorry. No. 2 fell off iPad somehow! Can wait.
Perhaps it will be in the next edition released by Vaughan. ®