A US toy maker is facing criticism for selling a baby seat equipped with an iPad holder for small infants.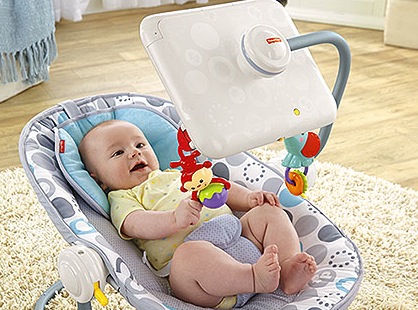 The Fisher-Price Apptivity seat ... A is for Apple – which loves you more than Mummy and Daddy
The Apptivity Seat for babies provides a built-in caddy to hold Apple's fondleslab and display the screen to the tot without risk of damage to your precious little bundle (whichever one that may be).
In addition to the conventional safety restraints, the Apptivity seat includes a flexible arm with a mirror that can accommodate the Apple tablet.
"It is a grow-with-me seat for baby that's soothing, entertaining, and has a touch of technology, too," the company says of the seat.
"If you insert and lock your iPad into the mirror's case, the visual display provides another way to stimulate and engage baby while protecting your device from baby's sticky fingers and preventing unintentional navigating to other apps,"
Predictably, the device has met some resistance from the general public. The Amazon listing for the seat has been beset by some 95 (out of 119 total) one-star reviews, many of which criticize the company for its decision to sell a baby seat that places a media tablet inches away from the infant's face.
"This has to be one of the worst ideas for a baby product that I have ever seen," wrote one user, "babies under six months of age should NEVER be strapped in and forced to stare at a screen pulsing images in front of them."
"Fisher-Price missed a golden design opportunity," wrote another, "if they had made the seat out of mesh and put a potty underneath, and added a bottle holder, parents wouldn't have to touch their infants at all."
Advocacy groups have also come out against Fisher-Price, whose parent company Mattel produces a line of iOS games and educational software under the Apptivity line. The Campaign for a Commercial-Free Childhood condemned the product for discouraging parents to interact with their babies.
"The Apptivity Seat is the ultimate electronic baby sitter. Because screens can be mesmerizing and babies are strapped down and 'safely' restrained, it encourages parents to leave infants all alone with an iPad," the campaign's staff said.
"To make matters worse, Fisher-Price is marketing the Apptivity Seat — and claiming it's educational — for newborns."
Mattel has not responded to a request for comment on the matter. ®
Similar topics