This article is more than 1 year old
China's 'Airpocalypse' forces pilots to learn BLIND landings in smog
Expensive training better than face planting hundred-million-dollar airliners
China's air pollution is so bad, the country's Civil Aviation Administration has ordered all pilots of domestic flights to be trained in low-visibility landings.
It's hoped this will defeat the smog that has lowered the on-time flight performance at Beijing Capital International Airport to 18 per cent – the "the worst record for flight delays of any major international airport," the AP reports.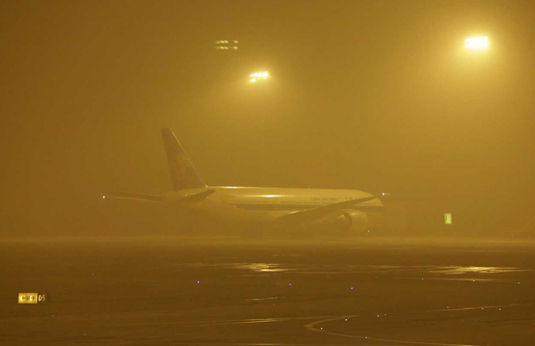 An airliner parked at Beijing Airport during the 'Airpocalypse' of January 2013
Beginning January first, the China Daily reports, flights from the 10 busiest Chinese airports into Beijing must be piloted by crews who have been certified to land their craft using instruments-only auto-landing systems on days when visibility is limited to 400 metres or less.
China's notoriously hideous air pollution increasingly causes flights to be delayed or cancelled at Capital International Airport when smog cuts visibility down to a few hundred metres – although, the AP reports, Chinese officials routinely blame such delays on weather conditions rather than smog.
In a sense, those officials are right – that is, if they're referring to the atmospheric inversion layers that trap pollution over Beijing, as was the case in the notorious "Airpocalypse" of lung-clogging crud that choked China's capital in January 2013. But blaming Capital International's 18 per cent on-time rate merely on the weather is disingenuous at best.
Certainly Beijing is plagued by such weather annoyances as fog, snow, and sandstorms, but it's air pollution that's forcing the CAA to require pilots to now acquire the low-visibility landing skills that had not previously been required because of the high training costs, China Academy of Civil Aviation Science and Technology dean of aviation safety Shu Ping told the AP.
"The training is very expensive, and the low visibility was not a normal condition," Shu said. "Now with more smoggy days, the probability of landing with low visibility is higher."
The Chinese domestic airline industry has aircraft with the necessary equipment for the auto-landing procedures, as do major airports in such major cities as Guangzhou, Shanghai, Chengdu, and Shenzhen. Many foreign airlines, also so equipped, routinely use auto-landing when they deem it necessary when landing at Chinese airports that can accommodate the procedure, the AP reports.
And now Chinese domestic airlines will join their foreign counterparts in using auto-landing equipment to guide their craft to smoggy touchdowns – carefully supervised by their soon-to-be-expensively trained human pilots, of course.
Chalk that expense up as one more hidden cost of neglecting reasonable environmental controls. ®
Bootnote
Airline pilots aren't the only professionals being inconvenienced by China's ghastly pollution problems, as this photo of a recent fashion show in Shenzhen illustrates: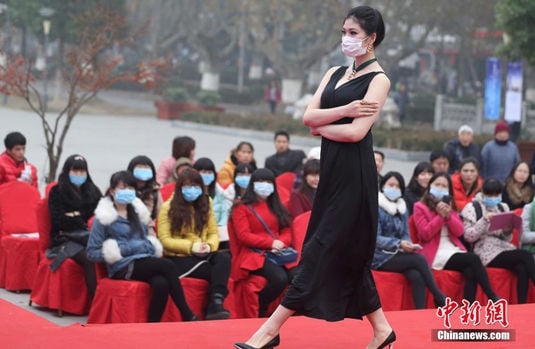 A severe smog attack forced models to wear protective masks when strutting down the runway