Privacy campaign group the Electronic Frontier Foundation is more than a little miffed with Google – after the Chocolate Factory pulled an Android tool that lets users control the information apps can harvest.
The software, dubbed App Ops, was bundled into Android 4.3 as a hidden application. For each installed program, it presents a series of switches so that users can activate some permissions, such as granting access to the cellular or Wi-Fi network, but block others, such as sharing your physical whereabouts.
But the upgrade to Android 4.4.2, pushed out to Nexus handsets on Monday, has removed App Ops.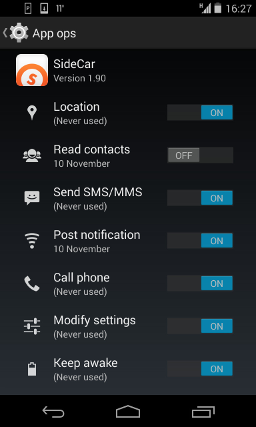 WANT! The App Ops per-program permission settings
"Google told us that the feature had only ever been released by accident - that it was experimental, and that it could break some of the apps policed by it," said Peter Eckersley, technology projects director at the EFF. "We are suspicious of this explanation, and do not think that it in any way justifies removing the feature rather than improving it."
He pointed out that the operating system could send junk or generic data to an application that has been been denied permission to certain information, allowing the software to function normally (rather than break) but not collect data against the owner's wishes.
Google declined to comment on the matter to El Reg, but people familiar with the OS's development said App Ops is a work-in-progress and was included in the earlier Android build by mistake. However, it's likely that App Ops will be back in later releases.
The Chocolate Factory has been better than most at letting users know which data their apps want to grab. It's not perfect, however, since as we saw in the Brightest Flashlight app case, some developers are not honest about the data their software can access.
In the meantime the EFF recommends not upgrading to the new build of Android, but points out that comes with a measure of risk given that version 4.4.2 fixes a number of security bugs. ®
Similar topics