US military's RAY-GUN truck BLASTS DRONES, mortars OUT OF THE SKY
Here's hoping there's a shark attachment
Pic The US military has successfully tested a truck armed with an auto-targeting laser that can shoot down mortars and flying drones in the air before they cause a kerfuffle for troops on the ground.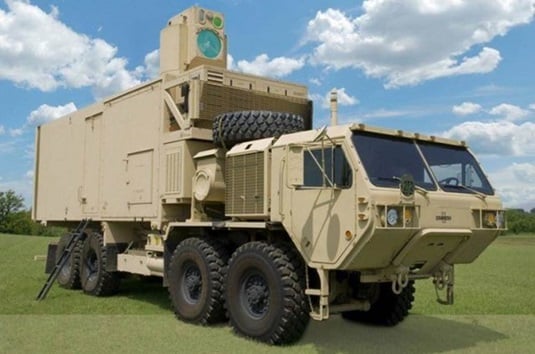 Battlefield lasers at last ... Uncle Sam's ray-gun truck
In month-long tests at the White Sands missile range in new Mexico, the High Energy Laser Mobile Demonstrator (HELMD) blew up 90 mortar rounds and several aerial drones using a 10kW-class laser mounted on an armored vehicle.
"We had considerable success," Terry Bauer, Army program manager for HELMD told the Christian Science Monitor.
The HELMD system uses radar (or as the military calls it "Enhanced Multi Mode Radar") to track targets and focus the laser on them. Once locked, the laser raises the temperature of mortar shells to the point where the explosives they contain combust.
"It falls as a single piece of metal with a little bit of shrapnel. It basically falls where it was going to fall, but it doesn't explode when it hits the ground," Bauer said. "We turn it into a rock, basically."
Boeing, which developed the system for the US Army Space and Missile Defense Command/Army Forces Strategic Command, said the technology is now ready for an upgrade so that it can carry a 50kW laser, with a more powerful 100kW unit also in the pipeline.
Eventually the military want to use the system to shoot down incoming cruise missiles, rockets and artillery shells, although it'll need some improvements before then. Mortar shells are relatively slow moving and have a trajectory that's easy to predict, but a cruise missile flying a variable course will be a much tougher target to destroy.
Soldiers on deployment in America's many ongoing wars probably won't get to see the system in action before they are retired. The HELMD system probably won't be ready for deployment until 2022 at the earliest.
However, El Reg suggests the boffins in the military read Arthur C Clarke's short story Superiority – which is on the reading list for industrial design students at MIT, and describes the dangers of such advanced weapons systems. A highly visible laser truck is going to be the first thing any enemy will want to take out. ®