Brilliant Brit bloke builds breakfast-belching BACON DRONE
Bezos-busting chopper 'a breakthrough moment for humanity'
---
In what is described as "a breakthrough moment for humanity", a British bloke has constructed a tricopter designed to remotely deliver a full English breakfast of bacon, egg, sausage, mushroom and tomato ketchup.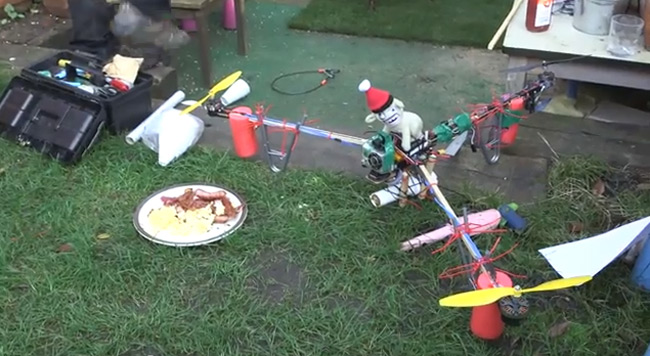 Joel Veitch's cutting-edge design of "sticks and tape and coat hangars" is controlled by a 3D Robotics ArduPilot Mega 2.5, with an onboard camera and transmitter providing First Person View (FPV) to a set of goggles.
The breakfast ingredients are packed into a length of 32mm plumbing tube, plugged at one end. A servo-activated R/C car glow plug and flash cotton at the capped end project nosh at the hungry recipient at the required moment, although Veitch's video demonstrates just how much breakfast they get is a hit-and-miss affair.
Veitch told El Reg: "I started this long and painful journey a year ago with a mission to make a 100mph sausage drone. I did succeed in getting it to go 100mph and drop sausages but failed to get the video piloting systems working in it, as it was too terrifyingly fast. Also I would never have got any kind of accuracy from it.
"I hence decided to learn to build and fly multi-rotors, allowing for massively increased precision. I now, today, find myself finally at a breakthrough moment for both myself and humanity."
The next move is to go for complete autonomy with waypoints, which will certainly represent a serious challenge to one etailing behemoth's plan to dominate the skies.
Veitch said: "All that Amazon stuff about drone delivery is pretty crappy compared to my amazing technological triumph. This is why I am so much more rich and successful than Jeff Bezos." ®
Similar topics
Narrower topics