This article is more than 1 year old
How did hybrid flashy bods Nimble Storage's IPO go so smoothly?
Staying cool on losses seems to have paid off
Analysis Nimble Storage provided an object lesson in IPO pricing and pricing on Friday, showing that investors love flash/disk hybrid storage startups even while disliking pure flash storage plays.
The hopeful startup entered the IPO process on 15 December with starting prices of $19 - $21 per share on the New York Stock Exchange (NYSE). The shares quickly rose to north of $30 and are now trading at $33.93, a rise of 62 per cent. Nimble sold eight million shares and raised $168m, with the original VC investors holding on to some of their shares, anticipating more growth.
In contrast, pure flash array maker Violin Memory's shares are trading at $2.69, less than a third of its $9 IPO price of just a few months ago. Why the difference? Both companies use flash storage, after all.
It's down to differences in the relative growth of losses and revenues, and, secondly, the competitive situation.
Nimble is making losses and its losses are growing – but they are deepening more slowly than revenues are rising. Check the chart to see what I mean: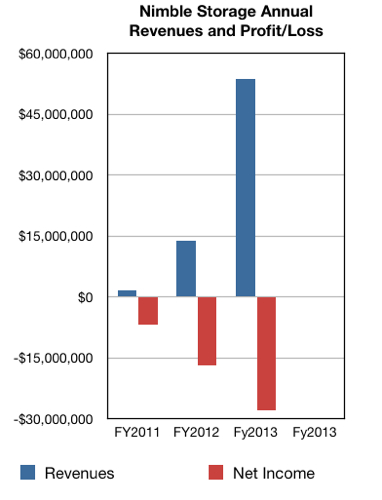 Nimble Storage pre-IPO results
The revenue growth curve is much steeper than the loss increase line. Now check out the equivalent Violin Memory chart: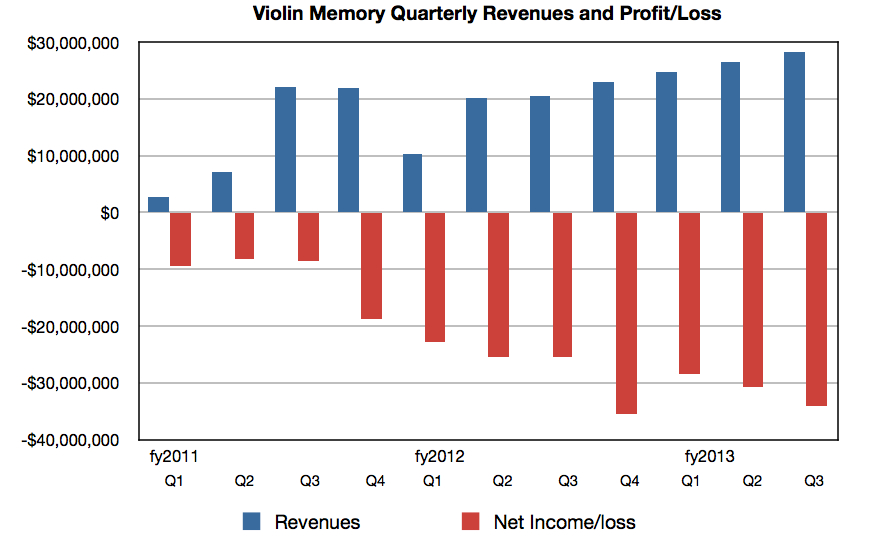 Pattern of Violin Memory loss growth
Both companies are being run as loss-making operations while the execs get the costly infrastructure in place to generate and handle a much bigger run rate of product sales than they have at the moment. But Nimble's revenues reflect a dramatic growth in product sales whereas Violin's don't. It's got the infrastructure costs of a company capable of handling much more sales than its channel is delivering.
This is surprising when you consider Violin is the leader in the all-flash array market. Investors are betting it's going to lose that crown because mainstream suppliers like Dell, EMC, HDS, HP, IBM and NetApp all have their own all-flash arrays and much better market coverage that Violin.
The market is betting that Violin's perceived software/data management disadvantages won't be offset by any performance advantage and so the company is basically toast, heading towards the status of picking flash array crumbs off the tables of its competitors. Pure Storage says it has better storage efficiency than Violin, because of deduplication, and it will become the leading flash array startup. We'll see.
Especially we'll see if Pure Storage gets to hold its own IPO and bucks the market rule of thumb which says pure flash plays are high-risk business gambles and certain IPO duds; witness sTec, OCZ, Fusion-io and Violin itself. The only viable exit for a VC-funded flash hardware startup is via acquisition - Pliant, SandForce, Virident, Texas Memory Systems, and XtremIO. So Pure - can you buck the pure flash hardware startup IPO trend?
As a hybrid array-maker Nimble offers expensive flash speed for hot data with ordinary data stored on disk, cheaply. It claims to have a tenfold advantage in price/performance compared to the same list of competing mainstream suppliers as Violin, and it reckons it's a sustainable advantage in its small and medium business and mainstream (not high-end performance) enterprise market.
Being sued by NetApp looks to be a problem it can cope with, Nimble now being flush enough with money to pay for good lawyers, and having its status as a competitor worthy of note endorsed by NetApp.
The mainstreamers all have hybrid arrays too, adding flash and data tiering into their drive arrays, but Nimble is cheaper. It says it has software technology advantages and it has well-received support offering. Can it keep ahead as the mainstream suppliers improve their hybrid offerings, and as two more flash/disk hybrid startups, Tintri and Tegile, come to market as well?
The first test will come with Nimble's initial post-IPO quarterly results, due after the end of January 2014; its fiscal year ending 31 January. If the revenue growth trend continues steeply up and the losses increase more slowly, then the share price should hold, and Nimble's management will have "told you so" smirks on their faces. ®