This article is more than 1 year old
Station to station: Ten DAB-Bluetooth combo radios
Take your pick – airwaves entertainment or stream your own
Pure Evoke D4 with Bluetooth

While the Evoke D4 might simply appear to be a bigger brother to the Evoke D2, it does have some significant differences. For a start, that carry handle doubles as a snooze bar allowing a sleepy grope for instant relief after a rude awakening. As for domestic pleasures, the D4 gets a slim remote control to change modes, channels, presets and volume.
The display is bigger too and scrolling through the options it's interesting to see that there are no bass and treble tone controls available. Besides an array of presets, the front panel also provides dedicated buttons for the two alarms and the timers, rather than having them tucked away under the Menu section as the D2 does.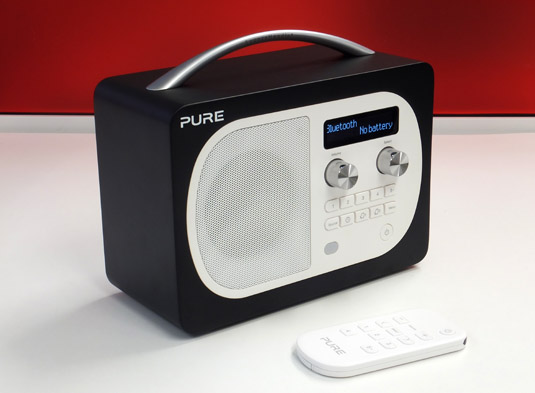 Slap happy: the Snooze Handle takes care of penetrating aural arousal in the mornings
The Bluetooth set-up is pretty much the same as the D2, although the display doesn't report whether playing or paused, just rather boringly states: No battery. Well that's probably because it's a proprietary F1 ChargePAK that costs an extra £35.
Pure does offer something for nothing in the form of its Pure Connect app for iOS and Android. Along with Nokia MixRadio, I used this app as part of the product testing, as it enables easy access to Internet radio stations from a mobile phone or tablet, which what all of these radio makers are hoping you will do one way or another.
Using Pure Connect you can access your own tracks stored on your mobile device as well as enable music purchasing, iTunes-style and music streaming. With the latter the free Green service hooks up to listen again and Internet radio or you can opt for the Blue (£5) or Violet (£10) monthly subscriptions for various all-you-can-eat options.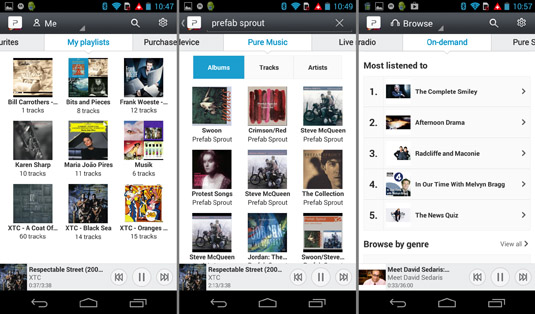 Pure Connect app on Android: create your own playlists, search for music and on-demand radio programmes
Click for a larger image
Overall, the Evoke D4 radio reception performance is on a par with the D2, but sonically this model is definitely warmer but not noticeably louder. I asked Pure's PR what the difference was, and was told that the D4's physical size had an impact on "audio capacity". Er, so the D4 can play an orchestra whereas the D2 is better for solo acoustic sets? A request for clarification didn't really expound upon the earlier statement, but I'll assume its capacious ported cabinet helps deliver sonic enhancements.
Whether it is worth an extra £50 for a few more front panel buttons and additional presets would surely depend on how much you value fingering a remote or fondling a snooze handle. And if you're that keen, why not go the extra mile and get the Pure Evoke F4 which for £180 has Internet radio too, but you lose out on the preset buttons. Always a catch, eh?
Price £150
More info Pure
Revo SuperSignal

In terms of styling the SuperSignal it's quite a big departure for Revo with a big volume dial on the top of it that reminds me of Ruark (formerly VitaAudio) kit, yet with an aluminium speaker grille that takes me back to gazing at Ferguson radios in the Dixons' catalogue in the late 1970s. As for the chunky remote control, this monster is more 1980s Ferguson TV.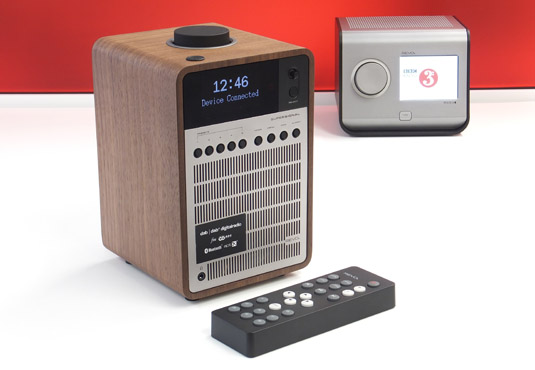 The SuperSignal with Pixis RS touchscreen internet radio in the background – where on earth did Revo find that remote control?
The real wood walnut casing features a bass port in the base working in tandem with the 3.5in speaker and 10W Class D amplification. At 2.3kg, it's surprisingly weighty and a fair size too, although I found this rather reassuring. Given it has an array of buttons for set up functions including an alarm and dedicated five presets, and a neat joystick navigation control, a bit of weight helps when prodding at it on a bedside table.
That said, the back panel has phono outputs so you can hook this up to hi-fi system and hear everything in stereo and there's the front panel headphone socket too. The Aux input enable wired devices to join in the fun and firmware upgrades can be performed using the USB B port.
The Mode button toggles through the playback options that include an RDS FM radio. Select Bluetooth and the display reports "Discoverable…" and then "Device Connected" once you've paired it with your phone. Apart from the time, that's all you'll see on the display when using Bluetooth. Revo is keen to flag up that it has aptX tech on-board too, so if you have a source device that supports this protocol, you can hook it up for a superior quality audio stream.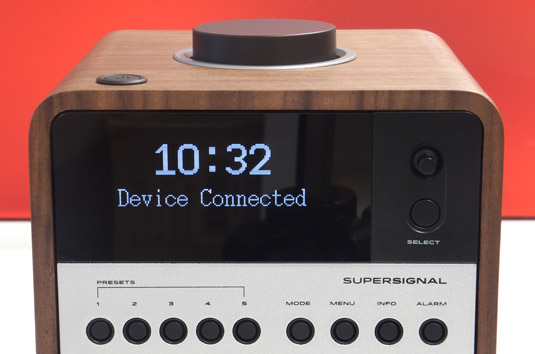 Handy volume and power controls on the top with a joystick to the top right up front
I did try connecting multiple phones which is possible on some Bluetooth speaker systems, but the SuperSignal just stayed loyal to one pairing partner at a time. I liked the practicality of the SuperSignal – the essentials of power and volume so easy to reach and the hi-fi interfacing options to expand its functionality. The array of buttons is a very different approach to Revo's Pixis DAB/Internet radios that rely on touchscreens and are worth looking at it if you're in two minds about Bluetooth streaming.
One thing that makes the SuperSignal stand out is arguably the most important, the sound quality. It's was the loudest single speaker unit on test, delivering a warm and punchy output at full throttle without raucousness or noticeable distortion. £180 is a bit on the high side for a DAB-Bluetooth combo radio, but with the Revo Supersignal, you not only hear the difference, thanks to its fuss-free layout, you get to experience it too.
Price £180
More info Revo