This article is more than 1 year old
Station to station: Ten DAB-Bluetooth combo radios
Take your pick – airwaves entertainment or stream your own
Roberts Blutune 50

Described as a 2.1 sound system, this Roberts radio features two small, probably 1in drivers behind a cloth grille at the front and one 2.5in downward firing driver in the base. It's a cheeky way of getting around providing stereo speakers with a decent bass response and everybody is at it these days. Still, for casual listening, rather than an audiophile critique, this arrangement works well enough in most cases and here it sounds just fine.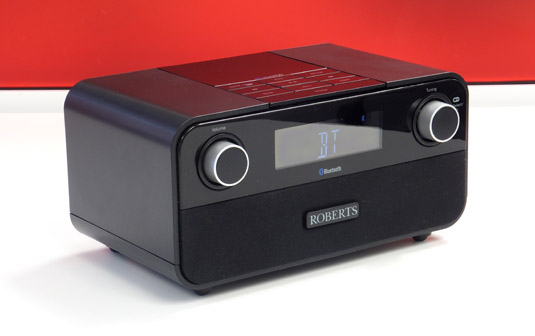 The only model on test with stereo speakers, the Blutune 50 has a downward firing bass driver too
This speaker set-up also enables a smaller build, and the Blutune 50's pleasing compactness rather reminds me of some bench test equipment of old. With just two knobs – volume and tuning/scroll select – along with the central LCD screen on the front panel, the remaining controls including Mode, Menu, Preset, Alarm and Snooze buttons are on top.
Curiously, there are transport controls here too. It turns out you can use them to operate the playback from the Bluetooth connected device. This does rather reverse the typical control set-up, but is handy nonetheless. For instance, idly playing the jazz selection from Nokia MixRadio I could skip back and forth over tracks and pause playback too.
Unlike the Roberts Revival below, there's no handset pairing information in the Blutune 50 display, which in terms of typography is rather unsubtle with its blatant digital clock appearance. Besides time and abbreviated day of the week, it can be set to scroll through the DAB programme information, but there's very little else in terms of detail and customisation available here. Round the back there's headphone output and Aux input connectivity along with USB charging and firmware update ports.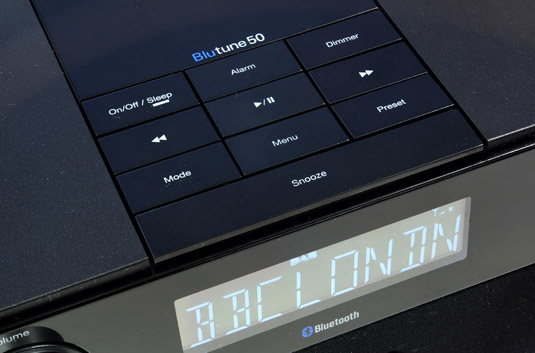 The top panel features transport controls to play and pause the Bluetooth stream playback
In use, it's fairly quick to get going and the sound is perfectly respectable, notching up a decent volume without too much of a fuss. As the only unit on test equipped with a 2.1 speaker arrangement, at times the sound did seem slightly less contained than most of the other models with the mix of some tracks faring better with the bass driver blend than others. Once or twice, the DAB reception had its babbling brook moments but all in all, the Roberts Blutune 50 is solid and delivers but could really do with a display makeover.
Roberts Revival Blutune

When it comes to retro radios, Roberts has had this corner of the market well populated for quite some time with regular refreshes to its Revival range - from its traditional Heritage colours livery to Jubilee colours and Union flag decor. In keeping with its Bluetooth functionality, the Revival Blutune's charcoal leatherette casing distinguishes itself with a couple of blue pinstripes around the edges.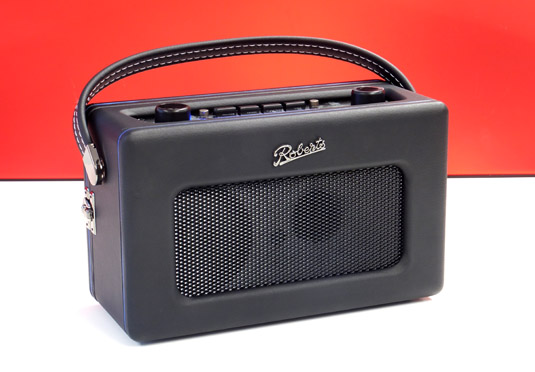 The Revival sound projects well – the speaker porting can be seen through the grille
As one of two radios in this selection supporting standard battery cells, its carry strap adds a go anywhere touch and go anywhere you might, as the reception on both FM and DAB isn't that impressive. Admittedly office conditions are quite demanding regarding interference, but it didn't particularly shine as others on test had done.
To cap it all, the headphone socket doesn't properly accommodate four-pole jack-plugs featured on mic/headsets used on mobile phones. I tried out two different makes and the problem is the output is out of phase, creating karaoke style versions of the test songs played via Bluetooth – vocals disappeared along with the bass – and suffering a massive drop in volume on talk radio channels.
If you've a standard three-pole headphone jack, then it all sounds fine, bass and vocals are all there. Roberts could easily fix this headset issue with some thoughtful headphone socket hardware choices and wiring to suit.
The 3in speaker delivers a fairly robust output and its roomy ported cabinet has a resonance that errs toward the lower mid-range, which is ideal for talk radio clarity, but does colour music playback such that it wasn't as warm as others models but it did project the sound well.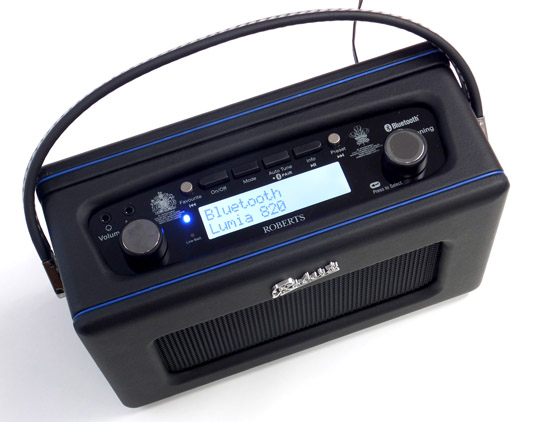 Uncomplicated controls with a one stop shop Favourite button to instantly avoid channel crossing chaos
With all the controls on the top panel, you simply toggle through the modes to get to Bluetooth and then press the adjacent pair button. Unlike the Blutune 50, the name of the mobile device does appear on-screen and a blue LED indicator glows to confirming the connection. It even has those quirky transport controls too and if you open up the back, there's a USB B port for firmware updates.
Although you can fill up the Revival Blutune with presets and scroll through them, I rather liked the dedicated Favourite button – a saviour for grown-up devotees of a particular station who end up sharing radio listening pleasures with channel hopping teenage children. Also, if you fancy hooking it up to a stereo, it has a line output and for wired devices, an aux input too. As DAB/FM/Bluetooth combos go, it's truly portable and looks good but for the price it could perform a lot better.