Violin Memory has fired its CEO Don Basile as the company's shares slumped more than 60 per cent following its IPO and horrendous quarterly financial results.
According to a blunt statement from the storage biz, its board, led by chairman Howard Bain, decided "to terminate Donald Basile as chief executive officer". Bain is now interim CEO, and will stay on as chairman. A search for a replacement chief exec is now under way.
Bain joined Violin's board in October 2012 and became chairman in August 2013. The IPO took place in late September and now, three months later, Basile is toast, rich toast no doubt, but still toast.
Board spokesperson David Walrod, who is also chairman of firm's Nominating and Corporate Governance Committee, said: "The board believes this leadership change is necessary to enhance the management team's operational focus and ability to execute the company's plans for profitable growth."
Bain looks to be the sort of stopgap boss to prevent investors and staff leaving Violin in droves; the ship has got to be steadied.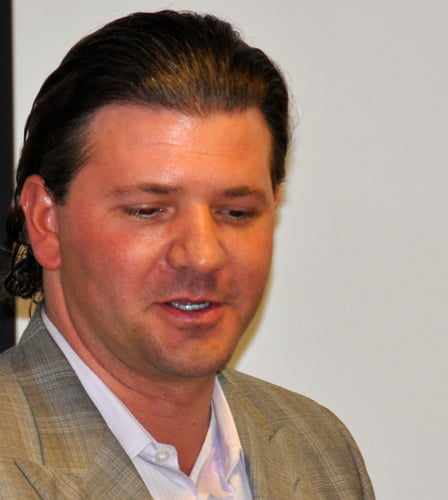 Axed ... Don Basile
Bain said: "While our fundamental strategy to drive growth remains unchanged, we will pursue additional tactical initiatives to improve the overall cost efficiency of the business and improve sales leverage through our partner and indirect channels."
That means cost-cutting is coming.
Sales and sales leverage is indeed an issue. Violin simply doesn't sell enough gear. Will its chief operations officer Dixon Doll, a long-term Basile guy, and sales SVP Richard Dyke survive? Violin's competitors will be all over the company accounts pointing out the risks of continuing to do business with Violin. Better to buy safely from Cisco, Dell, EMC, HDS, HP, IBM, NetApp, Pure Storage, etc, they'll scoff. You can just imagine the special offer deals being worked out.
Bain added: "We have a robust product roadmap in place that positions us well to take advantage of the transition to a memory-based data centre and build an even stronger future for all of our stakeholders."
Basile was a hard-driving and highly energetic CEO who didn't suffer fools gladly, would axe underperforming sales bods, and had a venture-investing background. That didn't seem to help with the IPO, though.
He was previously CEO of flash array upstart Fusion-io; after leaving that and joining Violin, he wanted to show Fusion cofounder David Flynn how a flash startup should be run, and drove it to the leading position in the market. Now Basile's been terminated.
Violin's product problems have been discussed here. Whoever comes in will have to have a plan for fixing them. They will have to be able to play nice with Toshiba, Violin's chip supplier and channel for its PCIe flash card tech, and they will have to be able to change the Basile-era culture at Violin HQ and make the company play nice, harmoniously and tunefully, and stop screeching those strings. ®