This article is more than 1 year old
Bluetooth Smart dev board hits US, UK for sub-$100
Forget the doomed PC market, it's all about wearable gadgetry now
Bluetooth chip maker CSR has what it hopes will be an attractive Christmas gift option for hardware hackers and makers: a low-cost development board for Bluetooth Smart applications based on µEnergy silicon.
CSR is launching the product, the CSR10X0 Starter Development Kit today. The board comes with a full SDK for developing iOS and Android apps, though the SDK is currently intended to be hosted on Windows PCs only - or on a Mac with a suitably configured virtual machine.
It will also set you back just $99 (£61). Not quite down to Raspberry Pi, Arduino or Beaglebone levels but rather more affordable than vendors' development kits usually are. CSR's other development boards would set you back in excess of $500 (£307), for instance.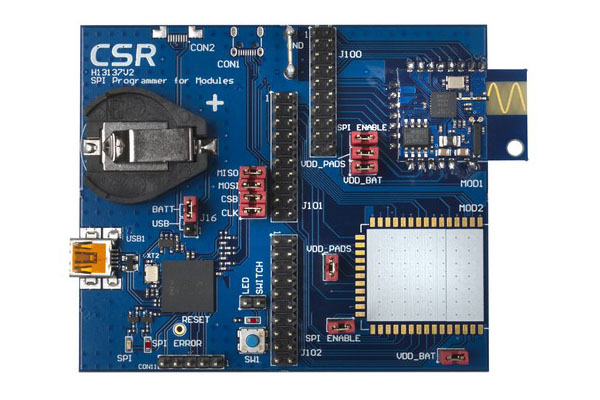 iOS developers who sign up can get a free app to fling code to one of CSR's Bluetooth Smart modules such as the recently announced CSR1012, a sliver of a board designed to go into wearable gadgets - one of the key applications of Bluetooth Smart, aka Bluetooth LE.
The CSR1012 has 64KB of memory for program code and data. The Bluetooth stack, which includes full support for the GATT (General ATTribute) profile, sits in 64KB of Rom. The board is designed to run off a tiny lithium-polymer battery. It also has 12 digital IO ports for wiring up sensors and display devices.
GATT is essentially a generic profile for shifting structured data back and forth between Bluetooth devices.
The development board comes with the SDK on disc, and iOS and Android sample app code covering a wide variety of sensor types, display applications such as phone status and notifications, and Bluetooth proximity beacon operation. There's a GUI-based development environment, xIDE, to tie it all together.
The board will be available tomorrow from CSR supplier Digi-Key in the States. Over here, Broadband already has it listed, ahem. ®