External storage box-maker Drobo has turned its 5N desktop filer/shared network storage array into an app platform, with supported apps running on the 5N's controller.
Drobo makes simple-to-use, stylish and scalable file storage and sharing boxes which protect the data within and require little management by consumers, pro-sumers and small businesses.
Drobos just sit on your desk and wait for you to load them up with data, like any other external storage facility. Now Drobo and its partners are supplying application software that runs on the 5N and does useful things with - or to - the data it holds.
There are 15 applications from suppliers such as Barracuda, ElephantDrive and Plex, providing:
Remote file access
Cloud backup
Integrated media serving
iTunes media serving
BitTorrent client
Mailserver
Webserver
Drobo's product marketing VP Jim Sherhart, who is also veep of marketing at Connected Data, said: "Extending the [5N's] functionality with fully-supported applications including Plex, Barracuda Copy and ElephantDrive demonstrates our commitment to enhancing value for our existing customers."
Competitors like Seagate and WD, who also sell multi-bay external storage boxes, have tended to always bundle in data protection and media serving software as they make a bid for their box to become a home media serving and sharing hub. Drobo finds it is having to do the same sort of thing.
Shawn Eldridge, Plex's strategic alliances veep, said: "Plex is excited about a fully integrated NAS plus Media Server solution for users to easily store, organise and stream their media."
ElephantDrive runs natively on the 5N via a DroboApp and provides continuous cloud backups of data without needing any host computer or server. A doc explaining how to configure ElephantDrive on the 5N can be freely accessed here (10-page pdf) to give you a flavour of what's involved.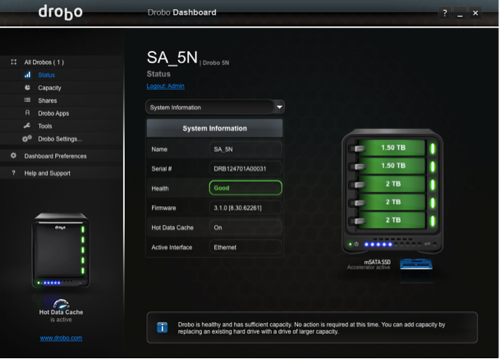 Drobo dashboard on 5N. App installation uses this software.
The Drobo 5N starts at £429, can scale up to 20TB of capacity, supports an optional SSD for accelerated performance, and is available from a bunch of partners like Amazon, Dabs.com, Transparent Communications and eXpansys.
DroboApps can be downloaded at www.drobo.com/drobo-apps. Installation is performed from within the Drobo Dashboard with software download triggered by the 5N's management software. The featured applications are fully supported by Drobo and its technology partners.
The apps are free but customers will have to pay the app suppliers for app functionality. Special deals may be available. For example, Drobo customers who sign up for ElephantDrive via the Dashboard receive 50GB of free storage to start them on their way. ®