This article is more than 1 year old
What happens when you give undergrads $2,500 to build a HPC rig out of commodity parts? This...
The SC13 Commodity Track competition results are in
HPC Blog The team from Bentley University and Northeastern University took the first ever Commodity Track Overall Championship award at the recently concluded SC13 Student Cluster Competition. In this competition, student teams had to build a true HPC cluster (at least two nodes), while spending a maximum of $2,500.
After building and carting their boxes to SC13 in Denver, it was time crank 'em up and see who built the fastest cluster (if you're new to these contests, click here). They had to run the same benchmarks and apps as the Big Iron Standard Track competitors, including HPCC, NEMO5, WRF, GraphLab, and the mystery app (OpenFOAM).
So who took home the bacon in this build your own free-for-all? (Note: conference organizers did not provide any actual bacon as a prize for this or any other student cluster competition event.)
Commodity Track Overall Winner: Bentley University & Northeastern University Team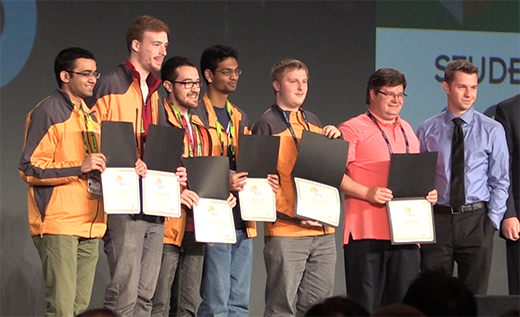 First time competitor Bentley-NEU, pictured above, nabbed the Commodity Track Overall Championship Award in Denver. This team managed to put together the biggest $2,500 cluster in the commodity competition, sporting a total of eight nodes.
It was an interesting configuration. Rather than use separate accelerators, like GPUs, the team relied on AMD's A10 APU processors to drive their cluster. These processors combine CPU cores with fully functional GPU processors on the same die to provide a lot of power in a single inexpensive package.
In their system, Team Bentley used a total of six A10 6800 or 5800 processors, each of which contained four CPU cores and 384 Radeon GPU cores. They're certainly price performers, with a retail price of $129 and $139 respectively. They topped off their configuration with 12GB RAM per node and a GbE interconnect.
It turns out that their "more, but less powerful, nodes" approach paid dividends. They turned in the top commodity track performance number for WRF, GraphLab, and Nemo5. These results, along with a second place finish on the HPCC benchmark, gave them a comfortable margin of victory over the other teams in the commodity track competition.
ASU Edges Slippery Rock, Skyline
The race for second place was a cat fight between Arizona State University and Slippery Rock. The two teams were separated by 9 per cent or so in the final scores, with ASU eking out the win. Team Sun Devil took first place HPCC and second on WRF and NEMO5.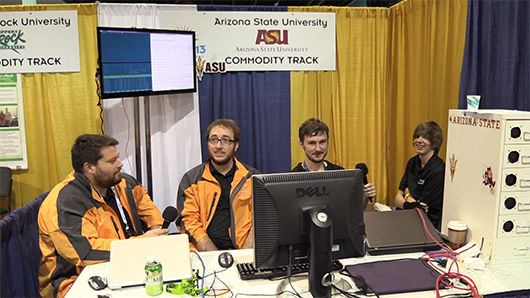 ASU, pictured above, came into the competition with traditional, non-accelerated, HPC cluster. Their five nodes were each driven by a Xeon E3 processor and 8GB of RAM. The compute nodes were equipped with USB 3.0 thumb drives for boot and libraries, with the head node containing a single 126GB SSD for data storage.
Their interconnect relied on a 24-port GbE switch and an additional cheap GbE NIC in each node. With port binding, they were able to get significantly more bandwidth than they'd have from using only the onboard GbE adapter.
ASU also gets style points for housing their cluster in a handsome Ikea Helmer cabinet.
Slippery Rock was in the running throughout the competition, but didn't quite bring enough to get over the hump. They were tied for second in the all-important interview portion of the competition, and also scored a second place finish on WRF and tied ASU for second on NEMO5.
Team Skyline, the only high-school team, topped all of the university teams on the interview category – which is quite a surprise, given their youth and inexperience in HPC. They gave it a good shot on the applications, but finished out of the money on most of them.
However, it's quite a credit to them that they were able to build a functional HPC cluster and go head-to-head with the college kids. We've really enjoyed having this team at the last two SC cluster competitions and we're going to miss them in future contests.
Commodity Track future?
Overall, the Commodity Track "DIY HPC" event was a good replacement for the LittleFE competition at SC12. The LittleFE event had all competitors using the exact same hardware and running a set of Traveling Salesman problems.
To me, this was too much of a programming contest and didn't allow for any student creativity on the hardware or software front. This new Commodity Track competition gives students complete freedom to pursue their cluster dreams – as long as their dreams cost less than $2,500 retail.
I don't know if the SC14 organizers will bring back the Commodity Track next year. But if they were to ask me, I'd say that it's a worthy companion to the traditional Big Iron Standard Track and should be included in the competition next year. ®