Pedal to the metal
The left and right fork-in-the-road choices – leading to different routes through the game map – which were handled so well in solid-state ROM, represented a bit of a challenge for disc and tape-based home machines. Some versions elected to remove them completely, others gave the player a little breathing space as the next stage loaded, yet neither option recreated the arcade experience particularly well.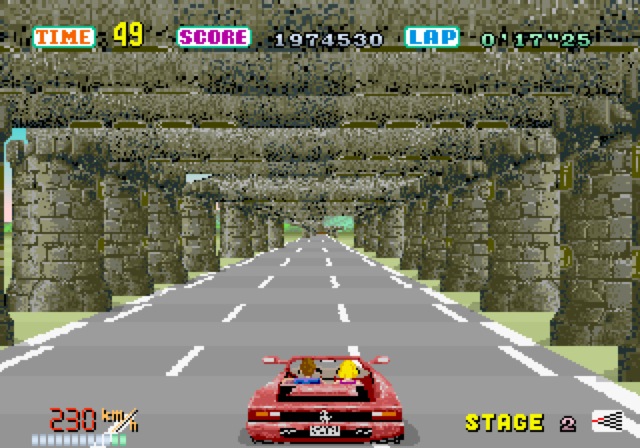 Hypnotic tunnels
Poor Speccy owners received a rather pedestrian affair – more of a Sunday drive through Tooting than Tuscany – though they did get the original arcade soundtrack to play through a tape-player whilr muting the in-game audio. Sadly, this simply highlighted the deficiencies of the conversion, with fond arcade memories jogged into life by the evocative arcade sounds.
The Amiga version was a wasted opportunity, with a badly judged altered viewpoint from behind the car, making it difficult to see what was coming up next.
And while the Megadrive version did play much better, it wasn't the classic it could have been. For a more extensive look at the different conversions, do check out this passionate fan's ode to Out Run:
The slew of imitators and sequels that have appeared over the years suggest that Out Run's influence has been vast. Of Sega's supplementary arcade titles, Turbo Out Run (1989) was popular with arcade owners since the PCB and arcade paperwork came ready prepared to be sneaked into the original arcade cabinet's surrounds. Outrunners (1993) was one of Sega's last bitmap-based racers, and would allow up to eight machines to be linked together.
Fans had to wait until 2003 for the well-received 'true' sequel, Out Run 2. Its development team was headed up by Suzuki himself. This time, along with lots of other playable cars, Sega got the official Ferrari badge too. Yet tellingly, as one may well have predicted, nothing has had quite the same impact as that original red car skidding onto the starting grid.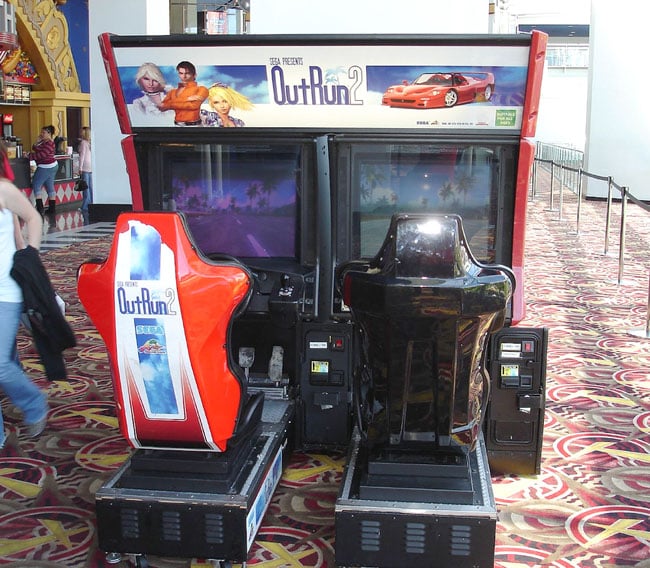 Take no passengers: Out Run 2
Source: Kevin Simpson
When those first, expensive sit-down cabinets – which took up precious arcade space – arrived in 1986, one can imagine that coin-op arcade owners were initially reluctant. Yet the oversized machine's trump card for gaming landlords was the fact that a machine of such stature could demand 50p per play – three credits for a quid, perhaps – whereas standard upright cabinets were still on a measly 10p or 20p credit.
And repeat plays were a certainty: Out Run was not an easy title to master. Novice drivers could crash and burn through credits in less than a couple of minutes – all the more likely if greedy old arcade proprietor had moved the DIP switches on the PCB to Out Run's hardest level: more vehicles in the way, and less time to reach each checkpoint.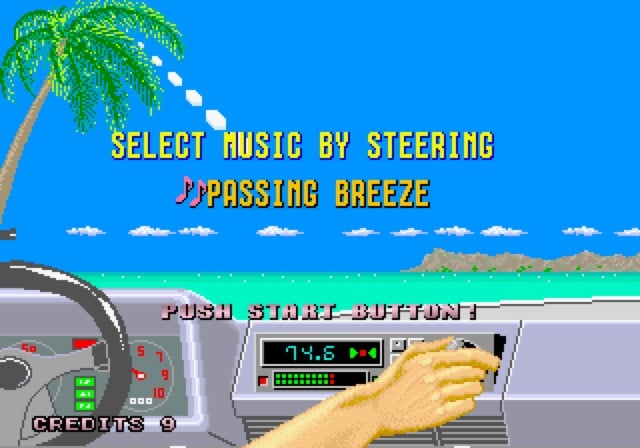 Choose your tune
The game set a precedent across the land for bigger, more extravagant, experiential coin-op machines. That trend would explode over the coming two decades, with anything from horse riding (Namco's Final Furlong) to punch bags (Taito's Sonic Blastman) to 360 degree rotating vomit-inducers (Sega's G-Loc).
These weren't machines for playing down the local chippy – they ventured towards the lucrative world of theme parks and dedicated arcade centres, where the physical controls and movement became just as important as any on-screen action.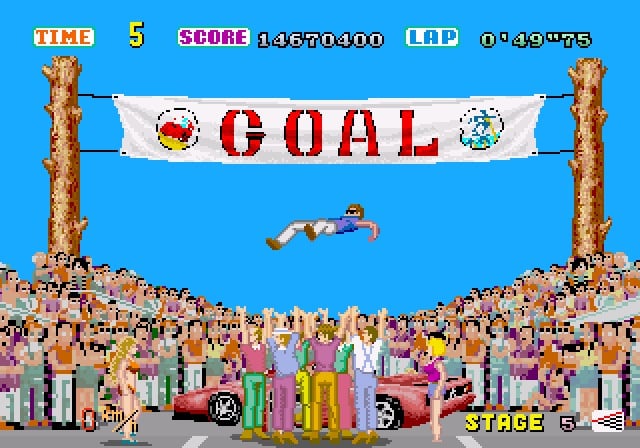 One of the five endings
When it comes to video gaming's most fondly remembered titles, it's projects like Garnet Hertz's augmented reality driving system that prove just how treasured a game like Out Run is.
I'm sure Hertz would proclaim that he chose the title because it's the most iconic racer of a generation, but deep down he must love that machine like a first-born son. If nothing else, he's got a great business lined up there for when us 1980s kids reach old age and get serious about mobility scooters. ®
Released 1986
Developer Yu Suzuki, Sega AM2 department
Publisher Sega
Platforms Arcade, Master System, Game Gear, Amiga, Amstrad CPC, ZX Spectrum, MSX, DOS, Commodore 64, Atari ST, Megadrive, PC Engine, Saturn, Gameboy Advance