This article is more than 1 year old
Why UK.gov's £1.2bn fibre broadband rollout is a bumbling FLOP
Ministry of Fun prefers to see it as a bumper win, naturally
Analysis The Department of Culture, Media and Sport – also known as the Ministry of Fun – is this morning celebrating what it described as a "bumper day for rural broadband".
But the declaration of victory may have come a little prematurely from Maria Miller, the Secretary of State for Fun.
The £1.2bn taxpayer-funded Whitehall-led project to deploy faster broadband to parts of the UK by 2015, where BT and Virgin Media failed to find a commercial case for private investment, has been blisteringly attacked by MPs and blasted by the government's spending watchdog.
Some ordinary folk living in more rural parts of Blighty, meanwhile, have continued to complain bitterly about the lack of altnet coverage in the countryside that could compete with BT, according to the Independent Networks Co-operative Association lobby group.
In the past six months a significant shift has happened with that fibre rollout as it became clear that BT would bag all the Broadband Delivery UK contracts, after the only other approved bidder, Fujitsu, pulled out of the race for the subsidies.
Worse still, the government's self-imposed deadline to get (mainly) fibre-to-the-cabinet broadband technology deployed to 90 per cent of households and businesses by the end of this current Parliament (a little over two years from now) hit a major infrastructure snag.
As your correspondent repeatedly noted, with each fresh press release from BT, a pattern began emerging which showed the deployment was not on schedule, with the completion date of late 2016 being regularly mentioned by the one-time national telco.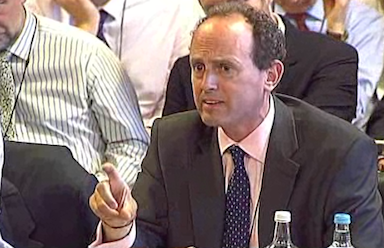 BT's Sean Williams facing MPs' wrath earlier this year
For months Miller - having replaced Jeremy Hunt MP as chief DCMS wrangler - ploughed on with claims that the government's crashingly expensive BDUK project was on track.
A clash with Brussels over competition concerns relating to BT's perceived stranglehold on Britain's broadband market didn't help matters, either. The European Commission eventually cleared the state aid investment for broadband deployment in the UK late last year. But insiders on both sides whispered to The Register that the other party was to blame for any bureaucratic delay in the process.
It meant that - as broadband minister Ed Vaizey characterised it - the 2015 target had become "challenging" to meet.
Miller soldiered on, however, telling Parliament in April that the BDUK project would reach the final third of households in the country by 2015.
Not long after that, ministerial confessions showed that the deadline would not be reached. Vaizey retreated from saying that Brits would have the best superfast broadband access in Europe to simply talking of a "transformation" in speedier online connections for Blighty.
Fast forward to today, and Miller and her team are still pursing a narrative with a happy ending - even if the reality for some is starkly different.
Setting aside competition worries that continue to hamper the process, and suggestions that the BDUK project lacks value for money and is overly secretive to protect commercial rather than taxpayers' interests, the DCMS has proudly proclaimed:
An additional 5,000 homes and businesses in towns and villages in Wiltshire & South Gloucestershire, Hampshire, Kent & Medway, Cheshire, the Cotswolds and Shropshire now have access to superfast broadband speeds as a result of the government funded nationwide deployment currently underway.

'Super Switch on Day' sees the first cabinets in a number of projects 'go live', and the total number of premises expected to have access to superfast speeds by Christmas as a result of the rollout now exceeds 200,000.
Rewind to Miller's ministerial bluster in April when she told fellow MPs that the BDUK deployment would "reach 10 million more households by the end of this Parliament".
But - bah, humbug - let's not burst anyone's balloon before Christmas.
To keep the glow stick heated, Miller returned to that word "transformation" once again this morning. She said:
We are now witnessing an incredible transformation of superfast broadband in Britain, and we are already well ahead of other major European countries in many respects.

We're determined to ensure that everyone benefits and that broadband is available in the very hardest to reach areas of Britain, making a real difference to people who live in these communities. Today's 'switch on' of cabinets across the country takes us yet another step closer to fulfilling our promise of giving superfast speeds to 95 per cent of Britain by 2017.
Whitehall, however, has failed to keep its promise. The government's original target was to deploy faster broadband access to 90 per cent of the UK by 2015. If the Ghost of Christmas Yet To Come were to visit Miller right now, exactly which bit of dug up ground might she expect to be seeing? ®