This article is more than 1 year old
Wait, that's no
moon

21.5-inch monitor, it's an all-in-one LG Chromebase PC
Widescreen gear to bring Google's OS to the desktop
Chromebooks have been one of the few bright spots in an otherwise down PC market this year. Now LG is hoping that the success Google has had with its "browser in a box" laptops can carry over to the desktop, as well.
Desktop PCs running Chrome OS have been available previously in the form of Chromeboxes, devices about the size of an Apple TV that connect to external monitors, keyboards, and mice. Samsung offered one in 2012 and Asus may be readying a new variant for next year.
But LG is trying something different. Its forthcoming Chromebase, announced on Wednesday, is the first all-in-one PC to run Chrome OS, complete with a built-in widescreen LCD display.
"LG's Chromebase is an exciting new form factor that expands the options available to customers who want a fast, simple and secure computing experience for the home, school or office," Caesar Sengupta, the company's VP of product management, said in a statement.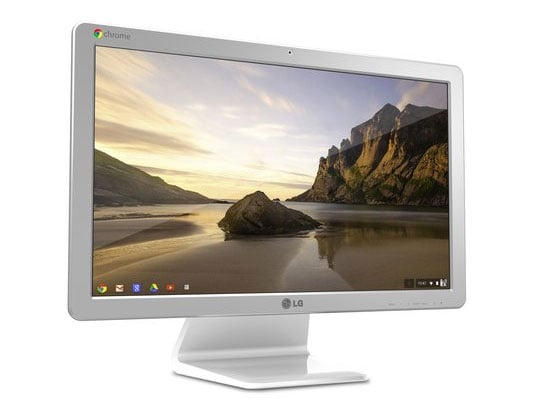 iMac, eat your heart out: LG's Intel-powered Chromebase runs Google's Chrome OS
The Chromebase's guts are tucked inside a 21.5-inch IPS display running at 1920-by-1080 resolution with a 178-degree viewing angle, perched atop a minimalist stand. It ships with 2GB of RAM and a 16GB solid-state drive for storage – both small by typical PC standards but more than adequate for running Chrome OS.
Powering the device is an unspecified Intel Celeron CPU based on Chipzilla's fourth-generation "Haswell" processor microarchitecture, running at an unannounced clock speed.
Rounding out the package are three USB 2.0 ports, one USB 3.0 port, an HDMI-in port for attaching external media devices, an Ethernet port, a pair of built-in 5W speakers, and a 1.3 megapixel webcam. A keyboard, mouse, and cable organizer are included in the box.
That's what we know so far. What we still don't know is how much it will cost. With the exception of Google's tony Chromebook Pixel, past Chrome OS devices have fallen in the sub-$500 price range, but LG has given no hint at what the Chromebase might sell for when it hits store shelves.
That won't happen for a while, either. The LG Chromebase is expected to make its formal debut at the 2014 International Consumer Electronics Show (CES), to take place in Las Vegas from January 7 through January 10. Expect retailers to get their hands on it sometime after that. ®