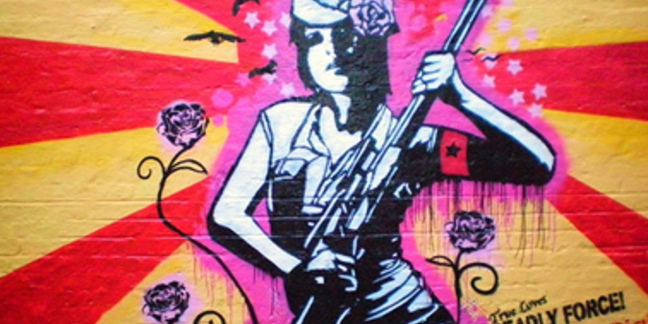 Contributors to the iconic feminist magazine Spare Rib, which ran from 1972 to 1993, have been warned not to sign away their rights.
Last week the British Library contacted over a thousand former contributors giving them just seven days to give their consent to what it described as a "digitisation project".
If authors declined to give their permissions, the British Library implied, the "preservation, digitisation and cataloguing of Spare Rib... for future generations" would not proceed.
"If it transpires that more than 10 per cent of contributors will not give permission for their material to be digitised then the project will sadly not go ahead."
This puzzled many. Spare Rib has already been scanned, preserved and catalogued: and is available through The British Library itself, via this service.
Cambridge University Library has a complete run of the print magazine with copies on microfiche and microfilm, here, as part of a collection called "The underground and alternative press in Britain". And the British Library does not require permission from copyright holders in order to make copies to preserve material, as preservation is an exemption in the Copyright Act. If it hasn't been "digitised", then there are plenty of services who can convert microfiche to text, such as this one.
Unfortunately The Guardian newspaper fell for the spin in a story titled "Spare Rib contributors sought so editions can be digitised and saved".
It turns out the goal isn't actually to "preserve" Spare Rib but throw it open to researchers via the web, and the project is a kind of market test - it's described as a "scoping" exercise or "feasibility study" - apparently measuring the extent to which rights-holders grant permissions. In just seven days.
Former Spare Rib contributor, poet and copyright expert Gillian Spraggs expressed her reservations on her blog. She wrote:
I find it troubling that an atmosphere of fervour is being whipped up around this project with no acknowledgement that contributors are being leaned on to make their work publicly available for no remuneration… I believe that if there is sufficient demand for the material to be made available to the public again then it is sufficiently valuable for payment to be made. I think the British Library may be trying to set a precedent with this project – a bad one.
What really alarmed rights-savvy contributors, though, was that the British Library was pressuring them to give away much more than they might realise.
Authors must grant rights to their Spare Rib contributions not via a one-time licence, but forever - and for any non-commercial use. This is because the Library is using a Creative Commons licence, a cascading (or "viral") licence that grants the British Library a permanent right for a very broad use of the material. But the BL's advisory material doesn't fully explain the consequences for the author of agreeing to these terms.
"Creative Commons is not to be treated with suspicion by itself - but it's not necessary for this project, and is inappropriate," says Meg Davis, a literary agent who has served on the boards of two agent trade associations and who studied the British Library's proposal.
Why not?
"The problem is it allows people to 'remix transform and build upon' the author's contribution and it's wrong for this kind of material. What you put forward as an opinion years ago can be used in a way that's derogatory or misleading," she explains.
"We have already seen misogynist trolls in action far too many times," writes Spraggs.
Davis told us:
I don't think the people who put this together understand what Creative Commons is. It's as if they just noodled around and found a licence that people are using, and decided to use it for the project.

Clearly, they don't understand what they are doing.

It's also unfair to give people such a short time scale just before Christmas.
"No one should be made to feel pressured into licensing their work in perpetuity for no return," wrote Spraggs.
Initially, one of the two BL researchers on the Spare Rib project agreed to talk to The Register on Tuesday afternoon. But after a brief exchange with the Press Office, her diary became full "until Christmas", and the Press Office requested we submit questions by email.
We have submitted 15 questions over five areas, and will let you know the institution's response. But given the short time scale of seven days and the gravity of the consequences for rights-holders if they consent to the licence - we felt we should alert the wider Spare Rib community of contributors, which over 20 years, is a substantial one.
Related links
British Library blog post (while the call was first put out in November, the letter was only sent out this week ...) ®
Sponsored: Practical tips for Office 365 tenant-to-tenant migration