Microsoft zillionaire Bill Gates has, in short, spent $500 on a cow for a Reddit.com user in the website's annual secret Santa gift swap.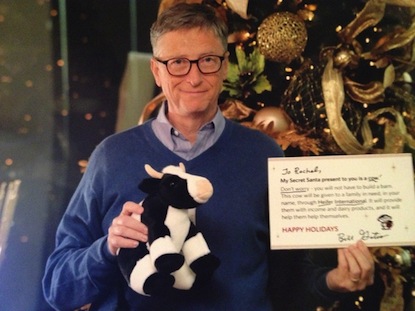 Bill with the donation ... Beats the heck out of an iTunes gift card (Credit: NY1227)
The software tycoon participated in the popular site's festive present exchange – by sending an unsuspecting Redditor called Rachel a box containing a book, a cuddly toy and a signed certificate confirming a donation had been made to Heifer International on her behalf.
(Gates' donation sponsors a cow for poor farming families struggling in Africa, but that five hundred bucks is nothing compared to the $42.8m grant the Bill & Melinda Gates Foundation gave to Heifer International in 2008.)
Delighted Rachel said she received the package earlier this week, knowing only that it was from another Reddit user called "Bill". Upon opening the box, she found enclosed a small stuffed cow toy, a National Geographic travel book, and a card explaining that a donation had been made in her name.
It was only after looking at a picture enclosed with the package did she realize she had been paired with the second-richest man in the world. The photo showed Microsoft chairman Gates holding the toy and the signed card which sported his own special Reddit avatar.
"I went back to all the other gifts completely shocked. Then I paused for a minute and thought, what if this is someone screwing with me," Rachel wrote.
"Well, of course, Mr Bill Gates already thought of this, and took a picture of himself with my stuffed animal and a sign and then sent me the stuffed animal and sign."
That Bill Gates, today worth $72bn according to Forbes, would be issuing donations this holiday season is hardly a shocker. Since stepping down from the day-to-day running of the company he cofounded, Gates has devoted himself to his philanthropic efforts, seeking to donate his own fortune and help to fundraise for charities around the globe.
Rachel, meanwhile, said that she only wishes to thank Gates for his gift and shoot over one last PS: "Sorry for the Apple iPad on my [gift] wishlist, that was really awkward." ®